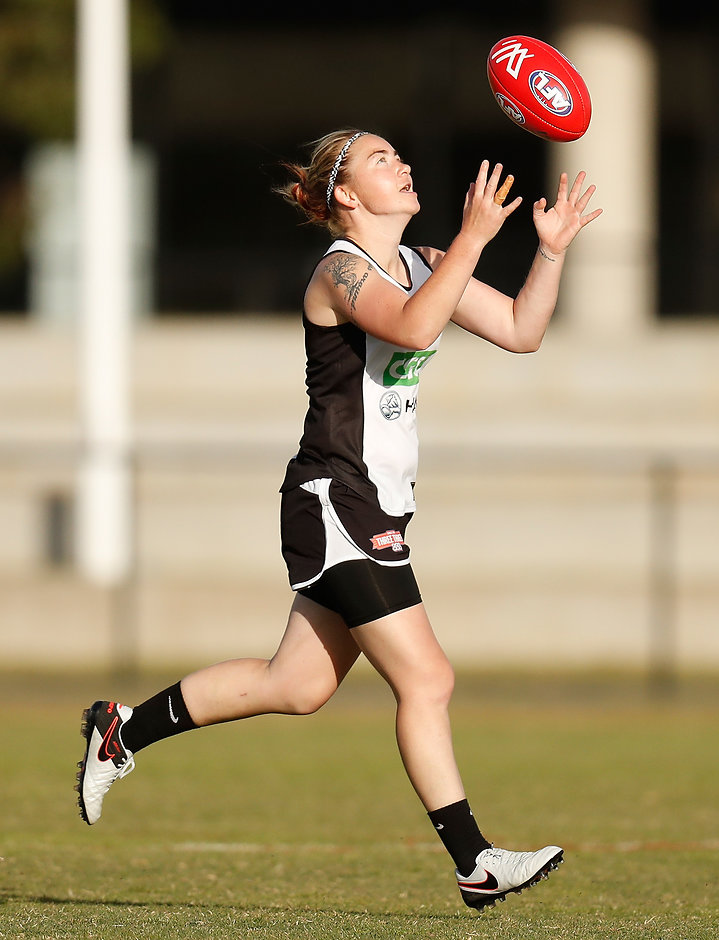 COLLINGWOOD's newly announced VFL Women's coach Penny Cula-Reid "bleeds black and white".
A lifelong Magpie fan, Cula-Reid was drafted to the club as a defender for the inaugural NAB AFL Women's season, after a 12-year footy career with VFLW side St Kilda Sharks.
She played two games, and was offered a role as an AFLW development coach – rather than another playing contract – at the conclusion of the seven-match season.
"It was a big decision to make, because it meant I was turning my back on any other club signing me for the next AFLW season," she told AFL.com.au.
"I had to think about my body, not that I'm that old (Cula-Reid is 29), but just all the damage I've done to it over 24 years of playing footy.
"The Collingwood coaching staff saw something in me I may not have, and I'm grateful for it."
The multitalented Cula-Reid has many off-field jobs, including running a landscape gardening business with partner and former Melbourne player Mia-Rae Clifford, running physical assessments for paramedics with Ambulance Victoria, and is also a personal trainer.
But it was while working with Collingwood AFLW senior coach Wayne Siekman and the Magpies' Next Generation Academy that Cula-Reid got the call-up for the VFLW role.
"[Women's football operations manager] Matty James pulled me aside, told me we had applied for a VFLW side and he couldn't think of anyone better to be coach. I was shocked.
"It was extremely daunting originally. I was worried about the players' reactions, having played with and against them, some are now going to be playing under me and I wasn't sure how they were going to take it.
"But it's been really lovely to have the congratulations and support that's come out after the announcement."
Cula-Reid has been in the Sharks' leadership group since 2005, captaining the club in 2007, 2011 and this year, and describes her on-field role as the "general or quarterback", directing play.
She's had a few coaching roles over her time in football, leading the Sharks' first youth girls side in 2007 and coaching a western region of Melbourne representative side.
Her aim with Collingwood's VFLW side is to develop players who are ready-made for AFLW, whether that's with the Pies or another club.
"One of my ideas is to train our squad alongside the AFLW girls, so they can really see for themselves what they need to do and how to prepare to play at AFLW level."
Cula-Reid was involved in a case at the Victorian Civil and Administrative Tribunal in 2003, which resulted in Football Victoria (now AFL Victoria) developing youth girls' competitions, bridging the gap between junior and senior women's footy.
Nearly 15 years later, she'll be coaching a women's side for the club she's supported since birth.
"I didn't realise it back then, but it was a significant event. Who knows what would have happened if we hadn't had fought that case," she said