THE AFL'S greatest goalkicker, Tony Lockett, has been inducted into the Sport Australia Hall of Fame.
The 51-year-old, who's spent much of his retirement out of the spotlight, said he was humbled to receive the honour, in a lavish gala ceremony at Melbourne's Crown Palladium on Thursday night.
Earlier, in a low-key presentation at the National Sports Museum on Thursday afternoon, Lockett was handed his commemorative pin by swimming legend Dawn Fraser and then peeled back a sticker to ceremonially reveal his plaque.
Obliging to the request of a cameraman Lockett then placed the sticker back on the plaque and removed it again – accommodating the media in a way which would have been unheard of back in the days where he famously threw a crutch at then-reporter Eddie McGuire.
Lockett is the first player from the AFL era to be inducted into the Sport Australia Hall of Fame, joining a roll call of Australian football champions that includes Leigh Matthews, Kevin Bartlett, John Coleman, Ted Whitten and Bob Skilton.
"It's very special, it's very humbling, I'm just absolutely stoked and really honoured to be part of the Australian Hall of Fame, it's incredible," Lockett said.
"It's hard to explain really," he said.
Appearing to have shed even more weight since he first appeared back at the SCG as a part-time goal kicking coach earlier this season, Lockett wasn't keen to give away his shredding secrets.
"Haven't changed too much mate, laying off the burgers and the chips more than anything," he said.
Tony Lockett receives his award on Thursday night.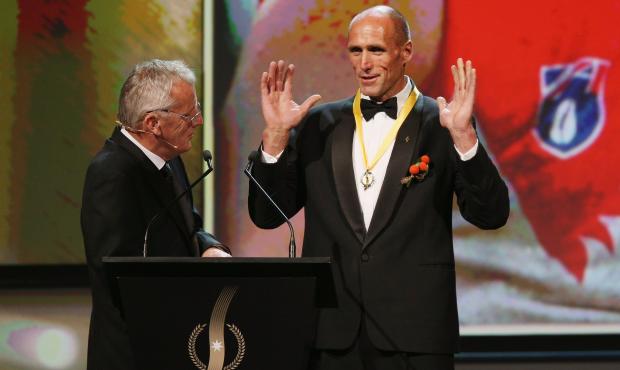 But he is loving his time back at the Swans, and wants to continue helping Lance Franklin and others in 2018.
"I'm hoping to," Lockett said.
"I guess we'll get together soon and work out what's going on for next year.
"Buddy's quite an incredible footballer, and it's been really good watching him this year, I've got a great thrill out of it actually.
"Just sitting in the stand and just watching the way he plays.
"It's been great to be back and be involved again.
And while he admits the game has changed significantly since his era, he says it's still the best to watch.
"You've got to be a very fit footballer these days to play, probably wouldn't suit my game too good I wouldn't have thought.
"It's still a fantastic spectacle to watch."

Tony Lockett reveals his Hall of Fame plaque.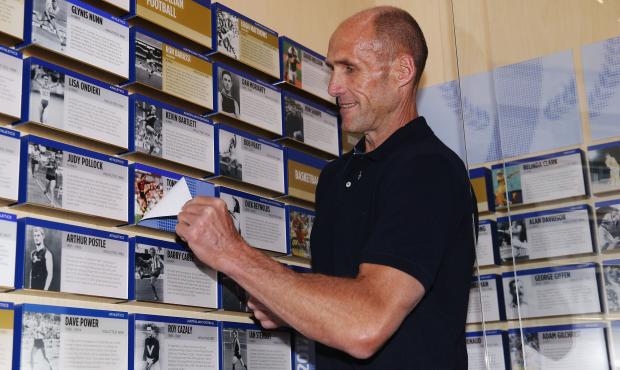 Australian footballers in the Sport Australia Hall of Fame
W.J. 'Nipper' Truscott
Dick Reynolds
Gordon Coventry
Haydn Bunton
Albert Thurgood
Dan Moriarty
Roy Cazaly
Ted Whitten
Bob Skilton
Graham 'Polly' Farmer
John Coleman
Ivor Warne-Smith
Ian Stewart
Barry Cable
Ron Barassi
Bob Pratt
Vic Richardson
Jack Dyer
Peter Hudson
Alex Jesaulenko
Leigh Matthews
Kevin Bartlett
Laurie Nash
Tony Lockett
Sport Australia Hall of Fame Inductees cyclist Brad McGee, water polo pioneer Debbie Handley Cummins, pole vaulter Steve Hooker, Taekwondoe gold medallist Lauren Burns, Tony Lockett, sports medicine Dr Grace Bryant and basketballer Troy Sachs with Hall Of Fame legend Dawn Fraser (C)