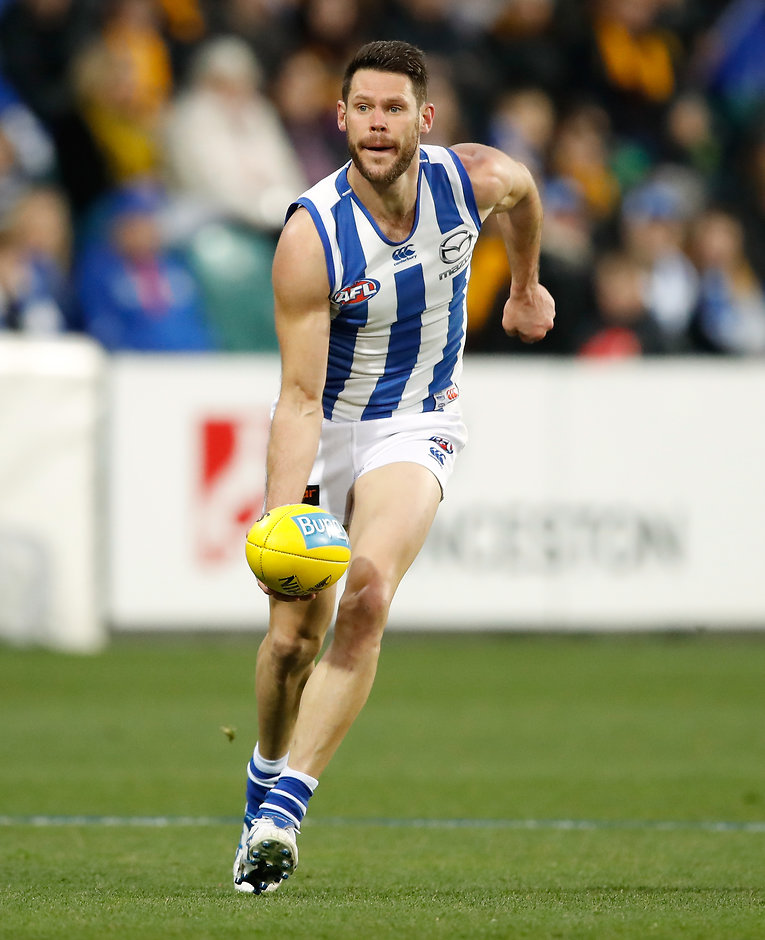 • All the latest trade and free agency news
• Indicative draft order: Keep up to date with all the picks
• Who's hanging up the boots? Keep track of 2017's retirements and delistings
DELISTED North Melbourne midfielder Sam Gibson is a victim of the club's "aggressive" rebuild, list manager Michael McMahon says.
Gibson, 31, finished the 2017 season on an unbroken streak of 130 games, the longest active run of consecutive games in the AFL.
The hard-running midfielder had also been one of the Roos' most consistent performers in recent years, recording top-10 best and fairest finishes in four of his five full senior seasons at Arden Street: ninth in 2013, seventh in 2014, third in 2016 and seventh this year.
Despite wanting to play on, Gibson was delisted last Friday, a decision the former rookie later said was "hard to fathom".
McMahon told NMFC On Air Gibson's delisting was primarily a reflection of North's list management strategy ahead of 2018.
"We've been pretty aggressive throughout the course of the year in targeting [Dustin Martin and Josh Kelly] and in some ways our approach to our management of our existing list has extended into that," McMahon said.
"Some people look upon it as being reasonably aggressive in delisting a player like Sam and that's probably right because he's been a terrific player – he's played 130 games in a row, he's been a model of consistency.
"But at the same time we've got to be mindful of trying to build a bit for the future. We're mindful that having finished 15th we want to make every effort to make sure that we're evolving our list and unfortunately Sam is probably a casualty of that."
North football chief Cameron Joyce said Gibson's departure would create more opportunities for the Kangaroos' next generation of midfielders, including Luke McDonald, Jy Simpkin, Paul Ahern, Declan Mountford and Josh Williams.
"If Sam was here next year we know we'd play him. He'd play every game, which for him would be fantastic," Joyce said.
"But for us it would be another year potentially down the track where we need to see some of those young kids and develop the next wave of North Melbourne midfielders."
Ahern, 2014's No.7 draft pick, joined North from Greater Western Sydney in last year's NAB AFL Trade Period after twice rupturing his right anterior cruciate ligament in 2016.
The former Calder Cannon spent all of his first season at Arden Street in the rehabilitation group, but he is on track to start pre-season training at the club's annual high-altitude training camp in Utah.
"He hasn't missed a beat, the boys have really enjoyed his company and got around him," Joyce said.
"It was obviously a tough year being in the rehab group for 12 months, but he goes to Utah being able to really rip in and get into the full program.
"Hopefully, then he'll able to come back and join the rest of the team and have a really strong pre-season and put his hand up for round one of the JLT Community Series."
Get the AFL Trader sent to your inbox
Every weekday evening during Trade Period we'll send you a bite-sized email wrap of the day's biggest trade stories.
We'll only tell you what you really need to know, plus exclusive insights and scoops from our Trade reporters.
Enter your email address here to get the AFL Trader in your inbox every weeknight:
Having trouble on the app? Click here to set up your subscription. You can always unsubscribe by following the link in the footer of AFL Trader emails.
Want more trade news?
• 'We think we can land him': Dons on Stringer
• Dev off to the Dons as Giants secure top pick
• Done deal: Demons pull off Lever trade
• Rocky opens up on 'the worst time' in his career
• 'If Jake goes ... I assume it would help': Crameri