DEVON Smith was part of history as a Greater Western Sydney original but he's now been added to the list of players no longer with the club he helped create.
The Giants' class of 2011, the inaugural group of players to make up the AFL's newest list at the time, has not surprisingly dwindled in numbers over the past six years, with new Bomber Smith the latest to depart.
Only 14 original GWS-listed players will be at the club next season, with more of them (15) actually scattered around the rest of the competition at other clubs, Smith and Nathan Wilson (likely to be traded to Fremantle) among them.
Just nine of the Giants' team defeated by the Swans in round one 2012 remain at the club, with eight elsewhere around the AFL, while from their thrilling first ever win against Gold Coast in round seven that season, nine players continue to play at GWS, with seven more still in the League.
The Giants pose before their first match in round one 2012. Picture: AFL Photos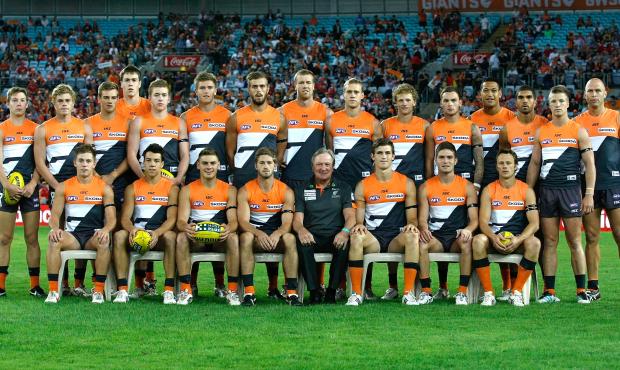 A look back at the Giants' bumper crop from their first NAB AFL Draft reveals some interesting stories, with No.1 pick Jon Patton playing 77 games so far, and looking like he'll fulfill his potential as a dominant key forward.
Stephen Coniglio (pick two, 95 games), Nick Haynes (pick seven, 81 games), Adam Tomlinson (pick nine, 91 games) and Toby Greene (pick 11, 117 games) have also proved to be outstanding choices, along with Smith (pick 14, 109 games), while Matt Buntine (pick five, 41 games) hasn't been able to stay on the park.
With such a stacked list of talent GWS was never going to be able to keep all of the up-and-coming stars, and the likes of Dom Tyson (pick three, 90 games GWS/Melbourne) and Taylor Adams (pick 13, 97 games GWS/Collingwood) have thrived after being traded elsewhere, along with Will Hoskin-Elliott (pick four, 74 games GWS/Collingwood).
Liam Sumner (pick 10, 32 games GWS/Carlton) was a rare top-10 miss after he was delisted by Carlton recently, while Tom Downie (pick 56, nine games) never came on and retired this year after suffering mental health issues.
Adam Kennedy (83 games) and Tim Mohr (46 games) were taken as players previously overlooked at the draft, and both defenders have become highly regarded clubmen at the Giants.
Dean Brogan, Chad Cornes and Luke Power came to the Giants for the first season via the Trade Period and brought fantastic leadership and experience to the young group, along with Setanta O'hAilpin and James McDonald, who also played their roles in the first year.
Rookie Jonathan Giles 63 games (GWS/Essendon/West Coast) was a journeyman but valuable at times before retiring this year, and fellow big men Sam Frost (56 games GWS/Melbourne) and Andrew Phillips (31 games GWS/Carlton) have had their moments as well after grabbing their chance via the rookie system.
Aside from the juicy draft concessions, the Giants' pre-listed a number of 17-year-old's, with Jeremy Cameron (112 games) and Dylan Shiel (112 games) now stars of the competition for in orange and charcoal these days, and Adam Treloar (122 games GWS/Collingwood) a gun for the Pies.
Tomas Bugg (93 games GWS/Melbourne), Jack Hombsch (84 games GWS/Port Adelaide) and Wilson (77 games) are also regular senior players.
The club scored a massive tick for signing some quality un-contracted players, with co-captains Callan Ward (132 games) and Phil Davis (103 games) growing into ideal leaders, and Tom Scully (120 games), Rhys Palmer 70 games (GWS/Carlton) and Sam J. Reid (33 games) the perfect type of characters to build a club around.
Zone selections like Josh Bruce 88 games (GWS/St Kilda), Anthony Miles (70 games GWS/Richmond), Curtly Hampton (60 games GWS/Adelaide) and Jacob Townsend (37 games GWS/Richmond) have found some success, while Shaun Edwards (24 games GWS/Essendon/Sydney) and Mark Whiley (21 games GWS/Carlton) also managed some bright moments in brief careers.
With all the successes, there have been some players who haven't turned into household names, with Sam Darley, Tim Golds, Josh Growden, Gerald Ugle, Kurt Aylett, Sam Schulz and Tim Segrave some of the Giants' youngsters unable to make an impact at the highest level, along with rookies Steve Clifton and Rhys Cooyou.
We can't forget the shock recruitment of rugby league star Israel Folau (13 games), and while his on-field performance was below par at best, he dragged plenty of eyes to the fledgling club in western Sydney, before he switched to a third code.
The next major milestone for the AFL's newest club is a premiership, and with most tipping that day might not be too far away, it remains to be seen how many GWS originals are a part of that significant flag win.

The Giants celebrate their first win in club history. Picture: AFL Photos