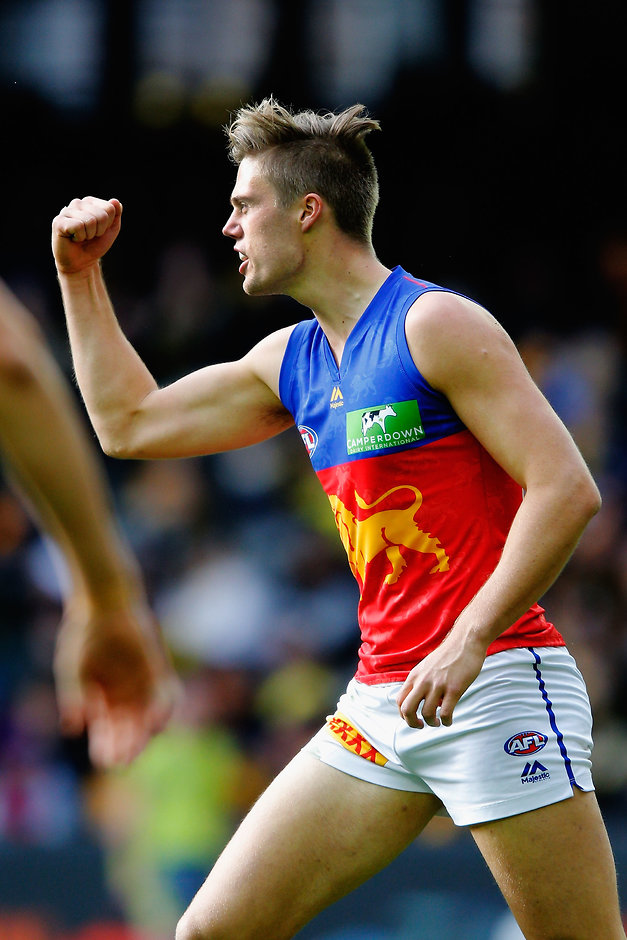 • Keep up with all the deals with the Trade Tracker
• All the latest trade and free agency news
• Indicative draft order: Keep up to date with all the picks
• Who's hanging up the boots? Keep track of 2017's retirements and delistings
Schache goes to the Dogs?
The Western Bulldogs have emerged as a possible suitor for homesick Brisbane Lions spearhead Josh Schache.
Schache re-signed with the Lions in June but he and the club mutually agreed on the eve of the Trade Period to explore a move to a Victorian club.
Firm interest in 2015's No.2 draft pick has been slow to materialise, but AFL.com.au understands the Bulldogs are among three or four clubs who have contacted the Lions to discuss the 20-year-old.
What would Schache give the Dogs?
Schache, 199cm and 96kg, would bolster the Dogs' height in attack and potentially free Tom Boyd to spend extended time in the ruck.
His appeal to the Bulldogs is no doubt heightened by the lack of impact former Magpie Travis Cloke had in his first season at the Kennel this year.
The Dogs will also want to bring in forward-line talent given the likely departures of medium forwards Jake Stringer and Stewart Crameri.
Weller drops trade bombshell
Fremantle has shown how much it values young midfielder Lachie Weller by demanding pick No.2 from Gold Coast if it wants to snare the contracted Docker.
Weller ensured the Trade Period's final week got off to an explosive start when he requested a trade to the Suns.
One of Freo's most promising young players, Weller shapes as a key member of the club's emerging new generation.
But the 21-year-old shocked the Dockers when he told them he wanted to be released from his contract for 2018 so he could be closer to his family on the Gold Coast.
Dockers adamant they won't play ball
When news of Weller's desire to move broke at lunchtime on Monday, Fremantle was quick to say it had no intention of trading the midfielder, let alone involving him in their talks with Greater Western Sydney over contracted Giants defender Nathan Wilson.
The Dockers hold Weller in extremely high regard. An elite kick, lightning quick and a rock-solid character, Weller's long-term potential is the equal of any of this year's top draft fancies, according to Freo insiders.
Can the Suns get the deal done?
The Suns' only hope is come up with a trade offer juicy enough to tempt Fremantle to backflip.
The early indications are the Suns are not willing to play ball on pick No.2, certainly not in a straight swap.
Would they consider sending No.2 and, say, their second-round pick, No.21, to Fremantle in exchange for Weller and the Dockers' pick No.5?
If the Suns want Weller – and they do – it will take a deal of that magnitude to make it happen.
Lachie Weller has requested a trade to Gold Coast. Picture: AFL Photos


Stringer headed for last-day nailbiter
A trade sending Jake Stringer to Essendon has all the hallmarks of a last-day deal after a stalemate on Monday.
The Bombers have suggested their final offer of picks No.25 and No.30 and are waiting for a response. There was none on Monday.
So could we see some scrambling when trading opens on Thursday morning? That is looking like the most likely scenario.
A lot was said on Monday that makes a Stringer return to the Whitten Oval untenable.
As he flew out for the US, Stringer told reporters he would not be returning to the club.
His manager Paul Connors challenged the Bulldogs' claims that it was a mutual decision between the club and the player to explore a trade, saying "Jake wanted to stay".
Stringer's father John told NAB AFL Trade Radio that his son had faced a "public stoning" since being put up for trade.
The Bulldogs have maintained – most recently through football director Chris Grant – that Stringer would be welcomed back to the Whitten Oval if a suitable trade wasn't arranged.
Those close to the deal had given credence to the Bulldogs' stance up until Monday, but the day's drama left them believing a trade was inevitable and Stringer couldn't return to the club.
Connors captured the state of talks when he said: "They don't want him, so why would they want to keep him?"
What's holding the Bulldogs back?
The Bulldogs are contacting clubs and looking for a way to turn the Bombers' two picks into the first-round selection they crave. But it is understood clubs have been reluctant to deal with them until the picks are theirs.
Essendon has stopped doing likewise and put it on the Bulldogs to find a solution. They could have more luck doing that if they take the first step and take Essendon's final offer.
Jake Stringer looks all but certain to be at another club in 2018. Picture: AFL Photos


A deal sending Charlie Cameron to the Brisbane Lions is also destined for the final day, according to sources close to the talks, after another deadlock on Monday.
Cameron met with the Crows on Friday to again explain his reasons for leaving and has returned to Perth briefly before making his way to Brisbane soon.
Adelaide list manager Justin Reid set the scene on Monday when he said that the Lions' pick No.12, if it was offered, did not have 70 games behind it and would not help the club next year.
"Unless we can get something else through the door it's very unlikely Charlie Cameron will be anywhere else," Reid told NAB AFL Trade Radio.
"Charlie will help us next year. Charlie will play 20-25 games for us and he'll help us get there again. The value for us is the next 12 months."
What would it take for Adelaide to come to the party?
At this stage the Lions' offer is pick No.20. For the Crows to do that deal, they'd need to know that a trade for an experienced player from a third club would follow.
They also hold picks No.10 and No.16 and it makes no sense for a losing Grand Finalist aiming to go one better to take such a strong hand to the draft.
There is a feeling they will need to shake Bryce Gibbs free at Carlton to let Cameron go. For that process to start, one of three things needs to happen:
Gibbs has to say he wants to be traded to Adelaide
Adelaide has to say it wants to trade for Gibbs
(and this is the least likely) Carlton has to say it is willing to trade Gibbs for draft picks
Whoever blinks first weakens their bargaining position and both clubs know it, but Gibbs to Adelaide might be the final big twist in this Trade Period.
A third club is likely to be needed to send Charlie Cameron to the Lions. Picture: AFL Photos

What else you need to know…
Nathan Wilson is on track to be traded to Fremantle for a future second-round pick, rather than be involved in any Lachie Weller talks. Details still need to be worked through between the Giants and Dockers, with both clubs expecting something back.


West Coast and Port Adelaide are still in discussions over Brendon Ah Chee. With the Eagles' pick No.50 off the table in a straight swap, the clubs are waiting to see how the Power's other deals fall before settling a trade for Ah Chee. It could involve pick slides.
Anthony Miles is a 50-50 chance of being at Richmond next season, according to his management. A one-year deal to stay at Richmond is on the table, but Miles is searching for greater opportunities.
Former North Melbourne captain Andrew Swallow told LightFM radio he would "love" to be traded to Gold Coast to play alongside his younger brother David. North football chief Cameron Joyce said the club understood Swallow's position after his difficult 2017 season and would work with him to facilitate a trade if he requested one.
Giant Adam Tomlinson is going nowhere despite speculation of a move home to Victoria. GWS shut down St Kilda's interest in the contracted defender on the opening day of the trade period and is not changing its mind.
Carlton and GWS have made progress in their talks on Matthew Kennedy. Carlton's third-round pick, No.40 overall, appears set to be the centerpiece of the trade, with a swap of future picks favourable to the Giants likely to seal the deal.
Get the AFL Trader sent to your inbox
Every weekday evening during Trade Period we'll send you a bite-sized email wrap of the day's biggest trade stories.
We'll only tell you what you really need to know, plus exclusive insights and scoops from our Trade reporters.
Enter your email address here to get the AFL Trader in your inbox every weeknight:
Having trouble on the app? Click here to set up your subscription. You can always unsubscribe by following the link in the footer of AFL Trader emails.
Want more trade news?
• Could the Swallow brothers be reunited?
• Docker wants out: Classy mid requests trade
• UPDATE: Speedy Sun off to the Bombers
• Ablett homecoming 'not that close', say Cats