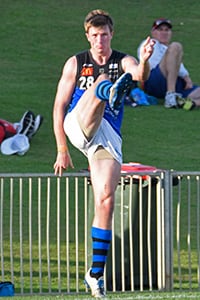 IT IS a good thing East Perth ruckman Scott Jones has learnt to embrace a challenge.
Because after a broken leg wrecked his 2013 draft chances, the 204cm big man has faced plenty of hurdles to get back onto AFL clubs' radars.
Jones' frustrating body issues alone – including surgery on a dislocated AC joint in 2015 and a fractured foot on the eve of his WAFL debut last season – could easily have eroded his motivation.
Then coming into this year, the 22-year-old faced an uphill battle competing against West Coast's tall timber to play regular senior football for the Eagles-aligned Royals.
But after the door cracked open for a round four debut, Jones grabbed his chance with both hands.
The 112kg colossus averaged 31 hit-outs and 12 disposals as the No.1 big man in Jonathan Giles' absence, and went toe-to-toe with Freo-listed behemoths Jonathon Griffin and Sean Darcy in just his fourth League game.
By the time Giles was dropped back to WAFL level in round nine, Jones had established himself.
Despite having to get used to playing second fiddle, he chalked up 15 appearances – averaging 20 hit-outs and booting nine goals – and pushed his name back into draft conversations.
"It was a real confidence boost," Jones told AFL.com.au.
"While the alignment cops a whack every now and then from the public, I find if you're competing for a spot with AFL-listed guys and you can get in even more (benefit) for you.
"With Gilesy this year it's been good to work with an experienced ruckman, picking up little tips and tricks here and there and tactics during games.
"While there was definitely a few down patches when I was injured my coach at the time, Adam Pickering, picked me up and got me doing extras and reignited that flame and desire.
"One thing that has always been in my favour is ruckmen take a few more years to develop and my best footy is still ahead of me.
"That's always kept me driving ahead and going forward."
Jones earned an invite to the WA draft combine after his strong campaign, and clocked a personal best 20m sprint (3.02 seconds) before pushing to his limits with a 20.2 run in the newly-introduced Yo-Yo endurance test.
It was a gut-busting effort, but to compete at the next level in the modern game, Jones knows he needs to shed some bulk without compromising his greatest asset, his power.
"Ideally I'd slim down and speed up a bit. Keep my strength but be able to match it with the more mobile ruckmen," he said.
Several clubs are interested in him, with Sydney and Richmond keeping a close eye on his testing.
But Fremantle and West Coast could also be suitors, with both WA teams needing to bolster their big man stocks after retirements and delistings.
With ready-to-go big men in their early-20s are thin on the ground, national talent manager Mick Ablett is confident Jones has done enough to receive an opportunity.
"The big fellas can take a bit longer and full credit to Scotty he's matured and developed and taken his game to the next level," Ablett said.
"I will be very surprised – whether if it's through the national draft or the rookie draft – if he (doesn't) get an opportunity at League level."
Scott Jones soars high for a hit-out. Picture: McRandompics