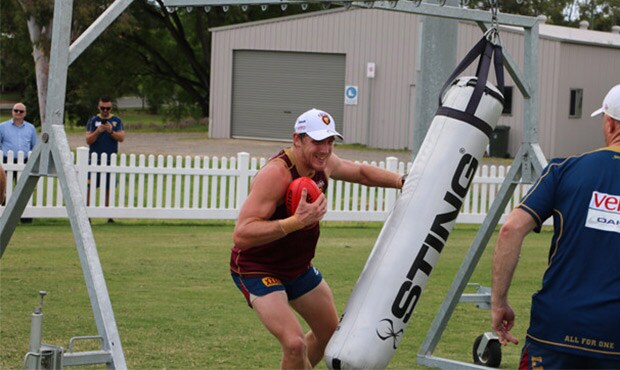 BRISBANE Lions players are keen, with more experienced personnel returning early to pre-season training on Monday morning.
And a second-year midfielder showed he was ready to make an impact in 2018 with some outstanding running.
Last week it was Mitch Robinson and Adelaide recruit Charlie Cameron making an early appearance, and on Monday it was Sam Mayes, Tom Bell and Marco Paparone back a week before they were due.
The trio took part in the solid workout at Yeronga, on Brisbane's southside, that included some three-minute running efforts, followed by an hour of skills and topped off with some 300m repeats.
Bell has overcome a horrific injury suffered midway through last season in the NEAFL where he dislocated his ankle and fractured his tibia.
The 26-year-old has undergone extensive surgery, and although he doesn't have his full range of motion back yet, completed most of the morning's session.
While the former Blue is getting back to his powerful running best, a couple of the young midfielders showed they were prepared to do everything possible to win a regular spot next season.
Hugh McCluggage, the No.3 draft pick from 12 months ago, is a nice mover and stormed home in the 300m reps, while Ben Keays also impressed at the front of the group.
Alongside Keays, third-year midfielder Rhys Mathieson has also taken a step forward.
The senior Lions, including gun recruit Luke Hodge, are due at training on November 20.
Lewis Taylor and Archie Smith put in the hard yards on Monday at Lions training. Picture: Brisbane Lions