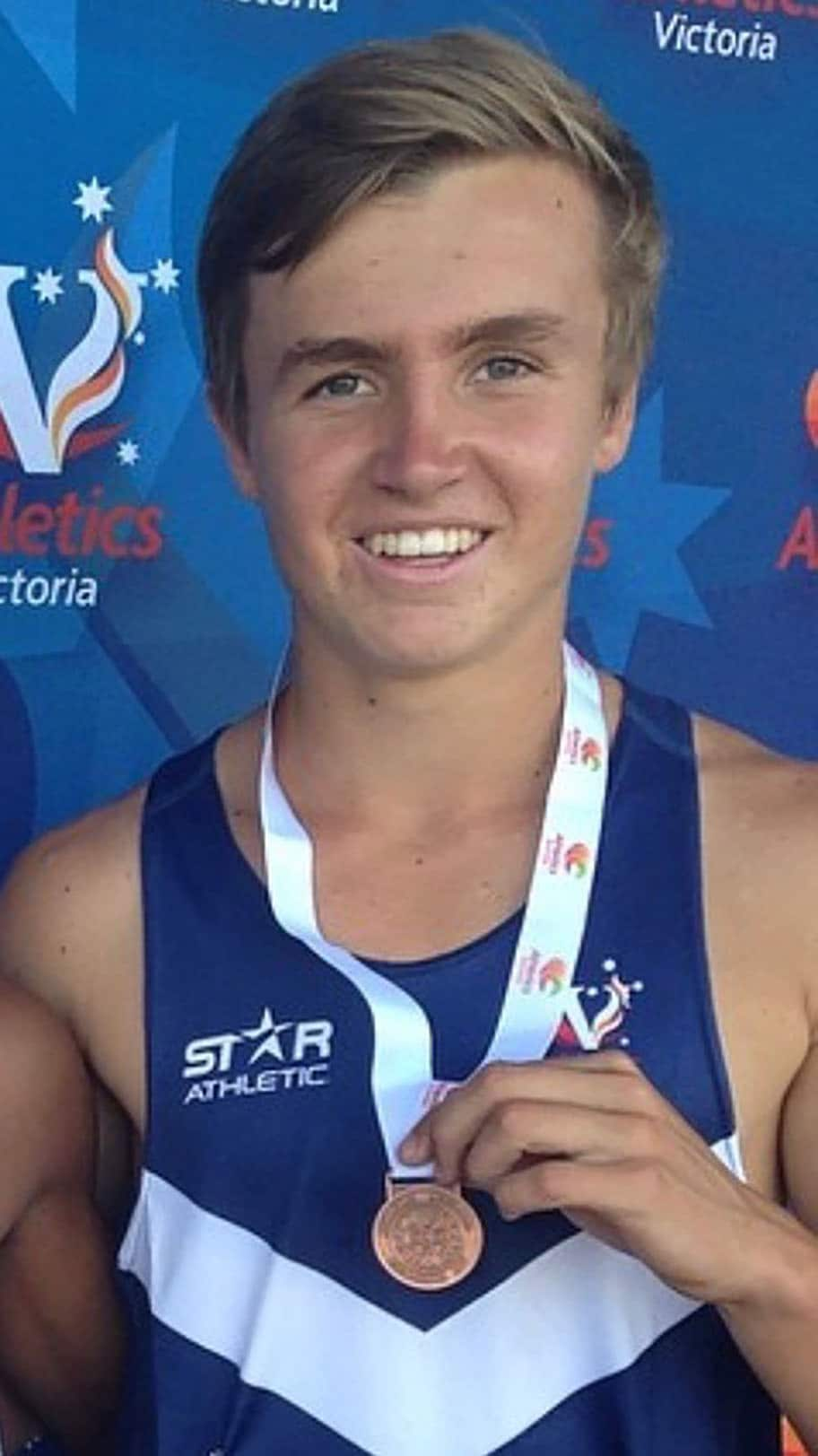 Wednesday, January 18, 2017
LOCHIE O'Brien spent so much time at South Mildura Football Club as a kid that he even had a regular sleeping spot for when he was tired and needed a recharge. In 2005 and 2006, his dad, Jason, coached the club's under-18 side and O'Brien was the team's mascot. He was with the team when it ran through the banner for the Grand Final those seasons, and even tagged along on the footy trips after they won the flag.
He used to attend training on Tuesday nights, and again on Thursdays after school when his mum Deb would help cook the team dinner. At club functions, O'Brien would always be buzzing about, the little kid comfortable chatting with people older than him but always finding a friend to have a kick with on the oval outside.
"It all started at South Mildura, with my family. Everything I'm doing now goes back to those times," O'Brien says.
When the 17-year-old O'Brien mentions now, he is talking about his stay in Florida in the United States, part of the 36-player NAB AFL Academy squad on a pre-season training camp. Thirteen AFL clubs have sent recruiters on the trip to watch and assess the prospects, considered some of the most talented players in the country ahead of this year's NAB AFL Draft.
O'Brien, a classy midfielder, sits right at the top of the bunch. "He's got that running power and a really skilful left foot. He looks to be one of the guys I'd have in the top five at this stage," one scout predicts.
O'Brien with recruiter Dom Ambrogio in the US. Picture: Supplied
Those traits haven't, however, always been part of O'Brien's make-up. Although he looms as one of the best kicks of this year's potential draftees, as a kid he would slam the ball onto his left foot really hard, without finesse. "It would go anywhere," O'Brien recalls.
O'Brien took part in Auskick for three years – he remembers having a KFC 'tower burger' every week with his dad on the way from school to footy practice – but at eight, he was still too young to start playing competitive games so he tried soccer. He didn't mind it, and he found the round-ball game helped him use both feet and learn to weave through traffic. But he lasted just one year before going back to footy.
O'Brien grew up following Collingwood, and once featured on a Grand Final poster hung at Melbourne's Federation Square with Scott Pendlebury's No.10 painted on his face in black and white. His grandfather, Denis O'Brien, played one game for the Magpies in 1971.
An early developer, O'Brien played in the midfield and occasionally had a run in the ruck as one of the taller boys. He caught the eye and attended state trials as an under-12. But he missed the first cut, before eventually making the under-15 Victorian side three years later. By then, his promising athletics career had started to take shape, albeit a little out of the blue.
The first time O'Brien showed running promise was in grade one, when he tore around a kilometre track and passed one of the grade two boys who was known to be a strong runner. He never did little athletics but competed in regional finals in 400m and 1500m races in year seven, and broke a couple of records. Then he headed to the state trials, where he finished fourth in the 400m race and sixth in the longer event.
"As a country boy who had only run on the grass and through a few potholes, getting down to Lakeside Oval (a high-quality athletics track in Melbourne) was a massive change for me. There were kids there with spikes in their shoes and individual coaches. I didn't even have an athletics club, and I had to sign up with Bendigo just to put something down on the sheet," he said. "I wanted to come back the next year and show a bit more."
He did that, training hard to improve his running. The following year he won the state 400m title, breaking the school sports Victoria record (51.06 seconds). A few months later he headed to Canada for three weeks as part of a development track and field squad, and when he returned O'Brien ran in the national event and came third in the 400m race.
"I had to make a decision then about how much I pursued it versus my footy, but I saw people celebrating wins by going for a lap by themselves and I thought that's not really for me," he says.
"It got to a stage where Dad was dragging me out of bed for events, basically so I could add it to the list of sports I was doing before trying to get into a boarding school. If you can get a good sports resume together you have a better chance of getting into one of those schools in Victoria, but I always kept footy as my main goal."
O'Brien did get into a private school, leaving Mildura, a six-hour drive north-west from Melbourne, to board at prestigious private school Geelong Grammar, in the state's south-west.
When he returns to school in a couple of weeks, he'll resume school cricket – he's known to be a powerful, compact batsman who likes a big shot – and he'll split his footy duties this season with his school side, Bendigo Pioneers in the TAC Cup and Vic Country at under-18 level. This will be his second stint with Country, after impressing with them in 2016 as a bottom-ager.
As O'Brien looks ahead to the next 10 months, his first hope is to have an injury-free season. Unfortunately, he's off to a bad start on that front, tweaking his quad at training early in the Florida camp. The minor injury forced him to miss a lot of the training while on camp, including the 3km time trial which he was hoping to win. The injury will need to be assessed when he gets home. He has been waiting for this season for a long time, and doesn't want to start it on the sidelines.
"Since I was 13 I've thought about being drafted, and then the past couple of years I've gotten to know boys who have gone on to get picked. I want to do the same. It's something I think about every day and it changes how I go about things," he says.
"I don't want to drop off this year. So much effort has gone into the past five years, especially from my parents including the expenditure that comes with it. If it doesn't go as planned it will be a disappointment. I don't want that to happen."
O'Brien at prestigious private school Geelong Grammar. Picture: AFL Photos
Monday, April 24, 2017
THE BALL bounced one way, and Lochie O'Brien went the other. He got pushed out of the way a couple of times, and found it hard to run off his opponent, fearing the ball would come back over his head and his man would kick an easy goal.
O'Brien's performance last week for the NAB AFL Academy, when he gathered a handful of touches against Carlton's VFL affiliate the Northern Blues, didn't go to plan. "It was a nightmare," O'Brien says, in his naturally blunt way. "I was filthy afterwards, and I always am after an average game. But more so that one, because it mattered."
He wasn't the only player to struggle in that game, as the Academy was whitewashed by 75 points at Etihad Stadium. But it followed what was a strong effort the week earlier, when O'Brien was among the best players as the Academy played an exhibition game at the MCG. He was also disappointed that the clash with the Blues, a side that included 17 Carlton players, ended his time with the Academy program on a low. "I seem to be a bit of a slow starter in games, but I need to work my way into things," he says.
It hasn't been the start to the season he was hoping for. He initially thought the quad injury he sustained in America was minor, but it restricted him for six weeks when he returned home, and he also had to focus on his cricket at school – training Monday, Wednesday and Thursday afternoons before playing on Fridays and Saturdays.
In between, on Tuesday nights, he was doing some light footy training to keep up his touch. He knows he has to dedicate time and effort to all sports – he's on a sports scholarship at Geelong, not just footy – but it's still tough to find the perfect balance.
It's a topic raised regularly by recruiters. O'Brien has come to know the people who will rank, analyse and dissect his potential leading up to the draft, and during the Academy gathering in Melbourne he had another round of interviews with every club. He's noticed a change in their line of questioning.
"The first few times I met them, they were all pretty nice and simply asked for background details. But after a while they start to ask more personal questions and put you on the spot with some things," he says.
"Collingwood asked what animal I thought I was and how that represented my football. I said I was a lion because I take great pride in my footy and they're a proud animal. I thought that was an OK answer."
O'Brien in action for the NAB AFL Academy. Picture: AFL Photos
Other discussion points include what O'Brien is interested in away from footy, and what he'd like to do beyond running on the MCG with the ball tucked under his arm. Often prospects have little to offer on that front, having focused so heavily on honing their footy craft. But O'Brien went to Geelong Grammar intent to make the most of it from an educational point of view, and he's determined to become a pilot.
Aviation has run through his family. His grandfather used to run the Qantas link at Mildura airport, his mum was a flight attendant, and his dad worked at the regional airport as a baggage handler and staffer for 15 years. As a youngster, O'Brien would go to the airport on Friday nights in his pyjamas when his parents were working and have dinner.
The family, including younger sister Elle, travelled regularly to Bali, and O'Brien was always fascinated by planes, their infrastructure and how they get off the ground.
"Being a pilot would be an amazing job. I matched all my classes at school this year to get into the aviation course, so hopefully I can do well enough and make it into one," he says.
When he raised it with Sydney recruiters, list manager Kinnear Beatson organised a trip through a contact for O'Brien to head to Qantas and try one of its flight simulators. "We had a go on one of the new Dreamliners and it was unreal. It was a great experience," he says.
O'Brien has found moving to Geelong Grammar has come with increased pressure from a study perspective, on top of the added expectation on his football.
The school team hasn't won a premiership for more than 100 years, but is considered one of the favourites this season, given four of its players – O'Brien, Jarrod Brander, Paddy Dow and Brent Daniels – are tipped to be drafted at the end of the year. But he understands that's what comes with the territory, and sees it as something of an introduction to the pressures an AFL player faces at the next level.
But that's not to say his move from Mildura to the school – a six-hour drive or a 60-minute flight – hasn't been without its challenges. He looked at moving to a school in Ballarat for year nine, but was overwhelmed when he visited the boarding house and realised what a move would entail. It wasn't until 2015, when he was in year 10 and a tad more mature, that he made the decision to go to Geelong. He misses his family and friends in Mildura, and sometimes feels himself getting down about not being there for special occasions.
It's also been a challenge for his parents. Every time O'Brien goes home and then has to leave again, Deb finds herself in tears in the driveway. At school Elle is asked regularly about how her brother's footy is going, and every weekend Jason makes the 12-hour round trip to watch him play.
Dad has missed only one game since his son moved to Melbourne – last year's under-17 NAB AFL All Stars game at Punt Road Oval. O'Brien knew how much it hurt his dad to miss the game, so in the warm-up on the ground had his iPhone headphones in and pretended to be listening to music. Instead, he gave Jason a call to say he was in the centre circle and looking forward to the game. He went on to kick two goals from 20 disposals in a bright display. "I broke down crying. It was really thoughtful," Jason said.
Three weeks ago, O'Brien started his season with 26 disposals and two goals in Bendigo's 12-point win over the Greater Western Victoria Rebels. His mixed bag of showings for the Academy the past couple of weeks hasn't rocked his confidence too much, but he knows the start of the NAB AFL Under-18 Championships in June marks the most important period of the year.
"A lot of my training is going towards improving my contested ball-winning abilities and tackling," he says. "It's a big period of the year coming up. I know people look at the carnival and then go back to it to judge your year, so I want to go well."
Want more Going Places?
• Lochie O'Brien part two: What's 'pissed off' this top prospect?