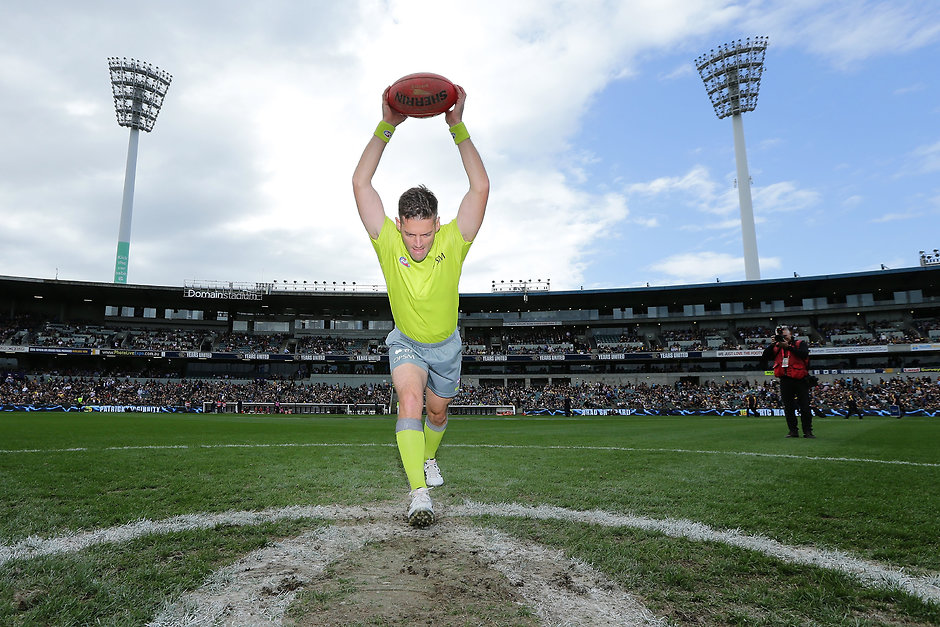 THE CENTRE bounce will be dead within two years because junior umpires are no longer required to bounce the ball, AFL Umpires Association chief Peter Howe says.
The issue, which will be discussed at next week's AFL Commission meeting, has created division among the ruck fraternity, with several former ruck stars at odds with each other on whether the bounce should be retained or removed.
Umpires are strongly opposed to continuing the tradition, adamant that it unnecessarily places them at risk of injury.
The AFL coaches' survey in August revealed that 15 of the 18 coaches also wanted to get rid of the bounce.
The TAC Cup under-18 competition removed the bounce this year and Howe believes it's only a matter of time before the AFL follows suit.
"If the bounce remained we would need to chat with the AFL about the impact on health and wellbeing of umpires," Howe told News Corporation.
"If they had a whole range of options to put into place to mitigate the potential cause of injury we would need to talk through those.
"Anybody who looks at this space knows the group of umpires coming through in every community football competition in Australia don't bounce.
"If they don't make a decision (to get rid of the bounce) we are only 12 or 24 months away from being in a position where we don't have a choice."
Essendon great Simon Madden wants the AFL to put an end to the practice to enable a fair contest, while North Melbourne premiership player Corey McKernan and former Melbourne star Jeff White want to keep it.
Madden observed that umpires were had progressively been asked to bounce the ball higher and more accurately, which had placed more stress on umpires' bodies.
"If you want it to be like that, throw it up and move on," Madden told Melbourne radio station SEN on Wednesday morning.
"I think it would actually help the ruckmen, because then they could start to have a contest based on the ball being in the middle of the contest, so they can (use) angles and (make) decisions based on that."
However, McKernan and White said the unpredictability of the bounce added to the game.
"Just leave it as it is. It's part of the game," McKernan told News Corporation.
"You know when you are an umpire (that) bouncing is part of the game. It's like saying you want to play footy but can't kick.
"Imagine trying to combat Aaron Sandilands when he knows every single ball will get thrown up. For mine, it's a great part of the game."
White revealed he would watch the umpires practising their bounces before games to work out the nuances between each.
"One bounced it higher, one bounced it shorter, and you had to adjust to each one," White told News Corporation.
"It became an art. There was a science to it. If you throw it up it's all easy. Plain and simple it's the person who jumps highest. It's like a basketball tip-off.
"From a (traditional) point of view you had to adjust and get your angles right and know what your opponent's strength was. If the ball bounced back towards you, you had to protect yourself. I hope it stays."