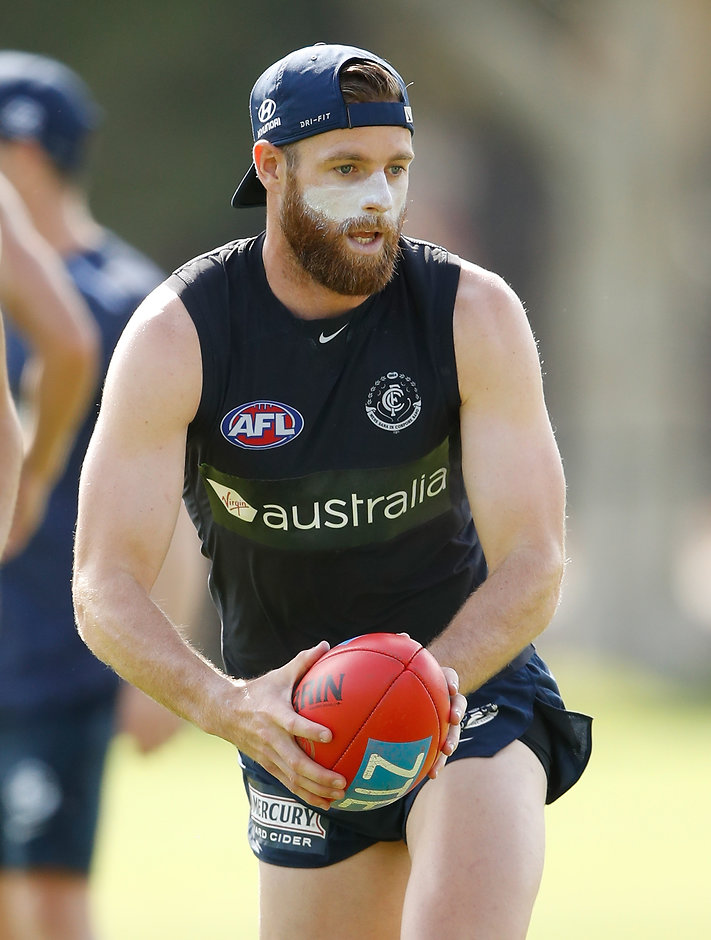 CARLTON is refusing to blame a below-par training surface for defender Sam Docherty's devastating knee injury, despite it happening in public parkland.
With the arena inside Ikon Park being completely resurfaced, the entire Blues' list was taking part in a training session across two ovals in adjacent parkland.
Apart from the stadium, Princes Park is completely open to the public, with local joggers and dog walkers able to freely move through the area during the week.
Some parts of the training space were very wet underfoot on Wednesday, with ground staff preparing the roped-off centre wicket area for weekend cricket.
"It was just one of those freak accidents – changed direction, knee gives way, you see them often in AFL footy, it's just the angle that someone takes," Blues coach Brendon Bolton told reporters late on Wednesday when asked about the surface.
The senior coach called the rest of the playing group to an afternoon meeting to update them on Docherty's condition.
The All Australian's absence for the entirety of the 2018 campaign is a major blow for the Blues, having already lost Bryce Gibbs to Adelaide through the trade period.
Adding to the pressure, the Blues have been backed to perform next year, scheduled to play on the prime-time stage with five games on Thursday or Friday nights.
"This group, although young, is really determined to grow," Bolton said.
"I think footy clubs are forged through adversity. This isn't adversity, but it'll bring us closer together and the group will be determined to step up in his place."
Club best-and-fairest Docherty, 24, is expected to have a traditional knee reconstruction in the coming days.
"They're a tough injury to take," Bolton added.
"What I know about Sam Docherty is he's extremely strong in character and he's been through more hardship than an ACL injury in his life.
"It's a big loss, but what I do know, in footy, someone will step up."
Carlton will face Richmond in the traditional Thursday night season opener in round one.