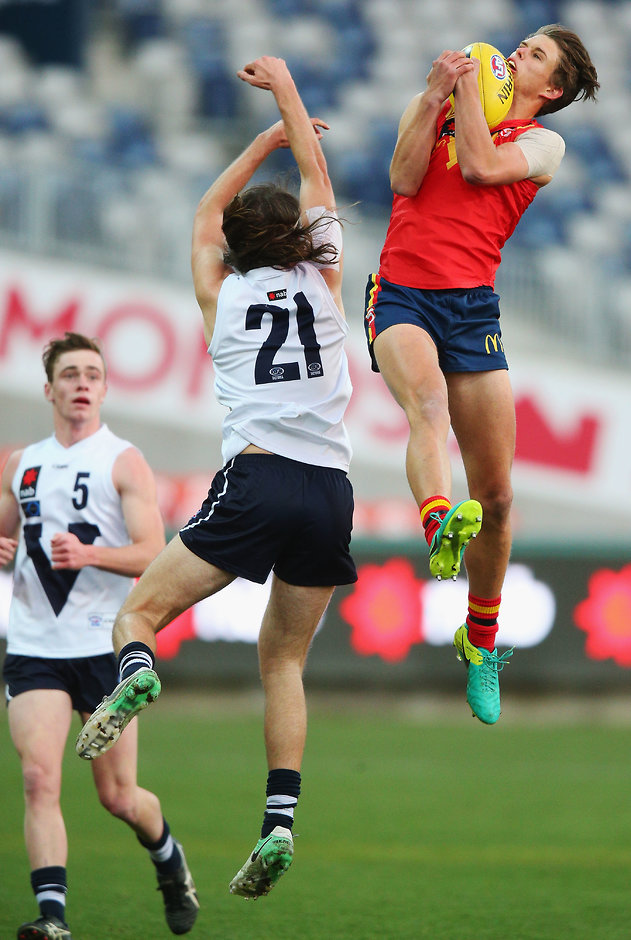 • Check out every pick made in the Draft Tracker
• Brisbane Lions reveal their No.1 pick
• How did the guru go? Cal Twomey's Phantom Draft
ESSENDON didn't even need to be in the room for the opening moves of the 2017 NAB AFL National Draft.
Thanks to their frantic trade period during which they secured three walk-up starts for their best 22 next season – Devon Smith, Adam Saad and Jake Stringer – the Bombers were the latest starters of all at the draft and their first selection wasn't until No.49 when they secured Jordan Houlahan.
Which made it an interesting night for coach John Worsfold.
"We were looking to trade this year and we probably initially didn't think it would be three players," he said.
"But to bring in three and not trade any out you give up some things.
"You look at what we brought in and the age levels of the talent, that was the critical part for us."
The temptation on Friday night coming in so late was to throw a blanket over the remaining players in the draft and simply take the best available players, but Worsfold said the Bombers were still quite strategic in their approach and were delighted to get Houlahan, who they rated highly.
"He's exciting with a lot of talent and we look forward to putting in the work to get that out of him," he said of Houlahan, who finished the season strongly with Sturt and then tested really well at the Combine.
Houlahan's Sturt teammate, developing key defender Brandon Zerk-Thatcher was also identified as a need by the Bombers while Matt Guelfi also figured prominently on Essendon's draft list and was taken at pick No.76.
"Guelfi has played well in the WAFL and has a great character. He was a no-brainer at that stage of the draft," Worsfold said.
Given the depth of Essendon's list, there will be no great urgency about any of their draftees playing senior footy next year.
"We've got a good group of young developing players who will be looking for opportunities in the next couple of years and these guys will join that queue," Worsfold said.
The coach admitted it was an unusual experience to wait so long to make a selection and admitted to some "glimmers of hope" that some players might fall through to their picks.
"But in the end, we were really pleased," he said.
Videos not available on mobile
Read more
• Check out every pick made in the Draft Tracker
• Draft wrap: Lions reveal top pick, Freo's big call
• The verdict: we rate your club's draft haul
• The bolter they didn't see coming
• How did the guru go? Cal Twomey's Phantom Draft