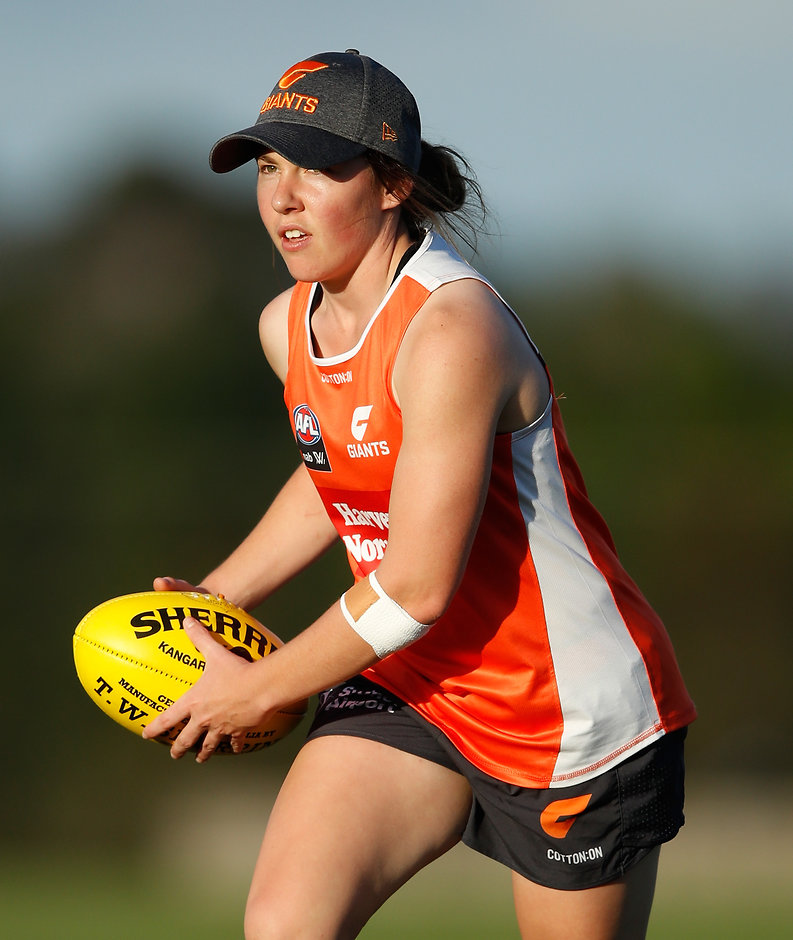 Any time my cricket training clashes with footy training we just have to work out which session is more important and go from there
Jodie Hicks
PRE-SEASON training can be a shock to the system for most draftees, but spare a thought for Greater Western Sydney's top AFLW pick Jodie Hicks.
Hicks, a Riverina product who starred at representative level as a junior, plays professional cricket with the Sydney Sixers in the Women's Big Bash League.
That means the 19-year-old won't just have to navigate her first summer on the track in the NAB AFLW competition, she'll be combining footy training with her time in the nets with the Sixers.
The addition of Hicks continued the Giants' love affair with dual-code athletes, the youngster joining original GWS players Ellie Brush (soccer) and Jacinda Barclay (gridiron/softball), along with 2017 signings Cora Staunton (Gaelic football) and Elle Bennetts (netball).
WNBL legend Jess Bibby (basketball) was also part of the Giants' inaugural squad before retiring at the end of the season.
Hicks has received some good advice from Sixers teammate Ellyse Perry, who has combined a stellar cricket career at state and national level while also playing in the W-League and for the Matildas.
The talented athlete started training with the Giants under new coach Alan McConnell on November 20 and a week later began her WBBL campaign, and while she knows she's in for some hectic days, the midfielder told AFL.com.au she's confident she can handle the double workload.
"I train during the day with the Sixers and with the Giants in the evenings, so that makes it a lot easier," she said.
"Any time my cricket training clashes with footy training we just have to work out which session is more important and go from there.
"If I start to feel a bit burnt out I think I'll need to have a chat with the coaches and fitness staff, but at the moment it's all trial and error."
McConnell's appointment has the GWS AFLW squad excited for season 2018, with his decades of experience in the game already having an impact on his players.
"Every time he speaks the girls are all ears trying to take it all in," Hicks said.
"He's really good at giving credit where it's due, but he'll give you a kick up the butt if you need it too, which I really like in a coach.
"I think he's a great asset for the club and hopefully we can perform better than we did last year."