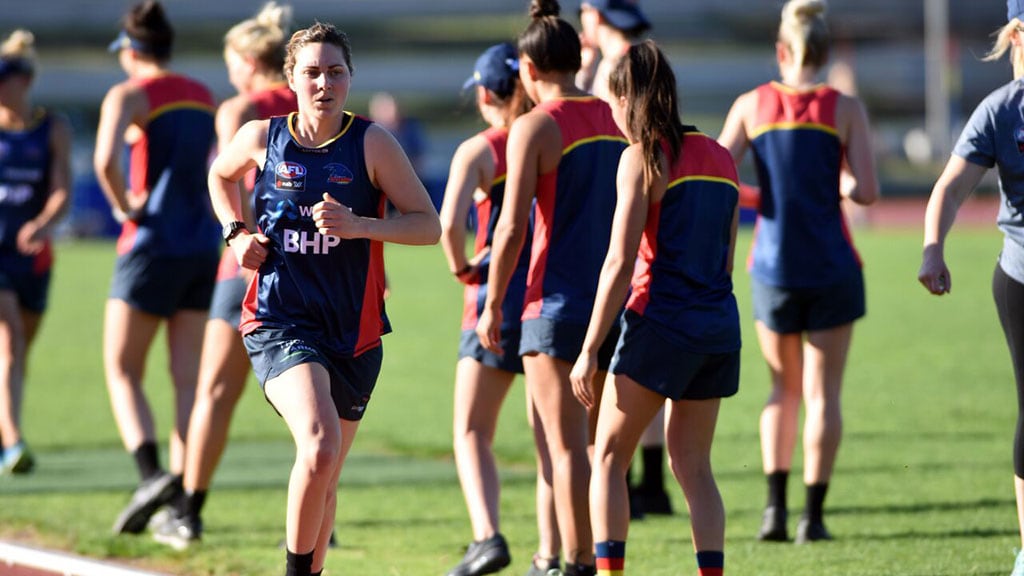 It's three months of basically shutting you off from the world and making situations really hard
Rheanne Lugg on army training
ADELAIDE recruit Rheanne Lugg didn't see a minute of the Crows' historic NAB AFL Women's premiership triumph.
She was too busy being put through a rigorous three-month Australian Army training program, and contact with the outside world was prohibited.
"I saw the very first game (of AFLW), then two days later, I was off doing that," Lugg told AFL.com.au.
"It's three months of basically shutting you off from the world and making situations really hard.
"Go out bush and just see how you go.
"You have to pass that to get into the trade you want to do."
A qualified electrician, Lugg was put through her paces at the Army Recruit Training Centre at Blamey Barracks at Kapooka, about 10km from Wagga Wagga in NSW.
Female recruits must be able to run 2.4km in under 11 minutes, while trainees go on 15km marches with 30kg on their back.
Lugg played her junior football at Swan Districts, represented Western Australia four times and played in the AFL women's exhibition matches before putting her football ambitions on hold to enlist in the Army.
"I joined for disaster relief work, helping communities out that have been affected," she said.
"The Army has pulled some strings so I can work and play footy at the same time.
"I've transferred for six months so I can live on base (in Adelaide) and come straight to training after work."
When she did resurface midway through this year, the former Western Australian representative impressed Crows coach Bec Goddard while playing for the Riverina Lions in the AFL Canberra competition.
Every second week, Lugg – who was living in Albury-Wodonga – would leave home at 3am on a Saturday in order to be in Canberra for a 10am game.
"It was pretty hard, but I liked it. You've got to dedicate yourself to waking up at that time," she said.
It just happened one of her Lions' teammates knew Goddard, and let the Crows coach she was worth taking a look at.
"They told me Bec was in the stands watching, so the pressure was on," Lugg said.
"After the game, she introduced herself to me and said, 'How would you feel about putting your name in for the draft?
"My dream was to get into the AFLW and I was willing to do anything to have a shot."
Lugg accepted Goddard's offer and was selected by the Crows with the 42nd overall pick.
The pacey 27-year-old winger has already made her mark, winning the 2km time trial on the opening night of pre-season training for Adelaide-based players.
While she's met the majority of the Crows' squad for the first time, she has one familiar face in co-captain Chelsea Randall.
"It's good to be playing alongside her again," Lugg said.
"We played together for 10 years (at Swan Districts) and then we had three years off; she moved to Adelaide and I was off doing the army stuff.
"It's just awesome playing with an elite athlete."