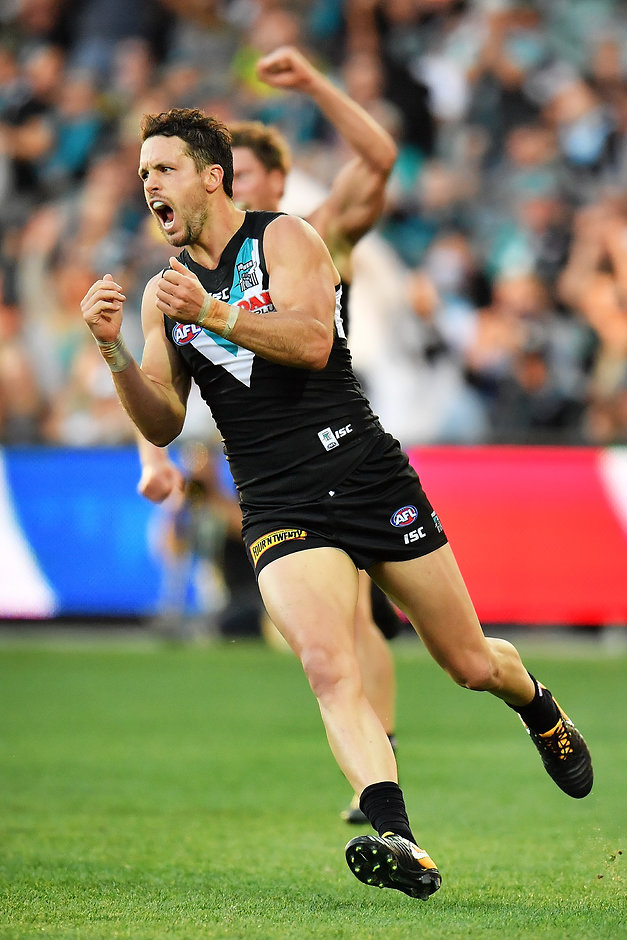 You can't question his character and his work ethic … but he's certainly not in the starting midfield
Kane Cornes on Travis Boak
PORT Adelaide midfielder Ollie Wines could take over the captaincy from Travis Boak as soon as next season, according to club great Kane Cornes, who has questioned whether the skipper is still in Port's best 15 players.
Boak, who has led the Power for the past five seasons, will turn 30 next season and Cornes believes he has been pushed further down the talent order at the club after an aggressive off-season of trading.
The former tagger, who played 300 games for the Power before retiring at the end of 2015, believed Boak's position would be debated at length by the club over the pre-season as it plots an extended finals campaign in 2018.
"Is he still in the best 15 players at Port? I'm not sure that he is now," Cornes told SEN on Wednesday.
"You can't question his character and his work ethic … but he's certainly not in the starting midfield, he wasn't last year, he played a lot of footy across half-forward.
"He's probably lost a little bit of that leg power, the penetration in his kick is probably not there, and as a forward he probably doesn't hit the scoreboard like he needs to. It's a big year for him."
Boak, a two-time All Australian, finished ninth in the Power's club champion award in 2017 after playing all 22 games.
His natural successor is Wines, who was appointed as the club's vice-captain at the end of 2016 as a 22-year-old and has appeared destined to eventually take on the top job.
Cornes believed a decision to change the skipper would need to come from the club's leaders, rather than a player vote.
"The system they have at Port, they set their values that they want for the year and then they vote for each player on those values," he said.
"Travis Boak will always come out No.1 in that from his peers.
"If you ask me, I think he still will captain the club (in 2018). But Ollie Wines, if it's not this year, it'll be next year."