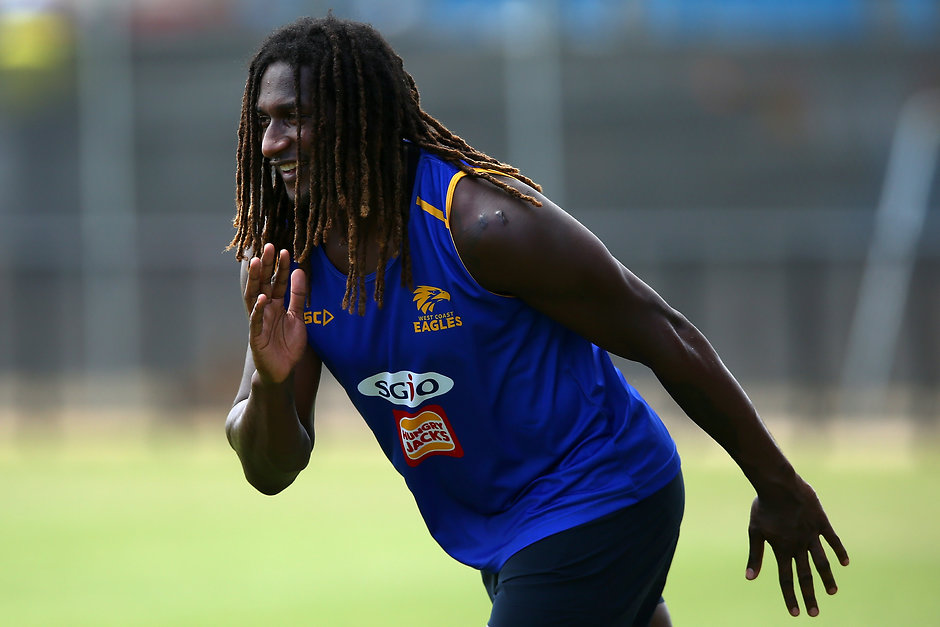 THERE are only 100 days to go until the first bounce of the Richmond-Carlton clash to begin the 2018 home-and-away season, so we've asked our reporters to tackle the big issues and talking points that will dominate fans' discussions over the summer.
MID-SEASON TRADE PERIOD
It would be a slow burn as clubs and players adjust, like every other player-movement initiative, but how could this be bad? Team A might have a surplus of forwards, whereas Team B might be one forward away from making finals. Why should a player gather dust if there is an opportunity to play senior footy elsewhere? There is even a case to widen the trade window, where a deadline only kicks in late in the season. The ability to sign a non-AFL-listed state league footballer mid-season should also be considered. Would clubs, let alone fans, ever be open to a loan system, like soccer and basketball, where players temporarily compete for another side? The obstacle is coaches being concerned about club IP getting out. But, as League boss Gillon McLachlan has already stated: "You don't have to do the trade if you don't want to." - Marc McGowan
TWILIGHT GRAND FINAL
When it comes to the Grand Final starting time, AFL boss Gillon McLachlan is standing at the top of the 10m diving platform. He knows the leap will be exhilarating and the landing spectacular, but he can't quite muster the courage to take the plunge. Just do it, Gill. A 5pm start makes all the sense in the world – the pre-game entertainment won't change much but we might be able to do a bit better than a running race at half-time, while the post-game presentation under lights opens up all sorts of possibilities. More people will watch the game on TV – particularly in northern Australia – but I won't cop the argument that it's unfair on the players. At an average salary of $309,000 (the average for the rest of us is $81,000), the precious wallflowers can wait another couple of hours. Turn the North Melbourne breakfast into a brunch and the AFL lunch into a high tea, and all your problems are solved. We will do our part and promise to get the Premiers Magazine printed overnight in time for the winner's family day the next day. And there's one more thing Gill – Midnight Oil and the cast of Hamilton are waiting your call. - Ashley Browne
DRAFT NIGHT
Even AFL chief executive Gillon McLachlan, speaking on the Road to the Draft podcast last month, admitted the League could do more with its NAB AFL Draft night. The next step should be the introduction of live trading of (at least) draft picks on the night. Clubs are all for it being added to the night, and the AFL is keen for it to happen as well. McLachlan stopped short of saying it definitely will be brought in next year. However, it would be best for all if a decision was made before the season started as to whether it would be in, with the mechanics worked out later. If McLachlan had his way, drafted players – and already-listed ones – would also be up for grabs on the night, meaning the actual draft as an event may look a little different and be staged over many hours, or even a couple of days, to give time to clubs who want to make trades. - Callum Twomey
Draft night may take on a very different look next season. Picture: AFL Photos


SUNS SIGN TOM LYNCH
We're in pipe dream territory here, we know. Every indication is that Lynch will hold out until at least mid-year before making a call on where his future lies. His manager has said as much. His underperforming team starts 2018 with a horror nine-week stretch on the road. He has left the field victorious in just 34 of his 121 games, and for much of 2017 he played like a man frustrated by his team's lack of progress. In the last twelve months, he's watched Gary Ablett, Jaeger O'Meara and Dion Prestia walk out the door, with Prestia now a premiership player. As sure as night follows day, expect Eddie McGuire to pursue Lynch as relentlessly as he did Jonathan Brown. Eddie won't want to walk away empty handed again. With Stuart Dew - Lynch's third coach in eight years - comes new hope, but the Suns have been here before, and there's a sense of dread about what further failure might mean. That's what makes Lynch's signature Gold Coast's light on the hill and every bit as triumphant as the day they nabbed Gary Ablett all those hopeful years ago. - Staff writer
The Suns should get cracking and sign Tom Lynch to a long-term deal. Picture: AFL Photos


MOTY/GOTY
The way the competition's annual mark and goal of the year is determined must be overhauled to avoid a repeat of the embarrassing situation Collingwood's Jeremy Howe found himself in at the Brownlow Medal. Howe was heavily favoured to win for his Queen's Birthday screamer, described as the "best mark I've ever seen" by Scott Pendlebury, but had to swallow his shock when the fan vote went the way of Essendon's Joe Daniher. The All Australian selection committee picks the three best marks (and goals) from a pool of 28, and the public votes on the winner. While it's important for fans to have a say, a fairer outcome would come from a centralised panel (such as the AA committee) having a bigger influence in crowning the winner, to avoid clubs simply campaigning for their nominee to collate the most votes. And while we're at it, let's fix the prize. While Daniher and goal of the year winner Daniel Rioli pocketed $10,000 – which is a far cry from the 52 boxes of Weet-Bix Nic Naitanui won in 2015 – long gone is the car that previous winners used to drive away in. We're sure the players wouldn't argue if a new set of wheels was back on the agenda. - Jennifer Phelan.
Howe expects Mark of the Year judging to change
NIC NAT'S KNEE
It has been almost 16 months to the day since Nic Naitanui's left knee buckled against Hawthorn at Domain Stadium, and it's not just West Coast supporters who are itching to see him back on the field. There were murmurs of a possible return last season but it never happened, so an Eagles media release declaring the ruckman ready to ease his way back in the JLT Community Series would be a perfect way to bring in the New Year. Naitanui brings fans through the gates, and while Sydney might not agree, seeing Nic Nat and Lance Franklin doing their thing at the new Perth Stadium in the season opener would be some spectacle. - Adam Curley
NO MORE RUCK NOMINATIONS
WHEN the All Australian ruckman is penalised for not nominating for a ruck contest at a crucial time of an elimination final, you know the system is flawed. The problem was, Port Adelaide big man Paddy Ryder actually did raise his hand – it just wasn't spotted by the umpires. We don't need players putting their hand up to nominate for a ruck contest. It's confusing for the players, confusing for the umpires and confusing for the supporters. Let's make it simple. One player from each side contests a ruck contest at a ball-up or boundary throw in. If a third player contests the ruck, then a free kick is awarded. No more calling out names or raising hands. Just use common sense and allow the game to flow. - Lee Gaskin
It's time to ditch the ruck nomination rule. Picture: Getty Images


THE RETURN OF JAMES HIRD
Make no mistake. James Hird will be back. The most likely option for the former Essendon champion is television. Hird has already been linked with making a return Fox Footy where he was previously a member of the On The Couch team. There are even suggestions in the industry that he could fill the vacant seat on Channel Nine's Footy Classified, from which Garry Lyon has just departed. While there's no doubt Hird is a polarising figure in the wake of the supplements scandal, but when he talks people listen and that's what makes him a valuable media commodity. - Matt Thompson
James Hird's tearful departure from Essendon in 2015. Picture: AFL Photos

MRP
The MRP needs to move with the professional era the game now finds itself in and fortunately new AFL football operations manager Steven Hocking recognises this. What Hocking most urgently needs to address is the timeliness of MRP decisions and the clubs' ability to challenge those decisions. There is no sound reason why players should have to wait several days to discover their MRP fate like Richmond captain Trent Cotchin had to before this year's Grand Final. MRP members should deliver their findings the day after games, even if that means they have to meet on four consecutive days in rounds with Thursday night games. Clubs should also have the right to challenge player penalties without the risk of an increased sanction. We don't want to go back to the pre-MRP days of marathon Tribunal hearings, so that right to challenge would have to be qualified. Patrick Dangerfield's one-match ban for a rough tackle on Matthew Kreuzer this year is the type of line-ball decision that should be reviewable. Perhaps each club could be given a maximum of three challenges a year to be used at its own discretion. - Nick Bowen
INTERCHANGE CAP
AFL footy is sensational, but it could be even better. For what it's worth, I'd love to revert back to the days of two players on the bench and unlimited rotations. This would make footy more of a battle of attrition because teams would be physically incapable of sustaining a rolling maul style of game, potentially creating more positional play, more man-on-man duels and more contested marking (the most unique and celebrated feature of our game). But that's got about as much chance of happening as Meat Loaf has of being invited back to perform at the Grand Final. So, to move some way towards my perfect world, and as much as it pains me to add further restrictions, I'd keep gradually reducing the rotations cap of 90 by, say, 10 a year until we get down to about 40 or whatever is deemed an optimum level. Not sure that luminaries such as Collingwood president Eddie McGuire or Laws of the Game Committee member Michael Christian would agree. - Ben Collins