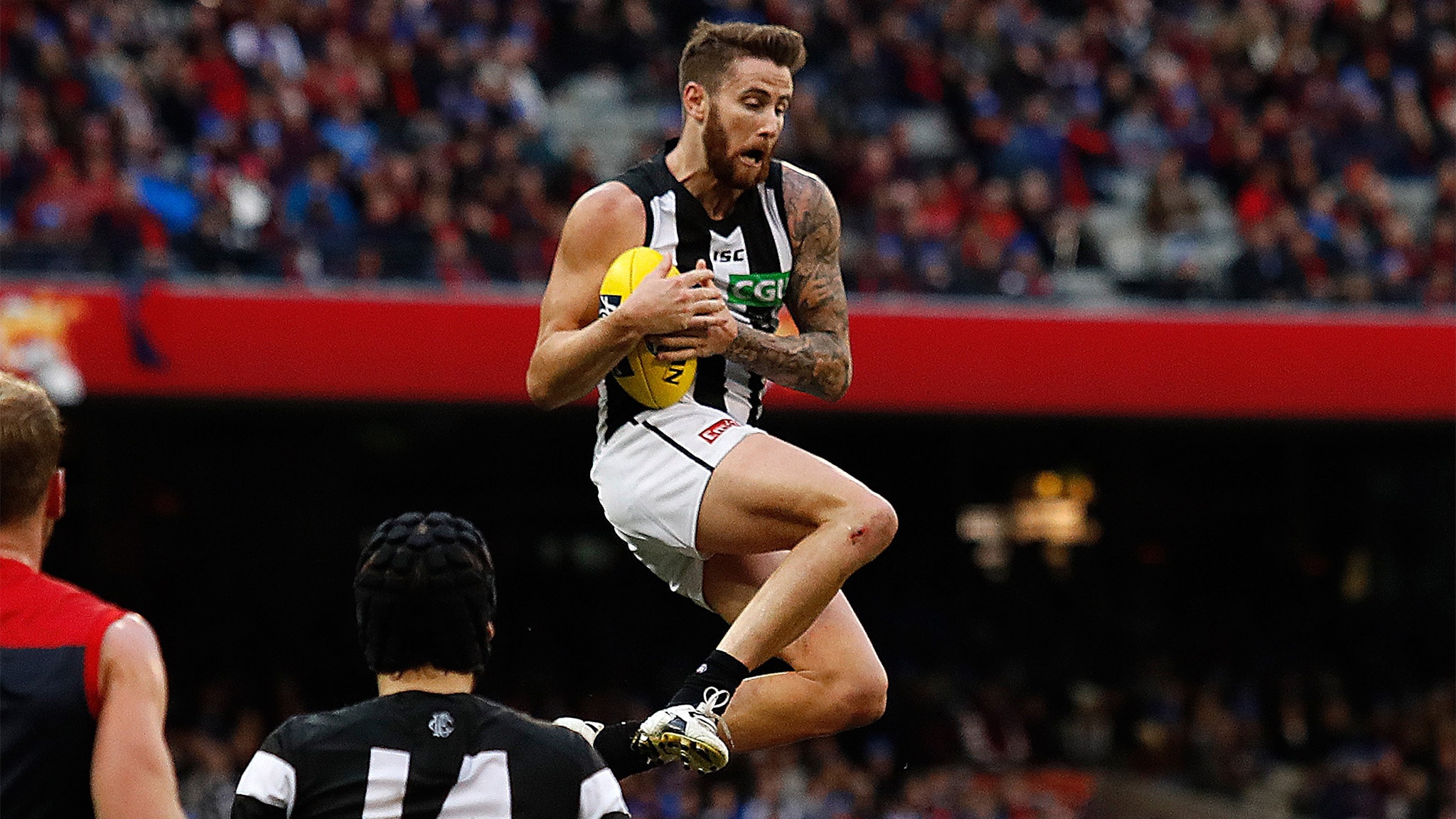 From jumper punches to flying kicks, the Match Review Panel saw it all in 2017 and two running themes make our list of the 50 things we'll remember from 20-11. We also look back on a lockout worth celebrating and a coach's rollercoaster year.
20. High-flying Howe robbed by fan vote
It was the best mark of the season, and among the best of the modern era, but it will not be remembered as the official Mark of the Year for 2017. Jeremy Howe's incredible grab against Melbourne in the Queens Birthday clash came up short when fans voted to determine the award, with Joe Daniher winning with 52 per cent of the vote for his soaring grab against Sydney. Howe's stunned reaction when the winner was announced at the Brownlow Medal summed up how many felt, with Collingwood president Eddie McGuire declaring the result "embarrassing" and saying the voting system needed to be overhauled and taken out of the fans' hands. A gracious Howe tweeted shortly after the result: "Well deserved Joey. Can't win them all".
Jeremy Howe gets some serious air. Unbelievable! #AFLDeesPies pic.twitter.com/rOWwGFcuAl

— AFL (@AFL) June 12, 2017
19. The live ladder's moment in the sun
Melbourne sat inside the top eight for 10 of the 11 weeks leading into round 23 and had its destiny in its own hands – beat 13th-placed Collingwood and an 11-year finals drought would be over. But the Demons dropped the ball and were left to rely on ladder leader Adelaide to beat West Coast in Perth in the last game of the home-and-away season. If the Crows could beat the Eagles by 24 points, the Dees would play finals, and West Coast led by 23 with five minutes to play. It didn't look good. The live ladder in the corner of the screen became essential for TV viewers as West Coast surged home in the final AFL game at Subiaco Oval. The Demons were left devastated and shocked, missing the finals by 0.5 per cent. "Hopefully it burns in the players' gut over the pre-season," captain Nathan Jones said.
Darling back with the flight! #AFLEaglesCrows pic.twitter.com/qA3AxjYA9q

— AFL (@AFL) August 27, 2017
18. "Choosing money over success? You haven't had success either"
Geelong champ Jimmy Bartel knows what success is and he called Adelaide captain Taylor Walker out for his criticism of former teammate Jake Lever during the NAB AFL Trade Period. Walker believed Lever had been seduced by big dollars when he left the Crows to join Melbourne in one of the biggest deals of the off-season, telling Triple M: "I think it's pretty much him choosing money over success". Bartel's rebuke was that Walker had not enjoyed success either, despite individual recognition as an All Australian captain. "There's no guarantee you will," Bartel said on NAB AFL Trade Radio. "Just because you played in the Grand Final doesn't mean you're going back and winning it next year." It was a big trade period for the Crows, who secured Carlton midfielder Bryce Gibbs 12 months after first trying to negotiate a deal, while Charlie Cameron left for the Brisbane Lions.
17. The tap of the season
It was Paddy Ryder's "dream play". A clean tap out of the back of a boundary throw-in to one of his midfielder's for the match-winning goal. Executed with stunning precision, Ryder's hit-out into Robbie Gray's lap against St Kilda in round 19 was one of the purest plays of the season, with Gray powering away to kick the match-winning goal from just inside 50 with 10 seconds to play. It delivered a two-point win for the Power. "Me and Robbie both looked at each other at that last stoppage, and we both said at the same time where he wanted it, and where I wanted to hit it to him," Ryder said. "It was just connection." The former Bomber was selected as the All Australian ruckman at the end of the season with Gray, appropriately, named on a half-forward flank.
What an incredible finish! #AFLPowerSaints pic.twitter.com/zdxsik6n4Y

— AFL (@AFL) July 29, 2017
16. 'Tomahawk' pays the price as expectations shift
Trent Cotchin's round eight strike on Lachie Neale set the foundations for change and Ben Cunnington's gut punch on Bernie Vince the following week was the final straw. The AFL – and football public – had seen enough blatant punching on the field to warrant a mid-season change in the Match Review Panel's interpretations and jumper and gut punches would become suspendable offences. Geelong forward Tom Hawkins was the first victim of the crackdown when he was suspended for a jumper punch on Adelaide's Matt Crouch, and more would follow. Softer hits that would have been overlooked before the crackdown were also penalised with fines, making the 'three strikes' system more relevant than ever as superstars Dustin Martin and Lance Franklin racked up minor offences. Always controversial, the technicalities and nuances of the MRP got a workout in 2017.
Tom Hawkins got Matt Crouch with a jumper punch late in the second quarter. #AFLCatsCrows pic.twitter.com/nz4ibd0z51

— AFL (@AFL) June 2, 2017
15. It's a lockout!
The popularity of AFLW was unforeseen as it arrived for its inaugural season in February. The moment that best summed up the raging success of the competition was the lockout at Ikon Park for the first ever home-and-away match. The AFL knew something big was brewing when it moved the clash between Carlton and Collingwood to the Blues' training base, and its suspicions were confirmed when a massive crowd turned out to witness history, filling the 22,000-seat venue. Security was forced to close the gates early in the first quarter with CEO Gill McLachlan apologising to up to 2,000 fans who were locked out. "Why didn't you move it to Etihad?" they asked. "Can we have a big screen?" Even the AFL was overwhelmed by the success of AFLW, which should only get bigger in 2018.
The Pies line up in front of a full house in the AFLW opener at Ikon Park. Picture: AFL Photos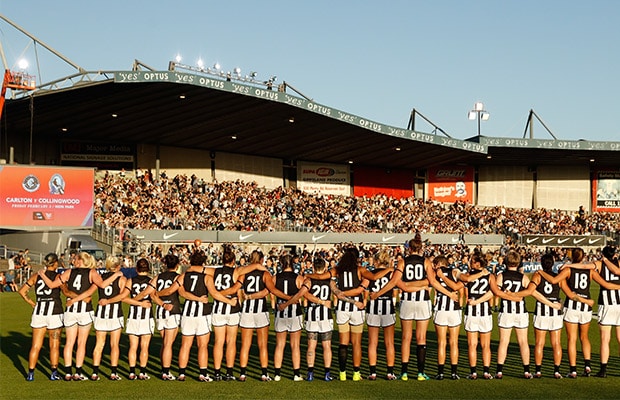 14. Oh no, Toby
For all the scrutiny GWS star Toby Greene came under in a tumultuous season, it is the 'karate kick' for which he escaped suspension that lingers in the memory. Greene was scrutinised by the Match Review Panel at least six times in 2017, resulting in $3,500 in fines and four matches suspended. His offences included striking Caleb Daniel in a poorly-disguised spoil, jumper-punching Alex Rance, and striking Dan Houston. He was also cleared of headbutting Isaac Heeney, but only because there was insufficient force to maintain a charge. In round 21, in his first match back from a two-week ban, he lifted his right boot into the face of Luke Dahlhaus in a marking contest and was immediately reported for rough conduct. He was ultimately charged with the lesser offence of misconduct and forced to pay a $1500 fine in one of the more bizarre MRP cases of recent years.
Toby Greene was reported following this passage of play. #AFLDogsGiants pic.twitter.com/shNZAuk7y4

— AFL (@AFL) August 11, 2017
13. Young Tigers made for the big stage
Daniel Rioli continued a family legacy when he produced a brilliant four-goal performance in the preliminary final against GWS. With relatives Cyril and the late, great Maurice Rioli both winning Norm Smith Medals, Daniel always appeared destined to perform on the big stage and he delivered on a magical night at the MCG that saw the Tigers progress to their first Grand Final in 35 years. Jack Graham didn't have the same weight of expectation when he ran out for his fifth game in front of 100,021 the following week, but he produced a three-goal performance that at one stage had him in Norm Smith Medal calculations. It was a remarkable recovery for a player who missed the first half of the season with an ankle injury and didn't debut until round 22. Two of the premiers' youngest players through the finals, the efforts of Rioli and Graham will long be remembered by the Tiger Army.
Simply glorious! Daniel Rioli's third goal was a pearler. #AFLFinals pic.twitter.com/NmZLPISBcW

— AFL (@AFL) September 23, 2017
12. Ablett's blockbuster homecoming
A deal 12 months in the making was finally consummated in the final 30 minutes of the NAB AFL Trade Period, with Gold Coast agreeing to send champion midfielder Gary Ablett back to his first football home. The sentimental homecoming, seven years after Ablett left for the Suns on a multi-million dollar deal, reunited Ablett with the club where he won two premierships and his first Brownlow Medal. It came at an emotional time for the eight-time All Australian, who was mourning the death of his sister, Natasha. Watching Ablett in a Geelong jumper will be one of the highlights of the opening round in 2018, with Geelong CEO Brian Cook saying the Cats' decision to bring Ablett home was fueled by both his on-field talents and sentimental reasons. "You don't take all the emotion out of it," Cook said. "Some say you do, but at Geelong we don't."
The Little Master is back. Gary Ablett returns in Geelong colours next year. Picture: AFL Photos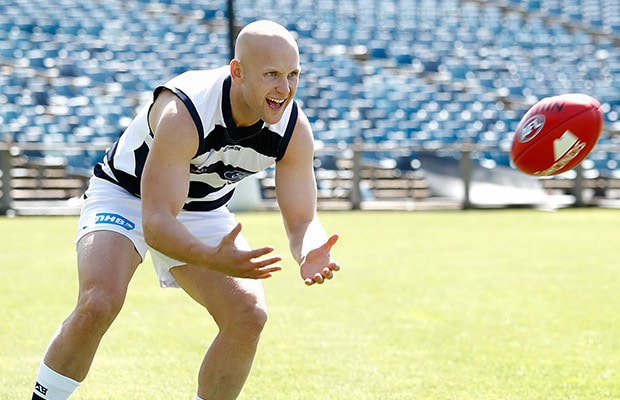 11. Review ends with extension for Bucks
The numbers didn't flatter Nathan Buckley as his coaching future was debated ad nauseam through 2017. Four years without a September appearance and a continual decline in wins under his watch gave significant ammunition to those who believed it was time for a change at the Magpies. Collingwood refused to take such a black and white approach, however, and conducted a thorough review of the entire club including the football department, which would ultimately decide Buckley's fate. Things started to look up for Buckley through August, and his players were clearly committed. It was also hypothesized that the lack of a 'big fish' to replace the 45-year-old would work in his favour. Ultimately Buckley signed a two-year extension after a recommendation from football manager Geoff Walsh was ratified by Eddie McGuire's board. "I think I have grown and developed," Buckley said after a difficult year in which he carried himself with typical class. "I know I am in a better place now to lead this football club and this team better than I ever have before."
Nathan Schmook's top 50 countdown
- 50 things we'll remember: 50-41
- 50 things we'll remember: 40-31
- 50 things we'll remember: 30-21
- 50 things we'll remember: 10-6