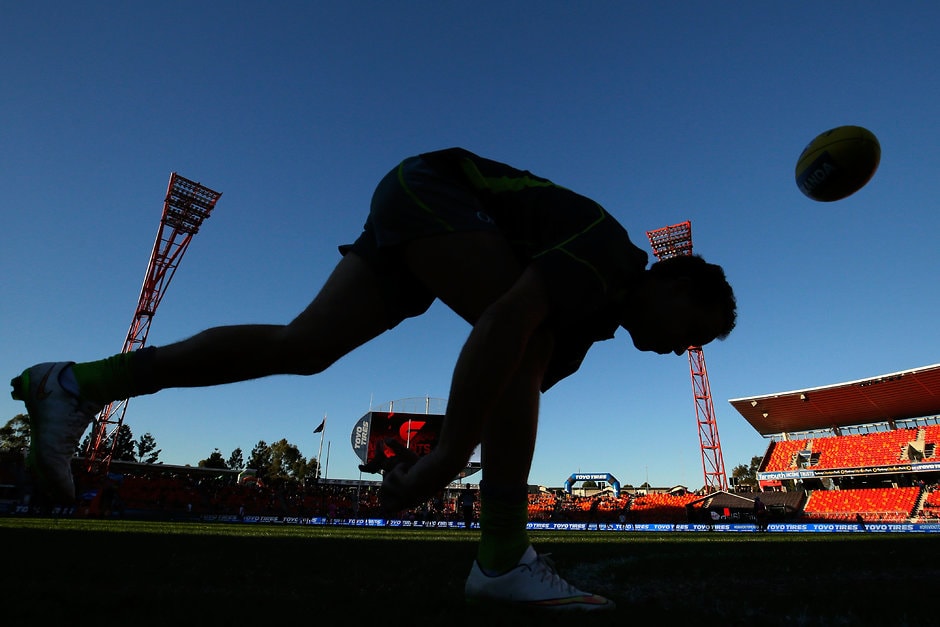 WE ARE only two months into the Steven Hocking era, so any judgements about the AFL's new general manager of football operations are premature.
But what has been interesting – and refreshing – so far are his verdicts for the first two items that sat atop his in-tray when he commenced at the AFL in October, namely the bounce and the Match Review Panel.
The outcomes could not have been more different. When it looked as though the bounce was dead and buried, Hocking went 'old school' and ruled that not only would it remain, but various support mechanisms would be installed to ensure it remained a fundamental part of the game.
"It is a tradition of the game and we're going to make sure that it is retained within the current game we all so dearly love and enjoy," Hocking said during the announcement that gladdened the hearts of traditionalists everywhere.
But if you thought the doctrine of conservatism was about to take centre place in the League's football department, then think again. When it came to the MRP and the Tribunal processes, Hocking pretty much blew it all up, with his move to a one-man panel, no more one-match discount for early pleas or automatic loading for players with bad records.
And by introducing a 24-hour turnaround for Thursday night and Friday night games, Hocking has eliminated 'trial by talkback', the farcical situation where incidents were endlessly replayed, discussed and debated for up to 72 hours before a verdict was reached – and with media personalities moonlighting as Match Review Panel members, sometimes front and centre of the on-air discussions.
Both of Hocking's major rulings so far are grounded in common sense. Once the bounce is gone at AFL level it is never coming back, so the smart move for the game is to try one last time to make it work. The first step towards fixing a problem is to admit you have one in the first place.
And to new Match Review Officer, Michael Christian, we say welcome to the most thankless job in footy. Being the sole arbiter on these matters should lead to more consistency, although the counter argument is that any entrenched biases he may hold will come to the fore time and again.
The first and most important step taken by Christian is to give up his media duties. It will come as a wrench because the former Collingwood premiership player has earned plaudits in the past for his match commentary on Channel Ten and 3AW and his hosting duties on Sport 927 and SEN.
As a side note, leading US sports media commentator Richard Deitsch recently wrote in Sports Illustrated of his discomfort at former NFL star Ray Lewis, now working as a commentator and analyst, appearing on the sidelines at a recent Baltimore Ravens game as an honorary captain. There was also an uproar when injured Carolina Panthers player Greg Olsen did special comments on a recent game during his team's bye week.
How would these NFL types react to the situation in the AFL where we have club presidents, board members, players and coaching staff members commentating on several games each week, including their own teams?
They'd be gobsmacked, and rightfully so. So, credit to Christian for pulling the pin on something he's good at so that the sanctity and integrity of his new role is not compromised in any shape or form.
We'd like to think it's a precedent and mean that active football officials cannot also work in football media, but we're not holding our breath on that one.
Commando Hawks show up the Demons
With every iteration of the Collective Bargaining Agreement, the players have gained more rights and more power. And given they're the ones putting on the show, that's fair enough.
It is in the pre-season where the players' new collective muscle is most on display. They have won major concessions in recent years when it comes to summer training, in terms of when it starts and hours per week at their clubs. The coaches have learned to live with, if not entirely love it.
But has the balance shifted too far in favour of the players? It is a reasonable suggestion in the wake of the 14 Melbourne players who, with the assistance of the AFL Players Association, got the Demons to cancel their pre-Christmas training camp.
It was at this camp 12 months ago that incoming coach Simon Goodwin made good on his promise to instill a harder edge at the Demons. The camp included all sorts of gruelling activities that left Christian Salem with concussion courtesy of an errant brick and Dom Tyson with a knee injury.
Now, perhaps because this is the quietest time of the football year, this story created a few headlines, with SEN broadcasters Danny Frawley and Cam Mooney both chiming in with criticisms of the players. Frawley called the Demons "a bit of a laughing stock" and while his view is shared by many, what complicates matters is that he is on the coaching staff at St Kilda as a defensive assistant coach.
Is he calling out Melbourne as a) fill-in breakfast host, b) Saints assistant, or c) former boss of the AFL Coaches Association? There are waters and right now, they are muddied.
Whether or not the Demons come back a bit battered and bruised from a December training camp probably won't matter all that much when it comes to how they perform next season. They're a team on the rise, stacked with emerging talent and they should be playing with an edge in any event given their soft finish to 2017. They're due.
But let's compare them with Hawthorn. The Hawks have worked their players over on the Sunshine Coast this time every year for the last few years and the camp has always been anything but idyllic, but lest the players start to feel too comfortable in the Queensland heat, earlier this month the club decamped instead to Lord of the Rings country in southern New Zealand.
The Hawks take a rest during their brutal New Zealand camp. Picture: AFL Photos

The three-day trek through the Peel Forest at the tail end of the camp, which included a 15-hour, same-day mountain climb, was regarded by many as even tougher than the club's famed Kokoda expeditions. Yet at Hawthorn, all we've heard since they came back was how good it was.
You can't imagine the AFLPA receiving any calls from any of the Hawks if the club chooses to return there next year, but just at the minute, the Demons have a perception problem.
Access all areas
'Tis the season for purchasing AFL club memberships, and the exchange between Chris Scott and a member at Geelong's annual general meeting last week is proof positive of the benefits of doing just that.
Irrespective of whether you believe the Cats' coach has a Plan B for when clubs get a run-on against them (and Scott believes he has, judging by his feisty response), the mere fact that a mechanism is in place for a paid-up club member to ask the question almost makes the several-hundred-dollar investment worthwhile on its own.
The member did tap into the growing frustration among Geelong supporters that their team underachieves when the heat is really on, and the Cats will be a fascinating watch in 2018 with Gary Ablett back at the club. They need to win the flag, or come awfully close, because all the elements – particularly their list profile and draw – are in place.
And as for the member/coach exchange, can you imagine it happening with Bill Belichick or Jose Mourinho? No, we can't either.
Chris Scott faced some knotty questions from a Cats member at the AGM. Picture: AFL Photos

LA proposal was a real Croc
You had to love the big News Limited splash last weekend of a proposed VFL (yep, that's how long ago it was) team out of Los Angeles in the late 1980s.
It smacked a bit of reaching for a footy headline at a quiet time of year, but hey, we're all footy all the time here at AFL.com.au, so who are we to complain?
But even though the LA Crocs were never a serious consideration, the story did bring back those cowboy days in footy when no idea was a bad idea, at least initially.
Those were the days when businessmen with a bit of cash (only some of it their own) became club presidents overnight. Alan Bond anyone?
It was a great time for dumb ideas. How about Carlton playing 11 home games in Melbourne and 11 'away' games at the SCG? Thanks for that one, John Elliott.
Or Collingwood's partnership with Fitzroy in which the Pies would have sported a Lions logo on their shorts – for away games only. Good on you, Allan McAlister for that 'magnanimous' gesture.
Ron Barassi, meanwhile, wanted four goal umpires. Actually, that wasn't such a bad idea.
Over and out
That's it for this column for this year. Merry Christmas to those that do and happy holidays to everyone else.
We'll see you next year.
The views in this article are those of the author and not necessarily those of the AFL or its clubs