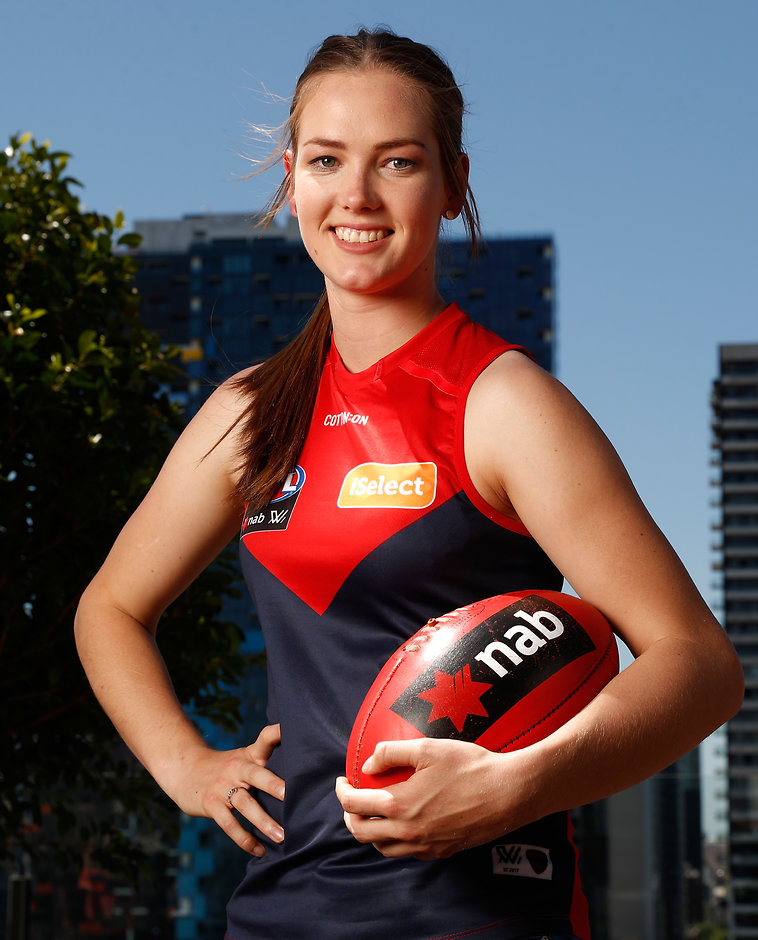 MELBOURNE is craving goals, goals and more goals in the 2018 NAB AFL Women's season based on its decisions during the trade period and at the draft table.
As well as securing Carlton forward Bianca Jakobsson, the Demons used two of the four draft picks on other key forwards, Eden Zanker and Tegan Cunningham.
An AFLW record 11.4 (70) against Fremantle in the final home and away round last March only underlined the 'what if' despair after a disastrous solitary goal return cost the Demons victory against Greater Western Sydney in round five and probably a Grand Final berth.
Melbourne rebounded to beat eventual premier Adelaide in Darwin the next week before a thumping 54-point home win against the Dockers left them percentage shy of the top two teams on the ladder.
"There was big room for improvement in our inside-50 finishing [especially against GWS]. That determined the outcome of that game," coach Mick Stinear said.
"It's a tricky one. We learnt a lot from our losses and our mistakes. The amount of growth we had following our round one loss to Brisbane was important and we learnt probably twice as much from the loss to GWS.
"We might not have been able to play so well against Adelaide and Fremantle in that last game if we hadn't been through that.
"Our finishing is something we'll be working on."
Tall forward Alyssa Mifsud and the smaller, quicker Aliesha Newman are expected to be improved contributors after their experience during the inaugural AFLW season.
"'Mifo' is probably our best in terms of forward craft. Her skill level is excellent and she has been working hard make herself more versatile and get up the ground a bit more. We see her as a key part of our forward line," Stinear said.
"And Aleisha continued to improve throughout the year [playing at state league level]. That was her first year of footy and she has had a full year of VFL. We feel like we have a good group of finishers.
"Shelley Scott kept the forward line together and now there's the opportunity to swing her down back. She's a great interceptor and reader of play. That might free up Ainslie Kemp to spend more time in the midfield. She's another who has improved in the off-season. It does give us more flexibility."
While Lauren Pearce admirably shouldered most of the ruck duties last season, she will welcome back-up from rangy rookie Erin Hoare. At 194cm, the former elite netballer will be the tallest player in the competition.
"She developed with every game with Geelong in the VFL. We were watching her pretty closely from the start of the year," Stinear said of Hoare.
"With her ruck craft and height combined with leap and touch, she will be a real weapon for us around the stoppages to release or give first access to our midfielders."
Stinear said expectations for 2018 had risen in line with the players' increased understanding of the professional approach needed to compete in the elite competition.
"They've gone from enjoying the experience of last year to having a sense of purpose to what they want to achieve," he said.
"We're far better placed … in terms of understanding the girls and their capabilities and combining strength conditioning and football as well as welfare into a really tight program.
"We felt like it took the best part of the season to get the group to play a certain style and connect because we had eight players who had one year or less experience playing footy. We probably underestimated that at the start of the season.
"The main thing for us is just simplifying the three phases of the game – attacking, defending and contesting.
"We still want to teach them, but we want them to be able to play on instinct. For us [coaches], it's about doing the work during the week and then just letting the girls play."