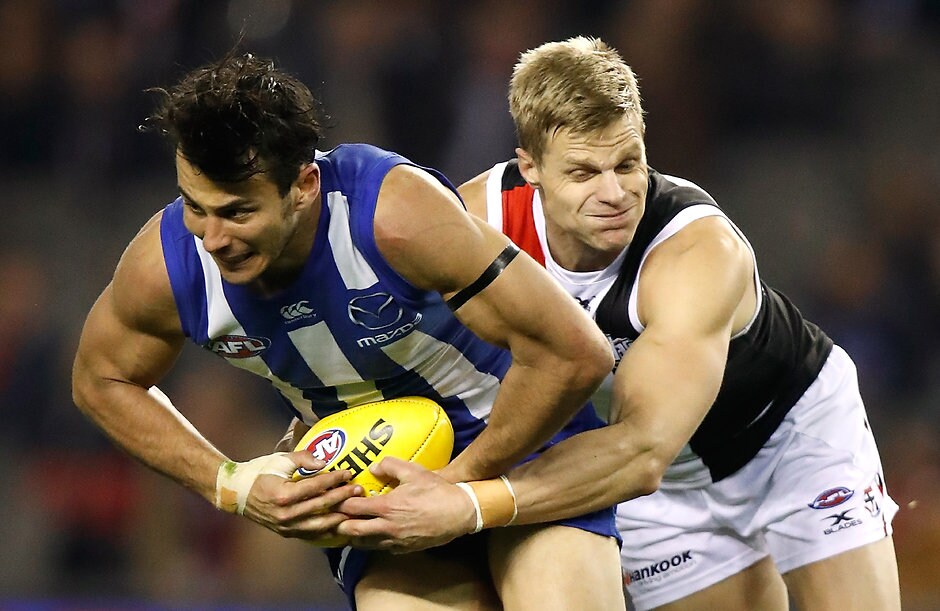 Sometimes in footy you get what you deserve, and he just worked and worked and worked
TAC coach Mark Ellis on Robbie Tarrant
ROBBIE Tarrant's TAC Cup coach used to take great satisfaction each time the future Kangaroo crashed a pack to grab a strong mark.
Those were the days when Tarrant was a key forward, following in his brother Chris' footsteps, long before his transformation into an All Australian-calibre defender.
Chris, coincidentally, also successfully went down back in the final years of his stellar 268-game career.
Mark Ellis, who coached Bendigo Pioneers for seven years and Vic Country's under-18s for another three, had a front-row seat to the younger Tarrant's "cruel" injury troubles.
Tarrant's shoulders were an issue even then, and were reconstructed four times – twice on both – before he played his first AFL game for North Melbourne in 2010.
But the then-teenager's ability to put those problems aside and place himself in danger's way was part of why Ellis admired him so much.
Tarrant was also of strong character, a trait North's director of coaching Darren Crocker admitted this year made easier the club's decision to stick by him through his injury woes.
"We, as a coaching group, used to get excited in those moments, because he worked so hard, but had so many injuries," Ellis told AFL.com.au.
"You just knew he needed that shot of confidence and away he'd go.
"That's why it's so pleasing now to see him go so well. What do they say? Sometimes in footy you get what you deserve, and he just worked and worked and worked."
Tarrant's wretched injury history includes season-ending surgery on a leg stress fracture in 2014.
The one-time first-round pick had played only 39 games in seven seasons as he entered what loomed as a make-or-break year in 2015.
Tarrant's switch down back was largely by necessity, with Jarrad Waite, Ben Brown and even Mason Wood taking priority in attack, and, perhaps, a tactic to change his luck.
Robbie Tarrant gets up close and personal with Lance Franklin. Picture: AFL Photos

He has since played 66 matches, won a Roos' best and fairest, assumed the vice-captaincy – and captained on occasion – represented Australia and become one of the competition's premier defenders.
Melbourne great-turned-media commentator Garry Lyon nominated Tarrant last year as his left-field selection for the AFL's best player.
Tarrant's evolution is incredible in many ways, not least that North coach Brad Scott long saw him as a centre half-forward rather than a stopper.
But, looking back at his pre-draft testing, he fits the bill of the modern tall defender: a great athlete who ran a sub-three-second 20m sprint and boasted an impressive aerobic capacity.
"They need elite speed, they need to be able to mark the footy – including contested marking – and they need really good concentration and team ethos," an opposition analyst told AFL.com.au.
"Most great defenders have high-end straight-line speed, so that's why forwards' leading patterns are so crucial.
"If you allow them to just sit on you and you go for one lead, they're going to spoil every time. I think that's how (Alex) Rance started and how Tarrant started, then they evolved."
Tarrant also read the play "really well" in his TAC Cup days, according to Ellis, who oversaw the drafting of Scott Selwood, Toby Thoolan and Eljay Connors the same season.
"We played him as a forward more because, at the time, there was a bit of pressure on him, because of who he was – the brother of Chris and all that sort of stuff – and our depth wasn't great," Ellis said.
"We did play him a little bit back, but as a forward we said to him, 'Just go and do your own thing a bit'. That gave him a bit of freedom.
"His work rate was always good and he was very team orientated … you could tell he was going to be a good player."
The AFL's top defenders generally hunt best in pairs, with veteran Scott Thompson, an All Australian five years ago, serving as a quality sidekick to Tarrant.
Thompson will still sometimes man the opposition's best forward and that enabled Tarrant to develop his offensive side in a slightly different role in 2017.
Tarrant achieved career-high averages last year in disposals, contested and uncontested possessions, metres gained, rebound 50s and score involvements and launches.
He remained a defensive force, conceding only three more goals than 2016 (33 to 30), but actually improving his league ranking in the category, from equal 28th to 17th.
"I think that came with confidence and, I suppose, responsibility and leadership," Ellis said.
"He's been in the system a while now, and it's the old story – when you're feeling fit and healthy and you're confident, you're going to thrive at and enjoy what you're doing.
"He'd certainly be looking at ways he can get better, and obviously North Melbourne showed a lot of faith in him and developed him extremely well.
"North and Robbie are reaping the benefits of that."
Robbie Tarrant by the numbers
| | | | | | | | | |
| --- | --- | --- | --- | --- | --- | --- | --- | --- |
| Season | Disposals | Metres gained | Rebounds | Contested possessions | Uncontested possessions | Marks | Score involvements | Score launches |
| 2016 | 16.3 (12th) | 297 (7th) | 4.1 (6th) | 5.4 (22nd) | 11.0 (7th) | 6.3 (11th) | 1.9 (52nd) | 0.9 (43rd) |
| 2017 | 17.8 (3rd) | 323 (3rd) | 4.3 (3rd) | 5.7 (12th) | 11.9 (2nd) | 6.2 (15th) | 3.0 (12th) | 1.3 (10th) |
| 2017 leaders | Michael Hurley 25.6 | Michael Hurley 462 | Michael Hurley 6.9 | Sam Collins 8.0 | Michael Hurley 16.3 | Jeremy McGovern 8.0 | Tom McDonald 4.8 | Dougal Howard 2.7 |
Rankings are with other key defenders