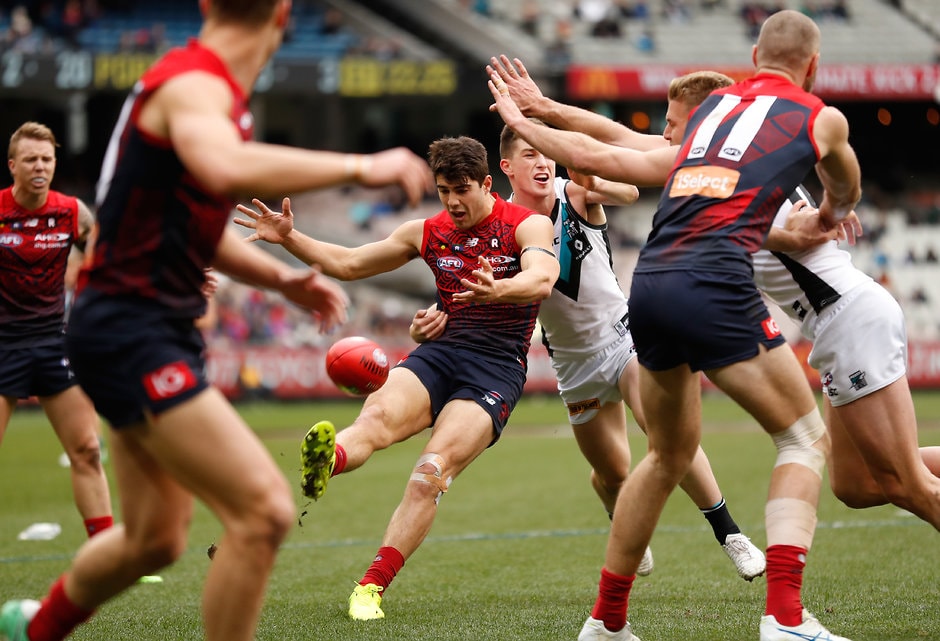 MELBOURNE is an AFL Fantasy volcano and if things fall in place for them this year, some of the players will explode.
After a season that came so close, the Demons will be hoping for much more luck after injuries decimated the squad in 2017, with only four players managing to play all 22 games.
Second-year player Clayton Oliver (MID, $715,000) was one of those, and he defied the "second-year blues" theory that some Fantasy coaches believe in. He finished the year with an average of 102, an improvement of 32 points, to be one of the biggest movers in 2017.
Former Essendon defender Michael Hibberd (DEF $652,000) played his first game for the club in round five and took no time warming-up. He had his best Fantasy season of his career to average 93, which included an impressive seven triple-figure scores.
However, it was the veteran Nathan Jones (MID, $734,000) who showed the younger brigade just how it was done, averaging 104 to be the best at the club. It was only the second time in his 12-year career where he has averaged triple figures and he'll be out to prove it wasn't a fluke in 2018.
Click here to subscribe on iTunes.
In 2016, Max Gawn (RUC, $605,000) set the Fantasy world on fire with a stunning season that saw him average 107. After starting the year with scores of 111 and 95, a hamstring injury sidelined the ruckman for many weeks. He returned in round 14 with Melbourne's finals chances on the line and pushed though till the end of the season where he only averaged 70 in his last three games.
Many Fantasy coaches will be starting with Gawn from round one. With a full pre-season under his belt, Gawn is cheap and will be worth over $700K before we blink.
After missing 2017 with a stress fracture, Aaron Vandenberg (FWD, $301,000) is an interesting one to monitor this pre-season considering his cheap price and forward eligibility.
Vandenberg has averaged 74 in the past and after the discount he receives for missing an entire season, he's priced around an average of only 43.
As we know, in AFL Fantasy, players tend to break-out in their third season. Introducing Christian Petracca (MID/FWD, $500,000) as one of my break-out predictions for 2018.
In his first two seasons at the club, Petracca has spent a large amount of game time up forward and has averaged 68 and 71 respectively. As the 2017 season rolled on, he was given more freedom up the ground and finished the year with scores of 87 and 81.
If he can gain the midfield time he deserves, maybe he'll score like he did as a junior in the NAB AFL U18 Championships, where he averaged 128.
Fresh from his four games with the Dockers, Harley Balic (MID/FWD, $346,000) finds himself a new team at Melbourne.
In his debut season last year, Balic started like Warnie on New Year's Day and stumbled his way to just 35 points. From there though, Balic found his feet and scored 73 and 91, before falling once more with 41 in his final game.
Balic's ability to score is undeniable and at his price and with his availability a forward, he's certainly one to watch.
Although he played in three games last year, Joel Smith (MID/DEF, $170,000) is still at the basement price.
Smith made his debut in round one, only to dislocate his shoulder on 18 points in the first term. He reappeared in rounds 16 and 17, to finish the season with an average of 30.
He was recently permanently upgraded to the senior list and although he won't set the Fantasy scoreboard on fire, this 22-year-old could be a heartbeat on your bench with added dual-position flexibility.
After pushing through 18 games, Jack Viney (MID, $638,000) ended the season with an average of just 91. Clearly playing injured and sore at times, Viney was a warrior and fought hard for his team and his faithful Fantasy coaches.
Viney sits 10 points under what he averaged in 2016 and therefore offers us some value. He has a ceiling and proved this on two occasions last year posting 145 and 132 thanks to a total of 27 tackles.
If you are selecting Jay Kennedy-Harris (MID, $383,000) in your team from the word go, be ready for a bumpy ride.
Kennedy-Harris dominated the VFL last year with an average of 108, but when he got the call up to the big league, he failed to back it up. This frustrated those coaches who jumped on him (like me) as he scored 70 or less in five of his six games, and for one of those he had 27.
Based on his VFL numbers and his record as a junior, Kennedy-Harris can obviously play. But, in 2018 he's more awkwardly priced than ever and I'm saying, look elsewhere.
Get expert advice from The Traders during the pre-season in the Fantasy Hub. Follow AFL Fantasy on Twitter and 'like' the Facebook page to join in the conversation.