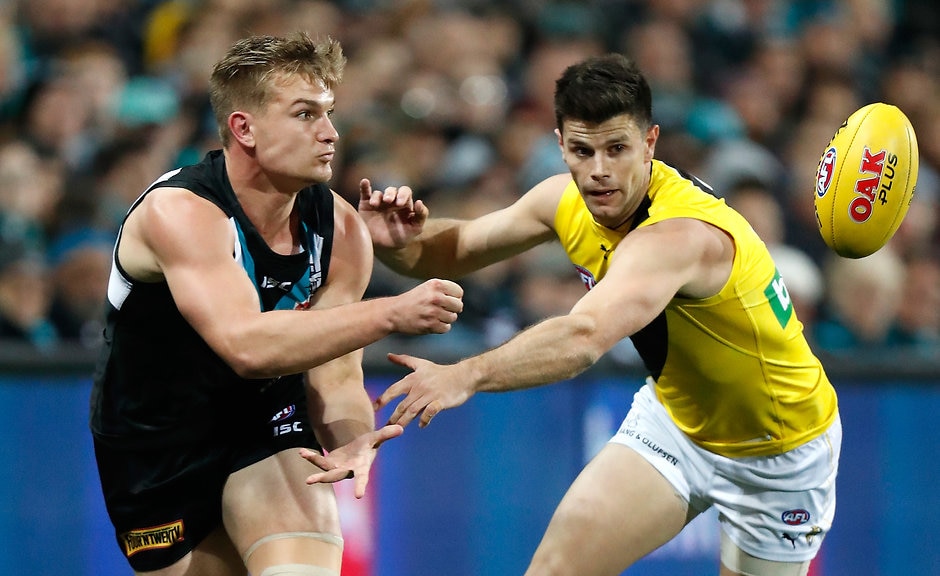 THE POWER had a busy off season, adding plenty of relevant players to an already talented list. The biggest questions to follow from a Fantasy perspective are what positions it will leave everyone playing, and who will benefit most from the shakeup? The pre-season pecking order is certainly eagerly awaited from coaches and something we need to keep an eye on.
Click here to subscribe on iTunes.
Ollie Wines (MID, $703,000) has averaged 100 for the last two seasons and is certainly a player who looks set to benefit from being surrounded by more talent. He ticks the durability box, playing 22 games in four of his first five seasons and will be a nice unique option for anyone wanting to take a punt on the young gun. If you pay this sort of price, you would want him to push a 110+ average, a score he accomplished in eight out of 22 games last year.
Hamish Hartlett (DEF, $496,000). For one reason or another, Hartlett has been below his best over the last couple of years, but that fact he is a defender and has a high ceiling in comparison to most of our back six options, means he deserves a mention. Prior to 2016 he averaged more than 80 for five straight seasons, highlighted by an elite 96 in 2015. It's a long shot, but he has a 26-point upside if he can return to his best. Might be worth a punt on draft night.
Chad Wingard (FWD/MID, $649,000) is a player whose role is of high interest following the recruiting drive. Last year Chad was very respectable with an average of 92, but it was the big scores as a midfielder that caught my eye, with an elite fives scores over 120. If he looks to be earmarked for a predominantly midfield role, he will be in the mix as the top scoring forward.
Tom Rockliff (MID, $725,000) is a huge pickup for the Power and I believe he will walk straight into the midfield, despite some opinions he will play mainly forward. It is often forgotten that he is one of the best clearance players in the competition, a category in which he was comfortably leading the league until round eight when he suffered a shoulder injury last year. Prior to his injury, Rocky showed why he is a Fantasy Pig with eight straight hundreds which included two 150s. His post-injury scores were well down on his normal output and the result is a heavy discount for a player capable of being the highest scorer next year. Get some pork on your fork.
Jake Patmore (MID, $170,000). Showed his ability to find the ball in the WAFL Colts, racking up 29 possessions a game, and the 18-year-old also performed strongly for WA in the Under 18 Championships, averaging 23 possessions, four marks and four tackles per game, which was enough to catch the eye of the Power recruiters. Doubtful to play early, but a name to throw on your pre-season bench.
Robbie Gray (FWD, $572,000) is probably the biggest player of all to watch in regard to what role he will be playing. After two years of mostly playing through the midfield and dominating with averages of 97 and 98, Gray played predominantly forward last season and his average dropped to 81 as a result. Don't get me wrong, he is still relevant if he is set to play forward again, but if he looks like returning to the midfield he would be an under-priced lock.
Although my mate Warnie has other ideas, steer clear of Trent McKenzie (DEF, $417,000). The fact the Cannon burst onto the scene with four straight averages over 70, and a personal best of 81, is very impressive, but unfortunately he is priced too high after averaging 67 from seven games last year.
Get expert advice from The Traders during the pre-season in the Fantasy Hub. Follow AFL Fantasy on Twitter and 'like' the Facebook page to join in the conversation.