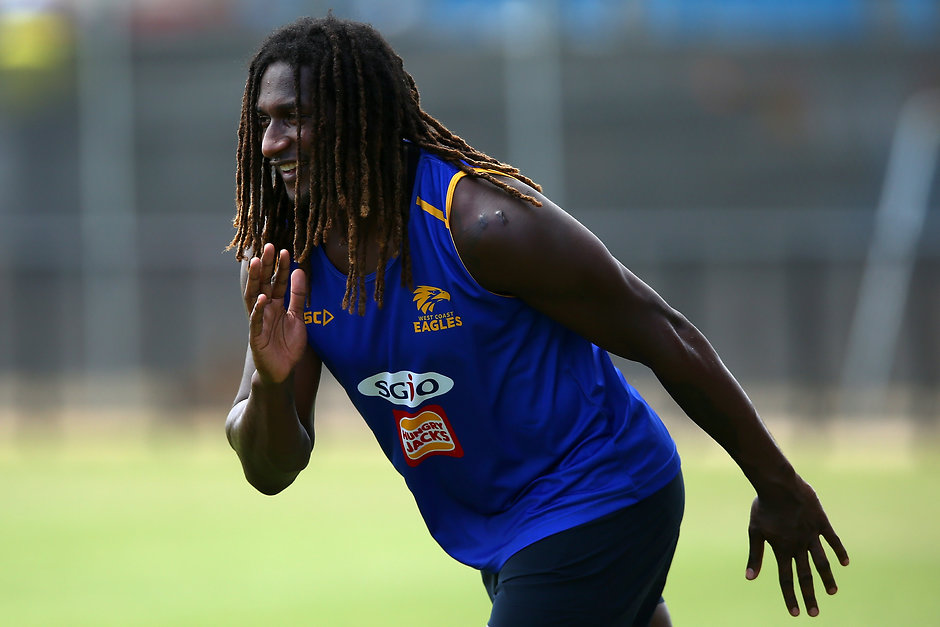 With some of their veterans and Fantasy superstars gone, West Coast will still have plenty to offer in 2018.
Andrew Gaff (MID, $709,000) will need to be their front runner once again this season as he was the only Eagle to average triple figures last year.
After averaging in the 90s for the past four seasons, Luke Shuey (MID, $696,000) is a picture of consistency, but when will he take his game to a premium level? He did score 120 and 151 during the finals series though, and those scores don't contribute towards his home and away average of 99.
Dom Sheed (MID, $606,000) is listed as a midfielder this year after averaging 86 in his fourth season at the club. His breakout season was one of the highlights for West Coast Fantasy fans as he improved his average by 26 points.
Click here to subscribe on iTunes.
If you are reading this then you are a dedicated AFL Fantasy coach. That's why I don't even need to tell you that Nic Naitanui (RUC, $417,000) needs to be in your team from round one.
I don't need to tell you that he is a superstar ruckman who averaged 88 back in 2015 and has the potential of averaging triple figures.
I don't need to tell you that after doing his ACL and missing all of last year, he is now discounted and priced at an average of less than 60.
I'm glad we didn't have to have this conversation. Just lock him in!
As a midfielder for the Brisbane Lions, Jack Redden (MID, $588,000) averaged in triple figures three times, with his best season coming in 2011 when he averaged 109.
Since joining the Eagles in 2016, Redden has only averaged 74 and has taken his time settling in. However, in the last eight games of the 2017 home and away season, Redden found his feet and averaged 98.
Midfield time is the key for Redden and if he is getting that over the pre-season then he can be moved up your draft order with confidence.
Jarrod Brander (DEF/FWD, $246,000) has been touted as a possible round one starter and can be selected up forward or down back in your team. However, for his hefty price tag I fear that his Fantasy numbers won't be worth the investment.
Brander is a 194cm key position player and was one of the best players in the draft pool, but it might take a few years before his Fantasy numbers match his potential.
Off the back of Fantasy greats Sam Mitchell and Matt Priddis retiring, Brendon Ah Chee (MID/FWD, $392,000) finds himself in an interesting position.
From his three years and 27 games at Port Adelaide, Ah Chee never really found his place or role within the team. His ability to score is undeniable after his 16 games in the SANFL saw him average 92.
Ah Chee slots right into this 'mid-priced mayhem' strategy that some coaches are toying with, but for now, he's certainly one to keep an eye on this pre-season.
The Eagles secured exciting forward Liam Ryan (FWD, $220,000) who averaged 75 in the WAFL last season, largely due his average of more than three goals a game. Although the 21-year-old is unlikely keep that form going into the big league, he should play games early.
Tony Olango (RUC, $170,000) has been on the radar of the Eagles for two years and after some solid football in the NEAFL he finally got drafted. In the NEAFL elimination final last year, the 201cm Kenyan-born ruckman scored 72 points, which also included two goals.
Willie Rioli (FWD, $170,000) is another cheap option who has been tearing up the track along with Daniel Venables (FWD, $170,000) who has been likened to Luke Shuey. Both names are ones to put in your black book.
After averaging 77 in the WAFL last year, Jake Waterman (FWD, $170,000) is one to watch this pre-season. A Fantasy fan himself, he knows the game and is just waiting to show us all what he can do.
Elliot Yeo (DEF, $692,000) is listed as a defender in 2018 and will be one of the top six most sought-after options.
Yeo played 21 games in 2017 for a career-high average of 98 but had a season of two contrasting halves. He got off to a flyer, averaging 110 in his first eight games, only to slide in the latter half of the year, averaging just 87 in his final eight games.
Yeo has recently been suffering from a hip injury though which has seen him training with the rehab group. This is an early scare for Fantasy coaches and something for us to keep an eye on over the next few weeks.
Personally, I'm the biggest Yeo fan there is, but his role determines his points. Keep an eye on this over the pre-season to make sure you know which Elliot Yeo you're selecting.
For the last four seasons the Fantasy community have patiently waited for Brad Sheppard (DEF, $432,000) to break out. However, after averaging between 61 to 69 during this time… we are still waiting.
Although he is consistent, his best score last year was only 85. Sheppard does have one Fantasy ton next to his name, though, which he achieved back in 2012.
Get expert advice from The Traders during the pre-season in the Fantasy Hub. Follow AFL Fantasy on Twitter and 'like' the Facebook page to join in the conversation.
The views in this article are those of the author and not necessarily those of the AFL or its clubs