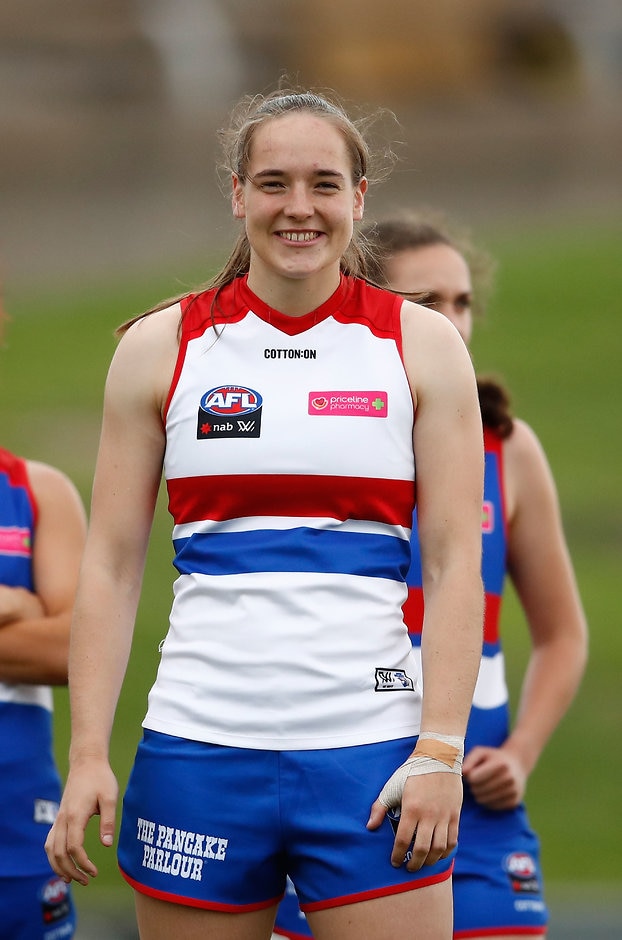 She's a super leader as well, so we're really looking forward to seeing what she can bring
Emma Kearney on Isabel Huntington
DUAL-sport star Emma Kearney has hailed new Western Bulldogs teammate and No.1 draft pick Isabel Huntington's sudden impact at the Kennel.
Huntington last played competitively 16 months ago, when she ruptured the ACL in her left knee in the under-18 curtain-raiser to a women's exhibition match at Whitten Oval.
She broke her right leg a year before that, but there have been no such problems in her first AFL Women's pre-season with the Bulldogs.
"Issy's just a terrific player," Kearney told AFL.com.au at the launch of a partnership between the AFL and Rebel Sport.
"She's very versatile and you can play her in any position – probably more so forward or back – but she's a super leader as well, so we're really looking forward to seeing what she can bring.
"She's been absolutely lighting up the track. She's still developing her strength and all that sort of stuff, but in terms of her footy knowledge and ability, it's unbelievable."
Kearney's Bulldogs were highly touted entering the inaugural AFLW season last year, but they won just two of seven games in finishing sixth of the eight teams.
There were excuses, primarily marquee player Katie Brennan's injury absence after round two, but a fit Brennan – plus first-round selections Huntington and Monique Conti – should help them rebound.
Brennan will spend time up forward and in the midfield.
"I think you'll see quite an even competition this year," said Kearney, who spent the summer playing in the Women's Big Bash League for Melbourne Stars.
"It's a little bit unknown, but we're going in more as an underdog – we were sort of the favourites last year – so the pressure is off us and we can just play our natural game."
Some of that pressure has transferred to Melbourne, which won five of its last six matches in 2017, including a two-point victory over premier Adelaide.
But the Demons finished one spot out of the Grand Final, only percentage behind the Crows.
Melbourne defender Mel Hickey, who, like Kearney, made the All Australian team, has avoided the hype about her side, but is excited for what is to come.
"It's kind of nice not hearing the buzz and just being around the group - I can feel there's a really exciting energy and it feels like there's something special happening," Hickey said.
"It's season two, the stakes are higher (and) the relationships have already been formed, so we're just strengthening them more and the gameplan's gone up to the next level as well.
"We've got an awesome (playing) group and an awesome group of coaches as well, so there's a good feeling."
Hickey is set to make the transition from key defender to midfielder and attacking half-back this season, and has increased her running and worked on her stoppage craft in preparation.
Ex-Carlton recruit Bianca Jakobsson and Meg Downie, whose 2017 season was ruined by a hamstring injury and concussion, will help pick up Hickey's backline slack.
"(I'm) loving the challenge of going in the middle and being around people like Daisy Pearce, Elise O'Dea and Karen Paxman," Hickey said.
"We'll start that little engine room from the middle and see how we go."