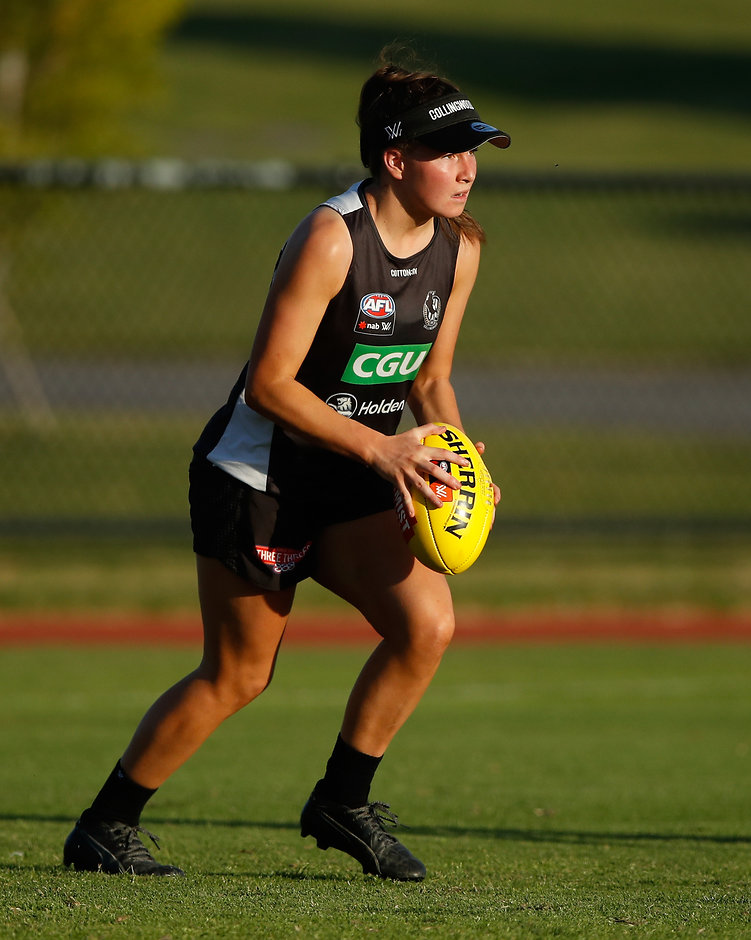 They didn't give too much away though, which I hated
Sarah Dargan on the Magpies
EVEN by her own admission, Sarah Dargan is an "underdog" in Collingwood's group of draftees and recruits.
The forward was a bolter in last year's NAB AFL Women's Draft, selected at pick 20 despite not being invited to the NAB AFLW combine or the draft itself.
While teammates Darcy Guttridge, Iilish Ross, Magpies netballer Ash Brazill and former Bulldog Jaimee Lambert – all new to Collingwood in 2018 – have received comparably more coverage, Dargan has slipped under the radar.
"I wasn't expecting to get drafted. I don't think a lot of people were expecting me to get picked up, to be honest," Dargan said.
"I was at home watching the live stream of the draft and hoping for the best. I thought if I was going to get picked up it would be a lot later. I was so surprised and my family were over the moon.
"We had family and friends over to watch it, which was daunting, because if I didn't get picked up, it was going to be a very awkward situation."
The 18-year-old has not played much senior football in comparison to girls in her draft year, just a handful of games for Pascoe Vale in division one of the Northern Football League in Melbourne.
Dargan has played the vast majority of her footy for Pascoe Vale's junior side, where she excelled as a mid-sized forward. She has quick hands in tight situations and good goal sense.
She was in the Calder Cannons program for the past three years, and represented Vic Metro at youth girls level in the same period. Two of those Vic Metro seasons were spent under her Collingwood coach Wayne Siekman.
"Collingwood came to my house [before the draft] … they were the only club that spoke to me."
"My hope was with the Magpies. I knew if I was going to get picked up it would be by them. They didn't give too much away though, which I hated," she said with a laugh.
Like many in Melbourne, Dargan grew up in a footy-mad family. She'd go out in the backyard with brother Matt, seven years her senior, and try to keep up with his kicking.
Curiously enough for the now-Magpie, it was an Anzac Day AFL clash between Collingwood and Essendon that really sparked her interest in playing.
But it was an Essendon player who did it.
"It was the Anzac game in 2009 [when Dargan was 10]. David Zaharakis kicked the winning goal [and] I remember thinking, 'Oh my god, wouldn't this be amazing if I could play with all this type of crowd watching?'
"But back then, it just wasn't a reality."