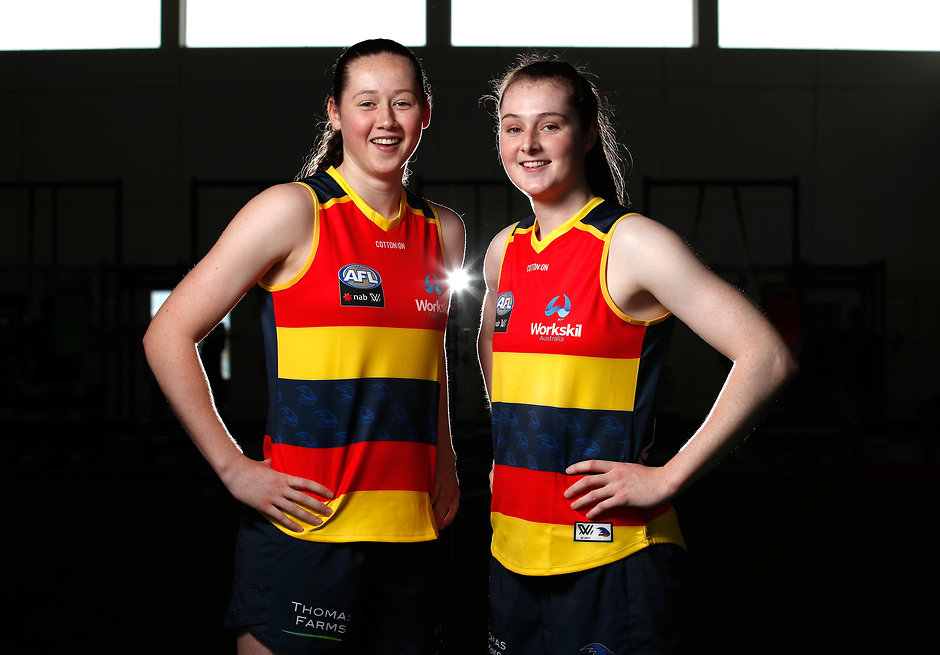 She definitely had to work to get picked
Sarah Allan on sister Jess
ADELAIDE utility Sarah Allan didn't think being involved in a NAB AFL Women's team could get any better after winning a premiership in the league's first season.
But being part of the fledgling competition became even sweeter for Allan at the draft, when she was joined at the Crows by younger sister Jess.
Sarah, 20, played six games for Adelaide last season and was part of the side that defeated the Brisbane Lions in the Grand Final.
She was used as a key position player at both ends of the ground and provided assistance to Rhiannon Metcalfe in the ruck.
Jess Allan, 18, rose to prominence during last year's NAB AFLW Under-18 Championships when she captained South Australia and played for the combined Allies team under Bec Goddard, also her coach at the Crows.
The 185cm ruck was named vice-captain of the under-18 All Australian team before being selected by the Crows with the eighth pick in the draft.
"Throughout the year, Jess gave herself more and more chances of getting picked," Sarah told AFL.com.au.
"[Early on] she wasn't one of the known or main players, but she did what she had to do to get her name out there.
"As the year progressed, [her being drafted] became more likely.
"She definitely had to work to get picked."
The Allan sisters grew up in Millicent in south-east South Australia, about 400km from Adelaide.
They did Auskick together, played in state teams since 2012 and have been teammates at their SAWFL club, Salisbury.
"It's pretty good to have a training partner, and someone there with you to make sure you're going to the gym and eating the right food," Sarah said.
Jess moved to Adelaide immediately after finishing her high school exams, and shares a bedroom with Sarah as they both save money while studying at university.
"It's good for footy season, because we're training so much. We basically come home and go to sleep straight away," Jess said.
"I'm close with a few of the [Crows] already, but having a family member there makes it a bit easier."
Jess turned plenty of heads with her performances in the ruck at the under-18 championships.
Her stocks rose when she showed off her athleticism at the combine in October, winning the vertical running jump test and finishing sixth in the 20m sprint.
"It's been a pretty big year for me, going through under-18s and getting to where I am now," Jess said.
"AFLW is a massive step up to the competition I was playing in. It's pretty intense."
The Allans are the second pair of sisters on the same AFLW team, with Carlton selecting Sarah and Jess Hosking at the 2016 draft.