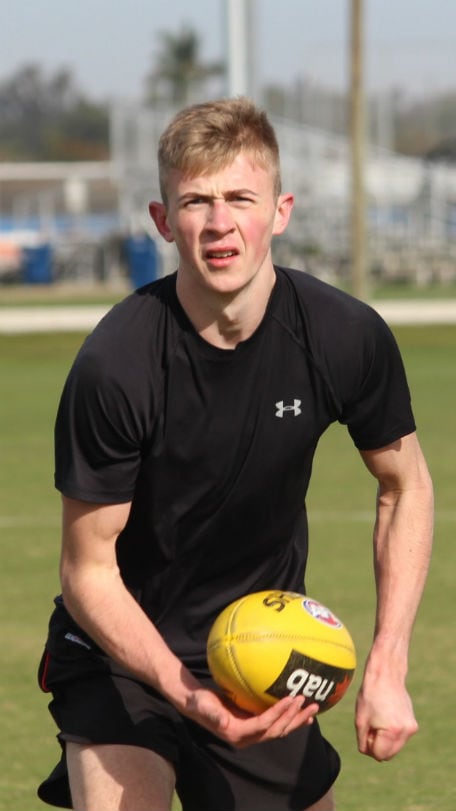 WHEN Irishman Anton Tohill was invited to train with the NAB AFL Academy on its high performance camp in Florida, there were certain things he expected.
He knew he would have to work as hard as he could to impress, and knew that it would take plenty of time with the Sherrin to adapt to the oval-shaped ball.
He also knew if he competed like he does in his burgeoning Gaelic career that he should be able to win over the Australian AFL hopefuls.
But he didn't expect to see Brent Harvey, having had a link to the North Melbourne champion and all-time games record holder since 2001.
That year, Tohill's father Anthony played in the International Rules Series against Australia and swapped jumpers with Harvey at the end of the game. It quickly got into the hands of Anton.
"I was wearing it around the house and at the football ground and getting good use out of it," Tohill told AFL.com.au.
"When I told him that I had it he was really happy to hear that it was still there, and he still has my father's as well.
"He couldn't really believe it. It was a bit of a shock for him that someone on the other side of the world has been wearing his footy jumper."
The past couple of months has been just as big a shock to Tohill, who was invited to test at the Dublin international draft combine in December and then one of four Irish athletes to travel to Florida to train with some of Australia's finest 2018 NAB AFL Draft prospects.
He was joined by Mark Keane, Paeder Byrne and James Madden, who broke the all-time AFL combine record when he ran 2.69 seconds in the 20m sprint.
The AFL has used its annual Academy camp in recent years to fast-track the progress of some of its possible Irish recruits, with new Blue Cillian McDaid travelling the previous two camps before being picked up by Carlton last year.
Tohill had already been familiar with the game – his father had trained with the Demons in the late 1980s and played in the reserves before heading back to Ireland and becoming a Gaelic champion.
Anthony also travelled from Ireland to watch his son train last week at the IMG Academy in Bradenton, and Anton said the experience had impressed him.
"Playing AFL is something I've had an idea of doing, but I've never really thought about it seriously until recently when I got the invite down to the draft combine last December. It's been excellent," Tohill said.
"I think I'm going to keep my options open, but [pursing an AFL career is] definitely a possibility and I enjoy the sport and I enjoy kicking the footy. We'll see what happens from there."
Former Magpie Marty Clarke was also on hand with the four Irish players during their stint joining the AFL Academy group, working as a specialist coach. Each of the nine clubs who sent recruiters on the camp also interviewed the Irishmen during their stay.