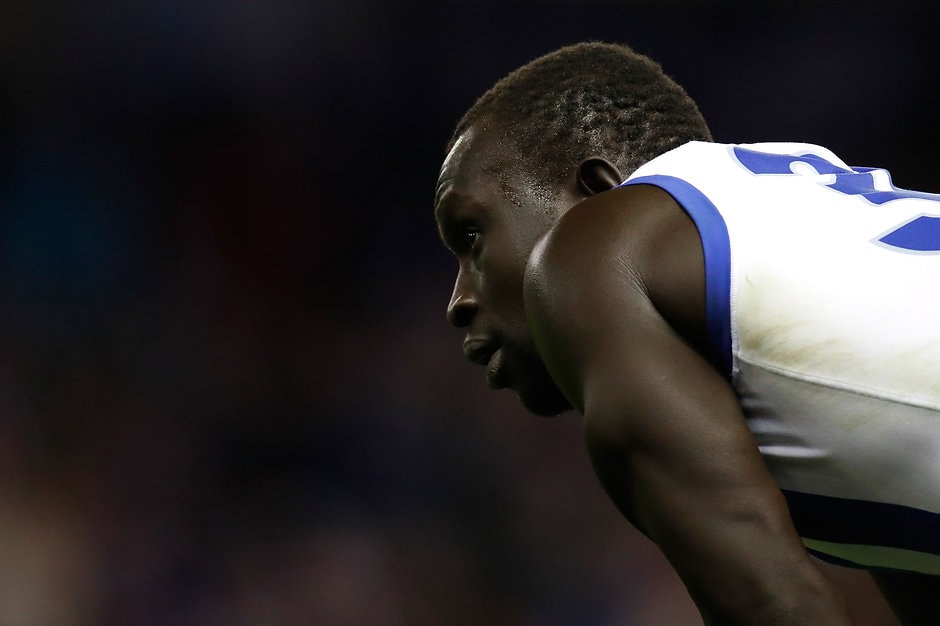 AFL PLAYERS of African descent have joined forces in a bid to stamp out anti-social behaviour by some members of the African-Australian community in Melbourne and to ask that the community not be stigmatised by these actions.
An open letter issued on Thursday by North Melbourne's Majak Daw, Sydney's Aliir Aliir, Richmond's Mabior Chol, Hawthorn's Changkuoth Jiath, West Coast's Tony Olango, Port Adelaide's Emmanuel Irra and other prominent sportspeople of African heritage pleaded with the public not to attribute the actions of a few to the whole African-Australian community.
"As many of you are aware, there are current social and youth issues causing harm, conflict and division within Victoria," the statement read.
"To be clear, we in no way, shape or form, stand for such behaviours, but we urge the broader community to not allow it to define everyone of African descent.
"We as role models and members of the African-Australian community have come together to promote and represent the majority of the African-Australian community that are contributing and valued members of this country.
"Within the African-Australian communities are mothers, fathers, brothers, sisters, keen university students, children and young people with dreams and aspirations to become the next Majak Daw, Thon Maker or Deng Adut; respected professionals in their own right. This is what should come to mind when assessing the general population of African-Australians."
Aliir Aliir, Gach Nyuon, Jason Johannisen, Majak Daw, Reuben William and Mabior Chol in 2016.
Thon Maker is an Australian of South Sudanese descent playing with the Milwaukee Bucks in the NBA, and Deng Adut is a lawyer and refugee advocate in Sydney who was also born in South Sudan.
The statement also reads, "To the young people doing wrong, under no circumstances is it acceptable behaviour. Be mindful of the criticism your actions draw to an entire population.
"Think of your family members and friends and how they may be treated due to your actions."
Signatories to the open letter included Reuben William, a former Brisbane Lions player now with Footscray in the VFL, and Gach Nyuon, who was with Essendon for one season and now plays with VFL side Frankston.
Another to sign was Akec Makur Chuot, who was drafted by Fremantle in the AFLW last season, and now is with Carlton's VFLW team.
.With everything that's been making headlines of late, i think it's appropriate that we voice our opinion on the current issues. Please have a read @aliir_mayom @ChangkuothJiath @AkecMakur @Tonyolango @MajokDeng13 @majok55majok @thomasdeng24 @gach_nyuon pic.twitter.com/oU2pI4nAI4

— Majak Daw (@majakdaw) February 1, 2018