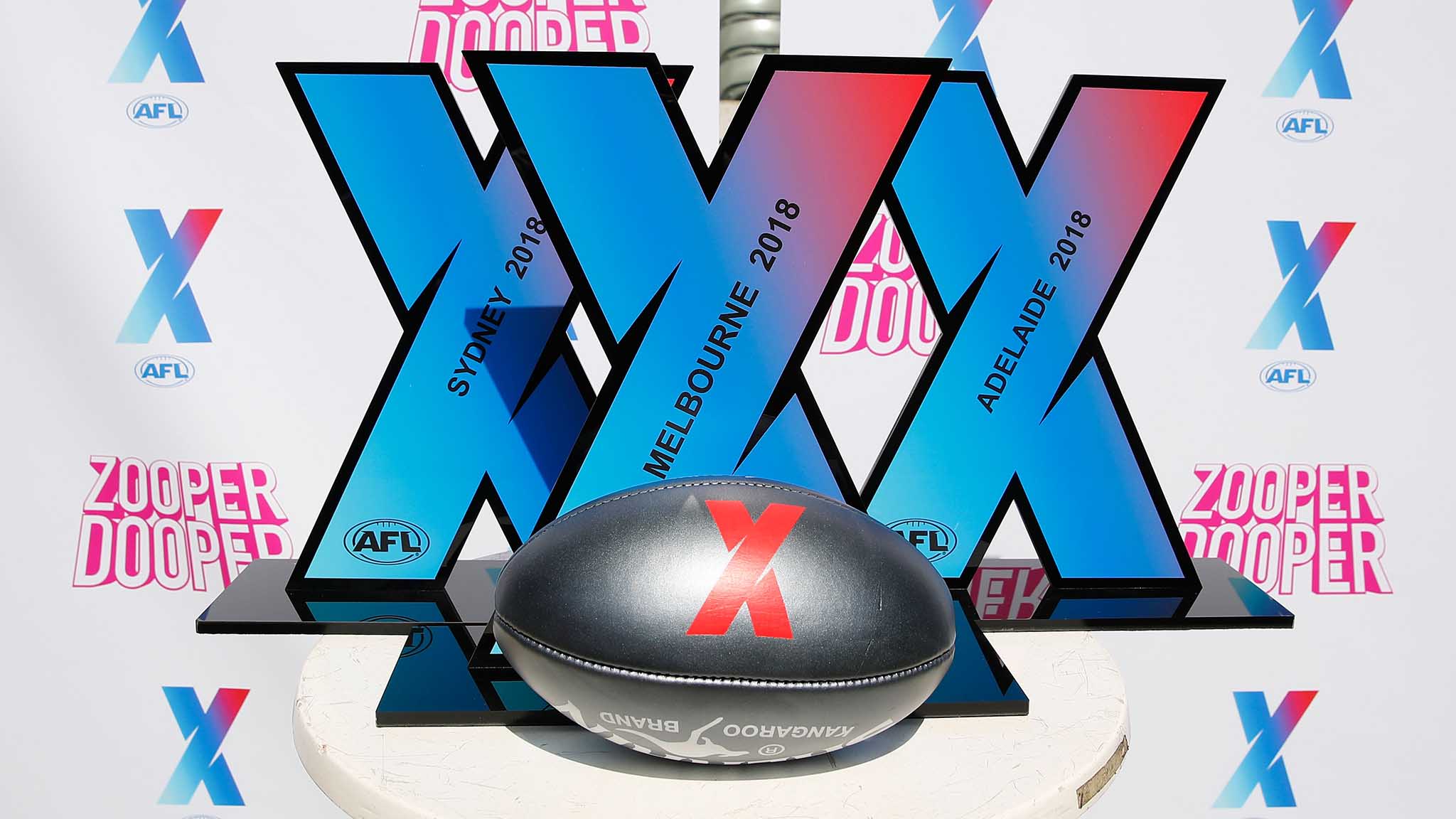 AFLX concludes in Sydney on Saturday with another six teams to do battle at Allianz Stadium.
Adelaide took out the inaugural tournament on Thursday night, while Melbourne was triumphant on Friday night.
Everything you need to know about AFLX
Each event day will feature six teams at with two pools of three teams playing in a round-robin format, with a Grand Final will be played at each event between the two pool winners.
You can watch every AFLX game LIVE on AFL.com.au and the AFL Live Official App via the video player above.
See the AFLX fixture and get your tickets here
AFLX Saturday fixtures
TEAMS

TIME
POOL

GWS v Richmond

4.10pm EDT
POOL A

Sydney v Western Bulldogs

4.38pm EDT
POOL B
5.06pm EDT

POOL A

Western Bulldogs v Gold Coast

5.34pm EDT
POOL B
6.02pm EDT
POOL A
6.30pm EDT
POOL B

Winner POOL A

v

Winner POOL B

7.03pm EDT
GRAND FINAL
AFLX squads
Brisbane (14-man squad)
1. Ben Keays, 3. Allen Christensen, 5. Mitch Robinson, 7. Tom Bell, 8. Rohan Bewick, 10. Daniel Rich, 19. Jacob Allison, 20. Cedric Cox, 26. Tom Cutler, 33. Zac Bailey, 36. Rhys Mathieson, 39. Corey Lyons, 42. Mitchell Hinge, 43. Jake Barrett
Gold Coast (14-man squad)
6. Alex Sexton, 8. Brayden Fiorini, 10. Kade Kolodjashnij, 11. Touk Miller (c), 12. Sam Day, 15. Aaron Young, 18. Brad Scheer, 23. Sean Lemmens, 29. Jack Bowes, 34. Mackenzie Willis, 36. Josh Schoenfeld, 38. Jesse Joyce, 39. Nick Holman, 44. Darcy Macpherson
Greater Western Sydney (14-man squad)
6. Lachie Whitfield, 10. Aiden Bonar, 11. Will Setterfield, 31. Jeremy Finlayson, 20. Adam Tomlinson, 25. Lachlan Keeffe, 33. Lachie Tiziani, 34. Nick Shipley, 36. Harry Perryman, 38. Daniel Lloyd, 41. Jack Buckley, 42. Jake Stein, 43. Dylan Buckley, 50. Sam Reid
Richmond (15-man squad)
7. Daniel Butler, 11. Jason Castagna, 15. Jayden Short, 27. Sam Lloyd, 28. Jack Higgins, 30. Reece Conca, 32. Corey Ellis, 35. Nathan Broad, 26. Callum Moore, 38. Noah Balta, 41. Mabior Chol, 43. Derek Eggmolesse-Smith, 44. Tyson Stengle, 46. Ben Miller, 48. Liam Baker
Sydney (20-man squad)
1. James Rose, 6. Jordan Foote, 7. Harry Cunningham, 13. Oliver Florent, 20. Sam Reid, 22. Dean Towers, 24. Dane Rampe, 25. Ben Ronke, 27. Daniel Robinson, 28. Nic Newman, 29. George Hewett, 30. Tom McCartin, 31.Harrison Marsh, 32. James Bell, 38. Colin O'Riordan, 40. Nick Smith, 41. Jake Brown, 42. Robbie Fox, 44. Jake Lloyd, 45. Angus Styles
Western Bulldogs (12-man squad)
2. Lewis Young, 19. Lukas Webb, 20. Ed Richards, 26. Billy Gowers, 27. Patrick Lipinski, 28. Callum Porter, 30. Fergus Greene, 33. Aaron Naughton, 37. Roarke Smith, 40. Nathan Mullenger-McHugh, 43. Jack Redpath (c), 44. Tim English