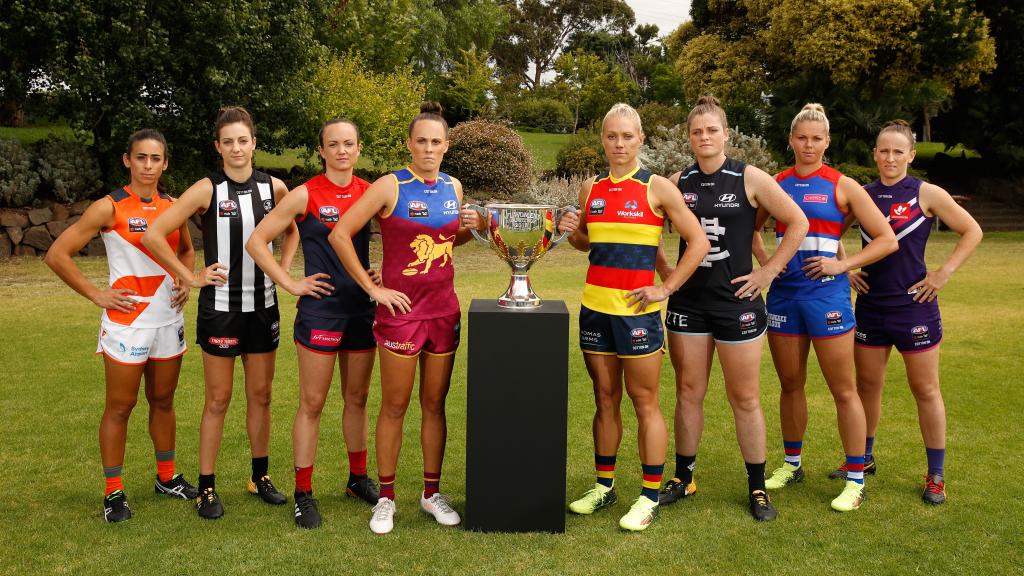 THE SECOND NAB AFL Women's season continues this weekend with round three, and you can watch every match LIVE on AFL.com.au, the AFL Live Official App and the AFLW Official App.
All games will be streamed LIVE via the video player above.
The action concludes on Sunday with the Dockers hosting Melbourne at Fremantle Oval at 3.35pm AWST.
Earlier on Sunday, GWS scored its first win of the season with a 13-point victory over Collingwood at Olympic Park.
On Saturday, the previously winless Crows toppled the Western Bulldogs by seven points at Norwood Oval, before Brisbane inflicted Carlton's first loss of the season with a 22-point win at Ikon Park.
AFLW Late Mail: Dogs try to plug the gaps
For all the latest AFLW news and fixtures, head to the AFL Women's hub.
See below for the full teams.
Saturday, February 17
Adelaide v Western Bulldogs at Norwood Oval, 1.35pm ACDT
ADELAIDE
B: M.Rajcic 32, S.Allan 39, D.Cox 31
HB: S.Thompson 14, R.Killian 7, D.Varnhagen 9
C: E.Phillips 13
HF: A.Holmes 1, J.Hewett 20, J.McCormick 5
F: R.Wallace 15, S.Perkins 28, J.Sedunary 17
Foll: R.Metcalfe 11, C.Randall, 26, E.Marinoff 10
I/C: R.Lugg 45, J.Allan 25, G.Bevan 4, J.Mules 23, E.Jones 2
Emerg: A.Hatchard 33, S.Riley 8
In: M.Rajcic, R.Killian, E.Phillips
Out: S.Riley, T.Radan, A.Foley (suspension)
WESTERN BULLDOGS
B: L.Birch 18, L.Spark 11, N.Callinan 10
HB: H.Scott 22, B.Toogood 28, B.Lochland 1
C: E.Blackburn 2
HF: J.Bruton 35, K.Brennan 3, M.Conti 8
F: D.Berry 7, A.Utri 23, N.Ferres 16
Foll: A.O'Connor 4, E.Kearney 5, K.Lamb 27
I/C: T.Ernst 19, H.Wildes 17, J.Anderson 26, A.Gogos 36, B.Hunt 21
Emerg: E.Mackie 25, K.Rennie 24
In: J.Anderson
Out: I.Huntington (knee)
Carlton v Brisbane at Ikon Park, 7.45pm AEDT
CARLTON
B: R.Hicks 24, D.Hardiman 31, G.Pound 6
HB: K.Harrington 9, A.Downie 30, K.Gillespie-Jones 5
C: S.Li 35
HF: K.Shierlaw 25, T.Harris 22, N.Stevens 21
F: G.Gee 19, D.Vescio 3, K.Loynes 2
Foll: B.Moody 16, S.Hosking 10, M.Gay 8
I/C: L.Brazzale 12, T.Lucas-Rodd 18, K.Grieve 28, J.Hosking 11, S.Audley 26
Emerg: S.Last 7, N.Plane 32
In: K.Gillespie-Jones, K.Grieve
Out: B.Davey (knee), S.Last
BRISBANE
B: N.Hildebrand 22, K.Lutkins 13, J.Stanton 17
HB: K.Ashmore 10, L.Kaslar 11, S.Campbell 20
C: E.Bates 1
HF: N.Exon 15, T.Randall 16, E.Zielke 8
F: J.Wuetschner 23, S.Frederick-Traub 14, K.McCarthy 9
Foll: S.Webb 4, J.Zanchetta 7, A.Anderson 18
I/C: B.Koenen 3, A.Clarke 21, I.Ayre 2, S.Conway 12, B.Gibson 25
Emerg: M.Hunt 6, G.Collingwood 28
In: I.Ayre
Out: G.Collingwood
Sunday, February 18
Collingwood v Greatern Western Sydney at Olympic Park Oval, 4.35pm AEDT
COLLINGWOOD
B: E.Grant 5, R.Schleicher 18, I.Ross 21
HB: C.Molloy 2, S.Casey 22, T.Morgan 26
C: C.McIntosh 20
HF: M.Kuys 9, J.Garner 43, S.Chiocci17
F: C.Edwards 1, L.Tesoriero 7, C.Bernardi 6
Foll: E.King 60, J.Lambert 13, A.Barden 38
I/C: B.Bonnici 8, B.White 33, J.Duffin 27, M.Hutchins 25, M.Hope 23
Emerg: H.Whitford 28, S.Dargan 46
In: R.Schleicher, M.Hutchins, M.Hope
Out: S.Livingstone (shoulder), E.Hynes, E.Whitford
GREATER WESTERN SYDNEY
B: A.Farrugia 18, T.Hetherington 9, P.Randall 21
HB: N.Barr 8, L.Stephenson 12, E.Brush 10
C: A.Eva 2
HF: J.Dal Pos 7, P.McWilliams 3, J.Hicks 5
F: J.Barclay 34, A.Schmidt 11, R.Beeson 6
Foll: E.McKinnon 23, C.Gum 26, E.Swanson 17
I/C: P.Monahan 28, C.Staunton 13, E.Bennetts 22, B.Tully 16, R.Forth 27
Emerg: M.Collier 14, P.Smyth 15
In: L.Stephenson, J.Hicks
Out: M.Boyd, R.Tomkins
Fremantle v Melbourne, Fremantle Oval 3.35pm AWST
FREMANTLE
B: H.Miller 19 A.Williams 9 E.Gooch 8
HB: B.Smith 18 C.Davidson 33 G.O'Sullivan 22
C: D.Hooker 17
HF: L.Webb 16 E.McGuire 31 K.Donnellan - C 15
F: M.Caulfield 29 A.Lavell 7 A.Atkins 37
Foll: A.Janz 30 S.Cain 20 E.Antonio 12
I/C: L.Mascall 14, G.Houghton 27, A.Sharp 1, J.White 11, L.Filocamo 4
Emerg: T.Haynes 6, T.McAuliffe 25
In: E.McGuire
Out: S.Barr (suspension)
MELBOURNE
B: M.Downie 2, L.Duryea 11, K.Smith 13
HB: A.Guest 17, B.Jakobsson 7, E.O'Dea 5
C: M.Hickey 18
HF: K.Hore 10, S.Scott 12, C.Phillips 35
F: R.Cranston 30, T.Cunningham 1, L.Mithen 14
Foll: E.Hoare 46, K.Paxman 4, D.Pearce - C 6
I/C: J.Grierson 19, B.Patterson 24, E.Humphries 3, L.Pearce 15, A.Newman 16
Emerg: H.Cordner 21, A.Mifsud 9
In: J.Grierson
Out: A. Mifsud