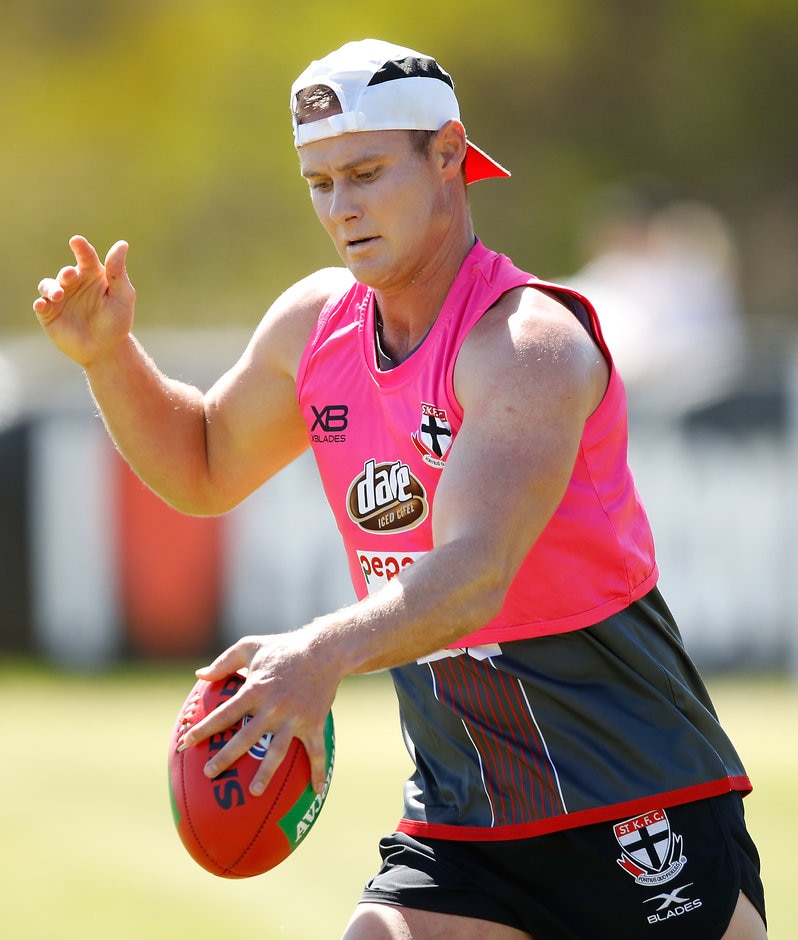 We look at what 'Armo' (Armitage) can give us, he's a really good player, he gets the ball around the middle so why won't he get it in the forward line?
Simon McPhee
DAVID Armitage and Jack Steven are set to shake up St Kilda's forward structure, with the Saints experimenting with pushing the midfield pair up the ground to bring a new dynamic to their attack.
Both players spent time in the forward line during Wednesday's match simulation in Sandringham after starting the session in the middle.
The new role could be a blessing for Armitage, 29, as he aims to play every game this season after his 2017 was wrecked by a groin injury.
"It'll be something we're looking for our mids to do at different times, whether it's just to give them a rest or to try add something to our forward 50, hopefully we'll see a bit more of it," midfield coach Simon McPhee told AFL.com.au.
Armitage came off briefly in the match simulation after getting winded in a heavy collision and was sporting a black eye at the end of the session as the result of an accidental hit from Jake Carlisle.
But, he took a few strong contested marks and kicked a long late goal that showed he could potentially offer the Saints' forward line a fresh scoring avenue.
"We look at what 'Armo' (Armitage) can give us, he's a really good player, he gets the ball around the middle so why won't he get it in the forward line?" McPhee said.
"That's the way I look at it with our mids, I think they can go and really add something and we might get a different look inside the centre bounce, so I think it works for both areas."
Armitage played just two games in 2017 and required two bouts of surgery before he was ordered to rest for eight weeks.
He has thrived this pre-season since his enforced time off, with McPhee agreeing an appearance in every game is a realistic goal.
"He's looking really fit, he's been really consistent with his training and in a really good headspace," he said.
"He contributes not only to the group with his playing performance but also as a person, he's just a great bloke to have around the club as well.
"It'll be a real win for us having him back."
First-round draftees Hunter Clark and Nick Coffield did their chances of appearing in next Wednesday night's JLT Community Series clash with Carlton no harm with composed performances in the match practice.
Fellow new recruit Ben Paton kicked multiple goals despite the blustery conditions, while Paddy McCartin showed the fruits of a strong pre-season by clunking repeated contested marks against Carlisle and Nathan Brown, as well as kicking a swag of majors.
Wingers Jack Sinclair and Ed Phillips also worked hard and got plenty of the ball, while Jack Newnes and Josh Bruce swung back into things seamlessly after returning from minor knee surgery.
Carlisle and Blake Acres finished the hit-out early and sat out the running session that followed after copping big knocks – Acres icing a corked thigh afterwards – but both are expected to be available to face Carlton.
The Saints are leaning towards a youthful squad for next week's game, with the aim to name a more settled side for their second JLT hit-out against Melbourne on March 8.
Luckless midfielder Nathan Freeman will miss as the club explores a possible surgical solution to his latest hamstring setback, while Jack Billings (hamstring) and Daniel McKenzie (rolled ankle) are rated as chances to play next week.
Josh Battle (corked thigh) and Jimmy Webster (knock in AFLX) were others to miss Wednesday's simulation, but are expected to be available for the JLT Community Series.