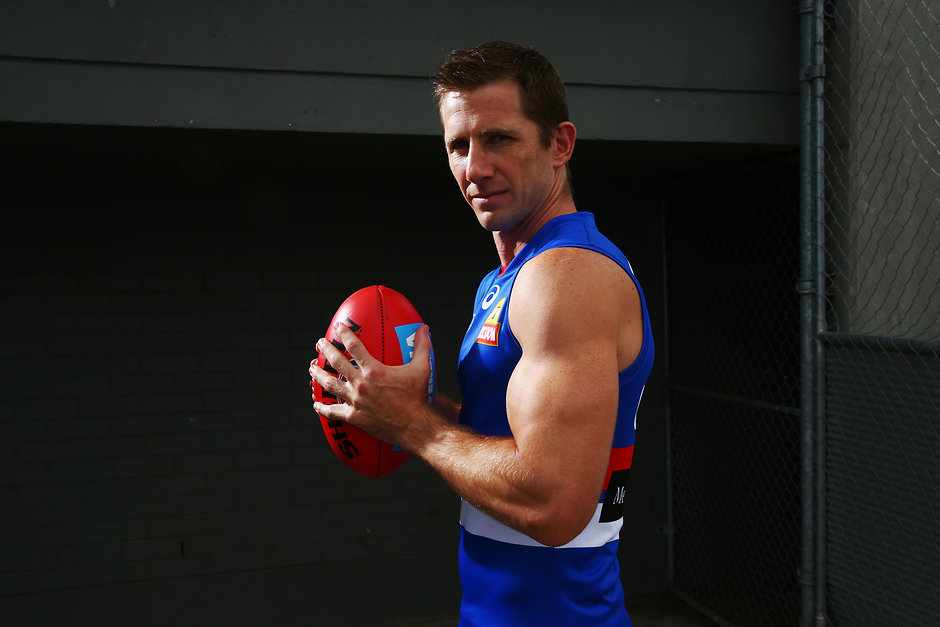 WESTERN Bulldogs midfielder Jack Macrae has no doubt veteran teammate Dale Morris will overcome a serious knee injury and play again.
The Bulldogs announced on Saturday morning that Morris had suffered a "small tear" to his ACL at training on Thursday and would be sidelined for "an extended period of time".
Morris will not require surgery, but Bulldogs medical services manager Chris Bell said it could be 12 weeks before the club knew how long the defender would be out of action.
The 35-year-old is due to come out of contract at the end of 2018 and has played on a year-to-year basis for several seasons.
But Macrae told reporters on Saturday that Morris' latest setback would not spell the end of his career.
"I've played with 'Moz' for six years now and I know how much of a warrior he is. He's had setbacks along his career and every time he's bounced back tremendously," Macrae said.
"He's just so strong willed and minded. We'll see him at the club with a smile on his face on Monday, I'm sure of that. His professionalism and how he drives the group is just first-class.
"I have no doubt in my mind that he'll play this year and when he comes back he'll get back to his best footy without any lag time."
Morris will now undergo a targeted strength and rehabilitation program.
"This strategy will maximise the chance of Dale being able to play a meaningful part in the 2018 season," Bell said.
"While this is not a common injury, there have been other similar cases in the AFL where surgery was not required for the healing process.
"Given the type of injury this is, and the unknown nature of the recovery time, we will work with Dale over the coming eight to 12 weeks to more accurately determine when he is able to return to the field."
Morris' ability, at 190cm, to play on both talls and smalls means he remains an important part of the Bulldogs' defence.
He missed 10 weeks last season with a broken arm and leg.