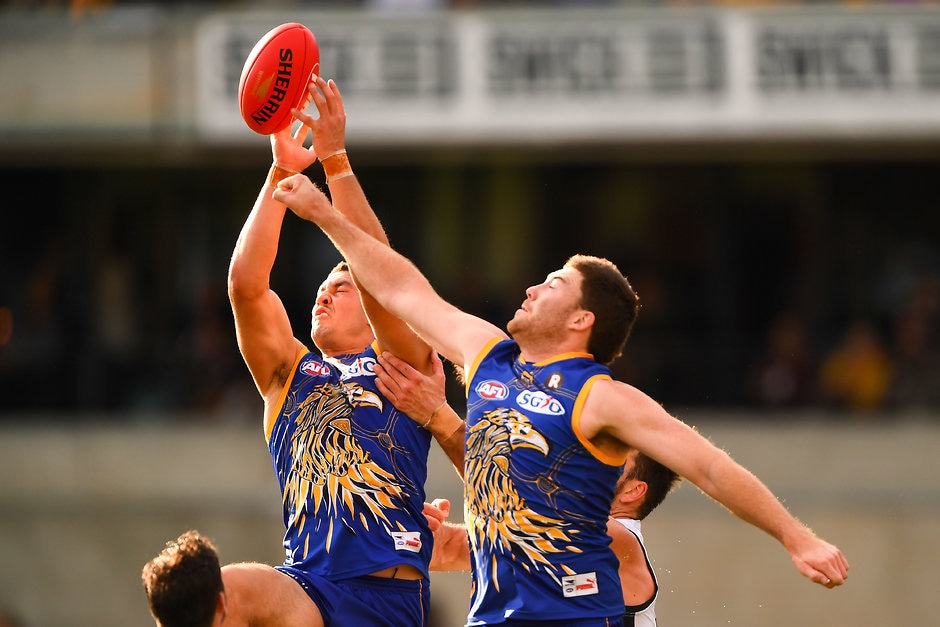 He's not a big head, he doesn't have a high opinion of himself
Tom Barrass on Jeremy McGovern
EMERGING full-back Tom Barrass "100 per cent" believes Jeremy McGovern is worthy of a massive payday and is confident that his star teammate will come to terms with West Coast.
McGovern has reportedly been offered in excess of $7m over six years by a Victorian club keen to lure the dual All Australian east if he becomes a restricted free agent at season's end.
While the figures being thrown around for McGovern would make him one of the AFL's highest-paid players, the 25-year-old is the competition's best intercept mark and the top one-on-one defender.
Without McGovern on Sunday, the Eagles' 62-point hiding from Fremantle in their JLT Community Series clash could have been even uglier.
"He's the man, Gov," Barrass said.
"He's just one of those players, he doesn't even know that he's doing it but he's chopping up non-stop.
"You would've seen it in parts yesterday, if not the whole of yesterday, and he's just a real desperate footballer.
"He's so hard to beat one-on-one. He's a big brick … I 100 per cent think he's worth the money.
"I'm sure he'll come to terms with West Coast and settle on a fair deal."
Barrass was confident that McGovern wouldn't be distracted by talk of his future if contract negotiations drag on deep into the season.
"He doesn't buy into that outside influence. He's not a big head, he doesn't have a high opinion of himself," Barrass said.
"He's a really grounded character."
McGovern was elevated into the Eagles' leadership group last year and has worked closely with Barrass on his aerial prowess.
"He's been massive, Gov. He's probably the model key defender in the competition, him and (Alex) Rance, who I want to try and play like," Barrass said.
"He really helps, not only with the technical side of my game, with marking and spoiling and body work but also being able to chill out a little bit when something's not coming quite as easy as you'd hoped."
Barrass and the Eagles' defence was under siege at Joondalup on Sunday after conceding a mountain of inside 50s (61-33) to Fremantle – a trend that West Coast struggled to overcome last year.
But the 22-year-old declared the Eagles wouldn't panic.
"It was a bit of a tough day yesterday in the backline and the mids had a bit of a hard day as well against a really quality midfield," Barrass said.
"But we, as a backline, didn't do our best job either. So there's no point pointing fingers anywhere.
"It's not battle stations. We didn't lose any (premiership) points.
"I think it was a mindset issue rolling up not quite expecting to play and expecting to be in a real dress rehearsal and battle with Freo and we got found out."