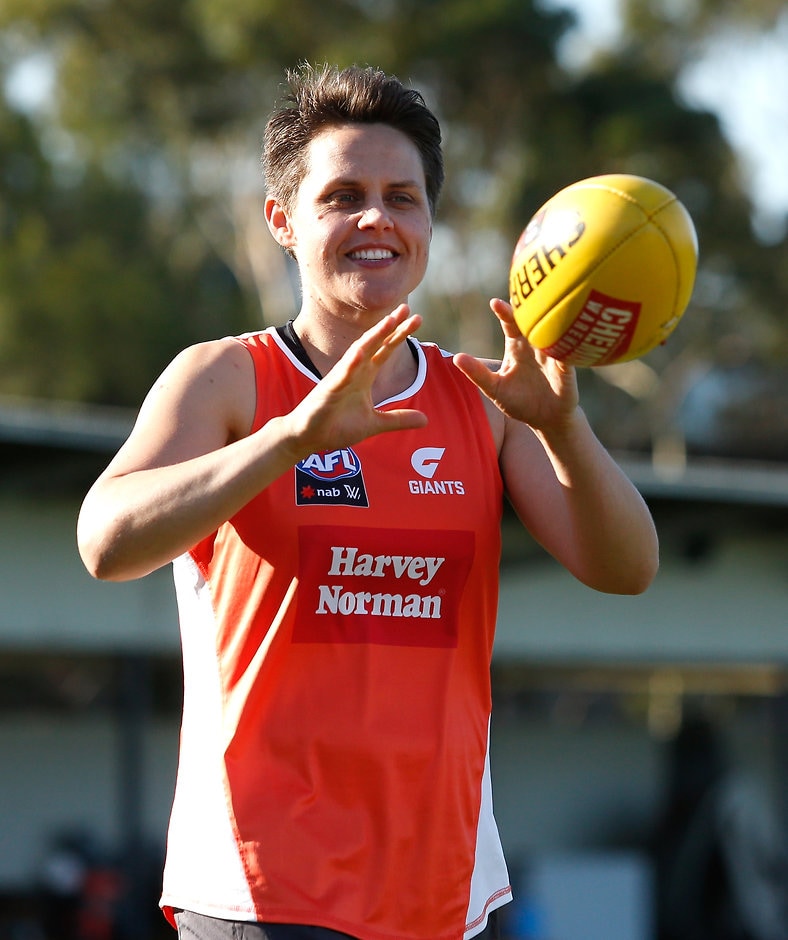 DISAPPOINTED to be passed over in the 2016 NAB AFL Women's Draft, Greater Western Sydney midfielder Courtney Gum is relishing competing at the elite level in a rapidly improving side.
Picked 25th overall in last year's draft, the 36-year-old is having a superb season, averaging 16 disposals and leading the competition in contested possessions.
"Obviously, you have a level of confidence in your own ability at 36 to go into a national draft with people half your age, but I didn't expect this," Gum told co-hosts Nat Edwards and Sarah Black on the latest episode of Trail Blazers, the official AFLW podcast.
The Giants (last in 2017) started slowly this year but have been on a roll of late and head into this weekend's final round in third position.
"Coming into a season you just don't know where you sit. We were confident we would be a stronger team … everyone is stoked with how we've gone, but we are still aiming for the end goal. Hopefully we can get this win on the weekend and head towards the Grand Final," Gum said.
After beating Collingwood in round three and a draw the following week against Adelaide, the Giants needed to win every game to make the Grand Final. On Friday, they host Brisbane at Blacktown.
"We have proven we can really knuckle down in games, and that we can grind out the result. It's really positive and uplifting," Gum said.
Trail Blazers also checked in with key Adelaide midfielder Ebony Marinoff, who had 11 stitches over the past week, copping a split tongue (in round five) and an elbow to the face (against Fremantle on Friday in Darwin).
She also spoke about the Crows' chances of making the Grand Final – they need to beat the Magpies on Sunday and hope the results of the round's first three matches go their way.