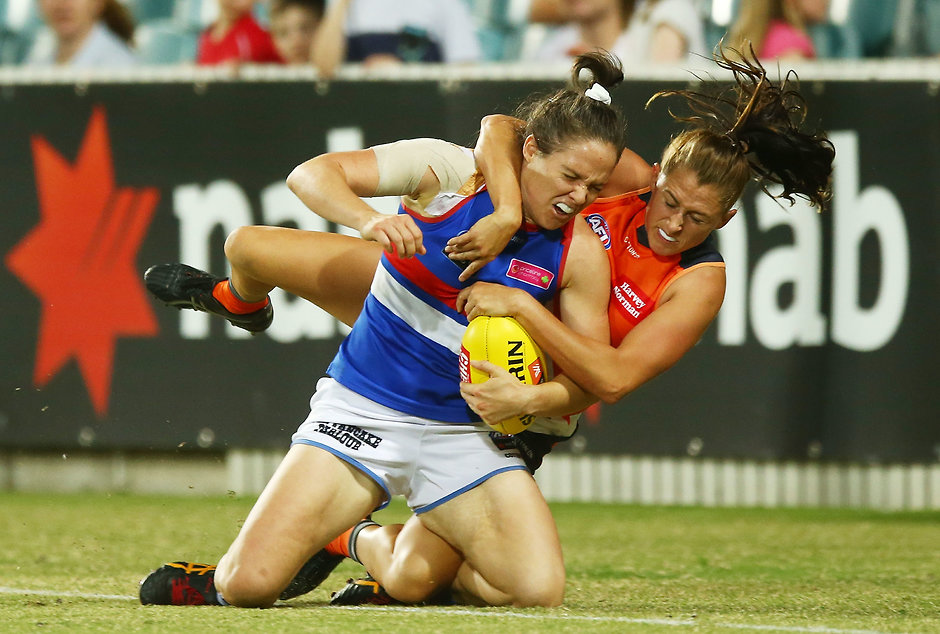 GREATER Western Sydney has rocketed into Grand Final contention and the team's strong form is reflected in six players selected in AFL.com.au's AFLW team of the week.
Nicola Barr, Amanda Farrugia, Erin McKinnon, Alicia Eva, Courtney Gum and Cora Staunton are the Giants to find themselves in the line-up after an upset 18-point win over first-placed Western Bulldogs.
The four names consistently brought up in discussions for league best-and-fairest – Emma Kearney, Kate Lutkins, Chelsea Randall and Gum – have once again been named.
Kearney has not missed selection in the team of the week this season, while the other three have been named on five occasions each.
Carlton's disappointing form is reflected in the fact no players have been selected in the side, although Danielle Hardiman could consider herself unlucky after battling hard in a besieged defence.
The team is selected to mirror the All Australian team: five defenders, six midfielders (including a ruck), five forwards and five interchange players.
Like the All Australian team, we have selected players in general categories, rather than in traditional positions. The 16-a-side set-up often means teams play with differing configurations, making set selections (e.g. wings and flanks) difficult.
Defenders: Sarah Allan (Adelaide), Ebony Antonio (Fremantle), Nicola Barr (GWS), Amanda Farrugia (GWS), Angela Foley (Adelaide)
Allan had the best game of her short AFLW career, cutting off numerous Fremantle forward entries and holding firm in the frantic final minutes of the match.
Rebound defenders Antonio (16 disposals) and Foley (15) dictated play at opposing ends of the ground during the Adelaide-Fremantle clash.
GWS pair Farrugia and Barr were strong in the team's big win over the Western Bulldogs; Farrugia sneaking forward to kick the sealing goal and Barr locked in an enthralling battle with Monique Conti.
Midfielders: Erin McKinnon (ruck, GWS), Alicia Eva (GWS), Courtney Gum (GWS), Dana Hooker (Fremantle), Emma Kearney (Western Bulldogs), Elise O'Dea (Melbourne)
McKinnon holds her spot in the ruck for a successive week, dominating the hit-outs against the experienced Aasta O'Connor.
O'Dea was instrumental in Melbourne skipping to its early match-winning lead, kicking three goals in the first quarter and finishing with 19 touches while running through the midfield.
Gum (23 touches and a competition all-time equal-best 10 clearances) continued her stunning run of form, while teammate Eva was at her ferocious best with seven tackles and 19 touches.
Kearney was a shining light for a disappointing Dogs and Hooker was important with 20 touches and two goals.
Forwards: Christina Bernardi (Collingwood), Tegan Cunningham (Melbourne), Jasmine Garner (Collingwood), Erin Phillips (Adelaide), Cora Staunton (GWS)
Phillips was a constant threat up forward, kicking three goals on virtually one leg.
The Pies pairing of Bernardi (three goals, 16 touches) and Garner (one and 18) worked well in tandem leading out of Collingwood's forward line.
Cunningham (three goals) was a constant thorn in Carlton's side, while Staunton's hard running, spreading the Bulldogs defence, was vital in the Giants' win.
Interchange: Emily Bates (Brisbane), Moana Hope (Collingwood), Kate Lutkins (Brisbane), Hayley Miller (Fremantle), Chelsea Randall (Adelaide)
Hope's strong vein of form continued with another three goals, as did Lutkins with another 18 touches in a rain-affected match not suited to tall key position players.
Bates (20) worked hard in a losing line-up, as did Miller, whose run from stoppages threatened Adelaide on numerous occasions.
Randall put in another strong performance, her contested marking when the match was on the line a real highlight.
The regulars – players who have been selected in three or more AFLW Teams of the Week in 2018
Emma Kearney (Western Bulldogs, six)
Chelsea Randall (Adelaide, five)
Kate Lutkins (Brisbane, five)
Courtney Gum (Greater Western Sydney, five)
Ebony Antonio (Fremantle, four)
Elise O'Dea (Melbourne, four)
Ebony Marinoff (Adelaide, three)
Emily Bates (Brisbane, three)
Christina Bernardi (Collingwood, three)
Chloe Molloy (Collingwood, three)
Dana Hooker (Fremantle, three)
Alicia Eva (GWS, three)
Tegan Cunningham (Melbourne, three)
Karen Paxman (Melbourne, three)
Daisy Pearce (Melbourne, three)
Ellie Blackburn (Western Bulldogs, three)