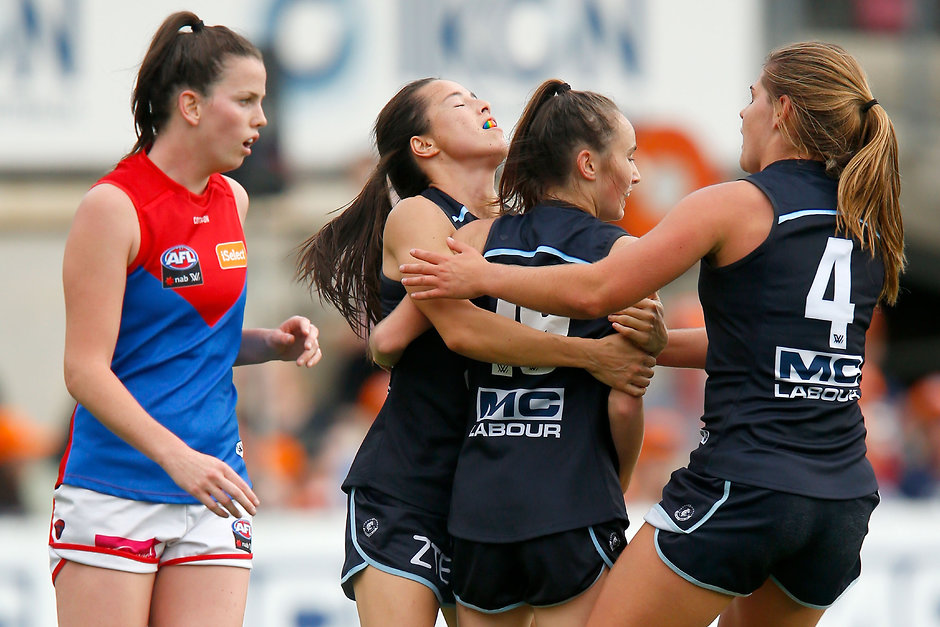 AT JUST 158cm, Carlton midfielder Georgia Gee is one of the smallest players in the NAB AFL Women's competition.
However, the 18-year-old stood tall on the weekend, snapping her first goal for the Blues.
Although Melbourne was 35 points clear after a landslide first quarter, Gee's final-term major provided a glimpse of a bright future among the ruins of a floundering campaign.
"All the girls got around me, which is a key focus for us when somebody kicks a goal – wherever you are on the park," Gee explained.
"Nothing has affected our spirit and approach to each game – even after the unexpected loss of our coach Damien [Keeping, who missed rounds two and three through illness] and captain Bri [Davey, who sustained a season-ending knee injury in round two]."
It has been a challenging debut season for Gee, who was Carlton's No. 1 pick in the 2017 NAB AFLW Draft.
After watching from the stands as the Blues took on Collingwood in the competition's first match in 2017, Gee worked hard leading into this season and has featured in five games, including the Blues' only two victories in the opening two rounds.
"My size and physique stopped me standing out as much as the other girls," said the former Dandenong Stingrays speedster on her journey to the AFLW.
She said her main focus when representing Victoria Country at the NAB AFLW Under-18 Championships was "to get as much of the ball as possible and to create as much run across the wing.
"I wanted to get my name out there by taking a few grabs and kicking some goals."
She was recognised for her efforts at the under-18 carnival with All Australian honours.
Gee has been kicking a Sherrin for as long as she remembers, having grown up in a footy-mad family.
Her grandfather Brian Shinners, who played for Richmond and Hawthorn, joined then-VFA club Dandenong in 1970s alongside his brothers Kevin and Bobby.
The Shinners brothers followed a legacy started by their father Jack, who played for the club back in the 1930s.
Gee said the transition from junior level to the AFLW had been "a big step up in physicality and tempo.
"But I have enjoyed every moment," she said.
"The Adelaide game (in round five) was particularly physical. They are really hard at the ball and used their bodies extremely well.
"With my size it was a challenge, but the experience was priceless and it set a benchmark at this level where the standards are so high."
Carlton can finish a challenging season on a positive note against Fremantle in Perth on Saturday.
"We are looking to get the first quarter right after Melbourne looked hungrier than we did [last weekend]," said Gee, who is studying for a sports development diploma at SEDA College.
"Then we will look at the big picture and work towards 2019."