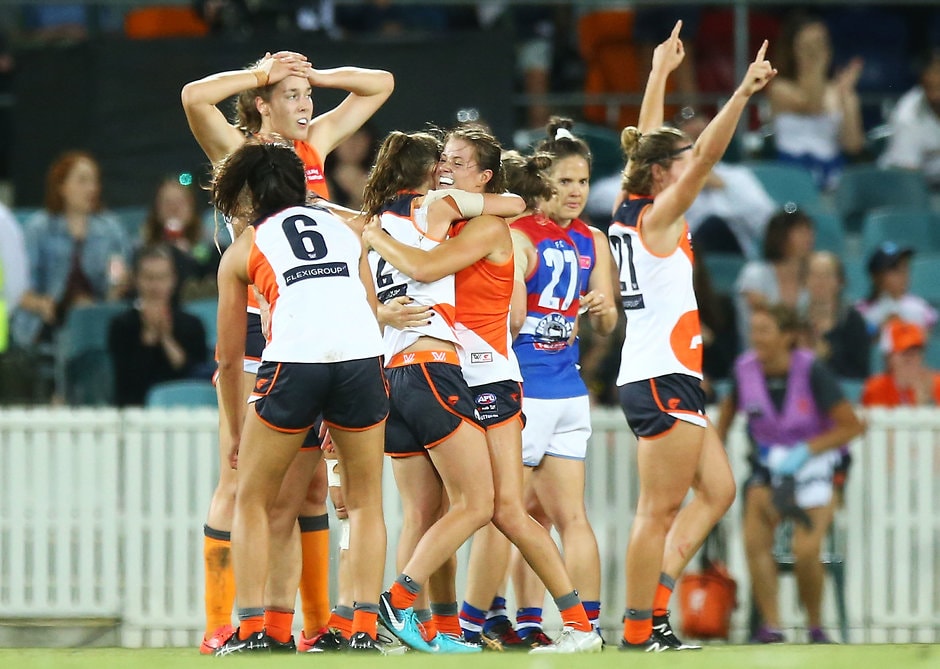 GREATER Western Sydney's NAB AFL Women's side was expected to struggle in its first season.
Based in a non-traditional football heartland, and with state-based drafts in place, the Giants went out of their way to recruit nine players from outside New South Wales.
The interstate haul included Phoebe McWilliams, Jess Dal Pos, Louise Stephenson, Emma Swanson and Alex Williams. It helped somewhat, but the Giants still finished last on the ladder, kicking only 23 goals in their seven matches.
But with one round remaining in 2018, Greater Western Sydney is still in contention for a spot in the NAB AFLW Grand Final.
An awful lot has changed since the Giants' final match of last season, a 32-point loss to the Western Bulldogs.
They have a new coach in Alan McConnell, who replaced Tim Schmidt. The last club McConnell coached was Fitzroy, as a caretaker during its final two seasons, in 1995 and 1996.
The club has 14 new players on its list (15 if you count Renee Forth, who didn't play a game last year with a torn ACL), and lost 13 to delistings, retirements and trades.
Considering an AFLW squad in 2018 is 30 players (slightly bigger than last year), the Giants have turned over half their list.
It's easy as a casual AFLW observer to get the impression these players have seemingly sprung from nowhere. But a lot of hard work has gone into crafting this list to have maximum impact in a seven-round season.
The challenges of NSW
No one knows the state of female footy in NSW better than the club's AFLW manager Libby Sadler.
Sadler was female programs manager at AFL NSW/ACT from 2011-16 before taking up her current role with the Giants.
Although she has seen participation numbers explode in the last few years, she's well aware there's a way to go.
"It's an immature market here, it's a developing market, non-traditional, and in the sense of women's footy, it's very immature and young," Sadler said.
"It's like a two- or three-year-old really. It's young, it's enthusiastic and loves to try just about everything.
"We identified we were after players who had more experience both inside and outside of football that could really support the young, developing, 23-and-under cohort. We wanted to make sure they were great people with great culture, had great work ethics and leadership qualities to really come in and build the program."
To help, Sadler contacted Chyloe Kurdas, who was the female football development manager for AFL Victoria from 2007-16. The two had previously worked closely together on the national female academy.
"They were looking for someone to give them a bit more insight into the talent landscape in Victoria," Kurdas said.
"Given that they were changing coaches and Alan McConnell was brand new in the female space, they just wanted someone with an eye on who people were, what they could and couldn't do. Just to be a talent consultant for them going into the trade period last year and the draft."
The new coach
Alan McConnell may be in his first season in charge, but he knows his way around Greater Western Sydney.
He was the first person appointed to the club, in 2009, and has held a variety of roles at the club in football administration and coaching.
Along with his AFLW duties, he is also director of coaching for the men's program.
"Al brings a strategic advantage that none of the other AFLW coaches bring. He has been on the journey building a club from scratch," Kurdas said.
"He really understands the importance of selling the club as well as selling the competition and the team. He understands the challenges of growing the game in western Sydney and the challenges facing the Giants. He understands the importance of not just winning on the scoreboard, but of winning in the community.
"The only way you're going to win in the community is if you've got good people at your club who can represent what the club's about and help build a solid foundation for the club's future."
Good character
McConnell's message to his small recruiting team was clear. He wanted players of "good character".
"In the [AFL] program, by the time you get to a draft you know just about everything about a player, right through to how he likes his Weet-Bix in the morning," Sadler said.
"But we don't have that level of information yet in the female space, so we rely a lot on people who have got a talent-spotting ability to be in market to have a look at that talent then come back with the most objective opinion they can on that player.
"We're only just this year heading into a space where the girls' TAC and VFLW games are filmed. A lot of other developing states you don't have access to footage of players because the community leagues don't have money to film them, so you have to have bums on seats to give you an opinion of who's who."
So, the club set out to find players around the country who would fit into the new Giants mould.
"It's someone who has really good values and tries to live by those. Integrity is a really important part of that –
they have a holistic focus on how they contribute to the team," Kurdas said.
"The scoreboard's not always their driving motivator. They've got good process around how they try to achieve those outcomes."
The results
After the Giants had scoured the country, they held two trial days with more than 200 participants.
"What we wanted to try and get was a solid key defender, someone who had a bit of experience, who could hold tight in defence and have a bit of strength about them.
"I tried to get as many tall key defenders up there so Al had choice. 'Here's five, choose the one you want,'" Kurdas said.
Diamond Creek co-captain and former coach Tanya Hetherington was selected with pick 17, and the key defender has played every match this season.
"We knew we needed an inside 'mid' to support Britt Tully, so we got three or four up there. For me, it's always been about giving Al choice and giving the club depth," Kurdas said.
Courtney Gum had been on Sadler's radar for quite some time. The South Australian local had spent a few years in Sydney playing for UNSW-ES Stingrays in the AFL Sydney competition, but moved back to Adelaide in 2014.
She nominated for the South Australian portion of the draft in 2016 but was overlooked by Adelaide.
Sadler invited the 36-year-old to one of Giants' trial day, and less than a year later, she is one of the favourites for the competition's best and fairest award.
"When Al saw how she went about it, met her and the saw type of person she is, which is salt of the earth, he was sold, telling her 'You need to be a Giant, young lady'," Sadler said.
"She's had her own challenges including leaving her partner, child and (physio) business at home to come here and play footy.
"While not in the leadership group, she's a natural leader. She's just one of those people who are seizing the opportunity to do something she loves and would have done for years if available to her."
Kurdas was also keen to flood the club with as much footy knowledge and professionalism as possible.
Alicia Eva, who has been involved in coaching boys and girls' teams for Calder Cannons in the TAC Cup, had already moved up from Collingwood via a trade.
Ex-Melbourne defender Pepa Randall didn't play a game last year with an ankle injury, but has played so well this season (and thanks to a post-match interview conducted with her hair in a towel eating a burrito), she's reached cult-hero status among Giants fans.
Former Blue Bec Privitelli (who coaches the girls' TAC Cup side Northern Knights), has played only one game but has nevertheless added depth and smarts to the squad.
"Then we got Cora," Kurdas said.
The wildcard
Cora Staunton is one of the most decorated Irish athletes of all time.
Ten All-Ireland titles (premierships) at club and county level, with Carnacon and Mayo. She's got 10 All Star awards (equivalent of All-Australian), having played top-level Gaelic football since she was 13.
The 36-year-old has also played soccer and rugby union, before trying her hand at Aussie rules about six months ago.
"It was quite an interesting conversation about her," Kurdas said.
"Al said, 'I've got this woman. Bear with me, she's from Ireland.'
"Cora's been a really terrific addition, good person, elite in her process, experience and leadership, really professional."
Throw in a reinvigorated Phoebe McWilliams and Jacinda Barclay, and the Giants have gone from the lowest scoring side to the fourth-best in the space of a year.
What's next?
It's safe to say the Giants have exceeded external expectations. But inside club walls, they're quietly confident about how things have turned around.
"Al's not tried to overcomplicate it for them, he's made it very simple. He's made some tweaks. There was a lot of good stuff there last year, I just don't think people were able to see it at the time," Kurdas said.
"They're all playing their role, they've all bought in to what the club's about. They're pushing each other really hard.
"There are girls at the moment who can't get themselves into the team, because there's just too much depth, but they're saying, 'I'll never play for another club.'
"When you feel good with your body, when you feel good with the people around you, and you're playing football to your capacity, then that's fun. They're doing really well, and it's really joyful to watch people do something they enjoy, doing it well and having fun doing it."