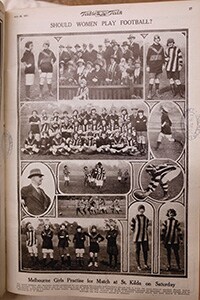 THE SECOND NAB AFL Women's Grand Final, the first in Victoria, will be played just shy of 100 years since the first organised game of women's football in the state.
The first recorded women's football match in Australia was held in Western Australia in 1915. Some three years later, in late 1918, the so-called 'Lucas Girls' took on the 'Melbourne Khaki Girls' in a match in Ballarat, west of Melbourne.
The women were raising money to aid construction of the commemorative Arch of Victory after World War I.
The only pictures documenting the occasion were team photographs of the two sides. The rare photos are part of a small collection of materials, including newspaper and magazines articles, photographs and clippings archived by the State Library of Victoria that chronicle the women's game.
Tim Hogan, the library's collection development and discovery manager, said many of the early matches were played for charitable reasons.
"It was seen as a novelty thing and they (the organisers) thought it would attract a crowd. They would raise money for the war effort or the Red Cross," Hogan said.
"After the war they were still raising money for rehabilitation for soldiers or other charities."
A full-page spread of photographs documented in Table Talk, a Melbourne social magazine, features images from the first women's game played in Melbourne, in 1921.
"This one is notable, because up until this time, women wore quite long skirts, not very conducive to playing football. This is one of the first images we have of 'footy' attire," he said.
Hogan said there was a recurring theme in the coverage of the women's game; it was primarily seen as "quirky", with commentary often trivialising or patronising in nature.
A feature in the Richmond Guardian, published in 1923, included photographs from a carnival match featuring men and women, accompanied by the subheading, 'Football as played by the softer sex'.
"That sort of language was very common," Hogan said.
Even as women continued to play the sport, it took until 1981 for the formation of an organised competition, the Victorian Women's Football League.
"The big newspapers weren't interested in the women's game initially. It wasn't until much later, in the 'noughties,' that you started to get a bit more reported in the Herald Sun," Hogan said.
"(However) it did crop up in suburban papers. Women's football has long been considered a local grassroots sport."
Compared to the limited archived records from its century-long past – Hogan believes more materials probably reside in private collections and will eventually be made public – to see women's football on the front and back pages of major newspapers across the country feels revolutionary.
"It's big-time now," Hogan said.
ITEMS ARE AVAILABLE FOR VIEWING BY THE PUBLIC. NEWSPAPERS AND PHOTOGRAPHS THAT HAVE BEEN DIGITISED CAN BE VIEWED ONLINE BY SEARCHING THE STATE LIBRARY OF VICTORIA CATALOGUE. ORIGINAL MATERIAL, INCLUDING NEWSPAPERS AND BOOKS, CAN BE REQUESTED VIA THE SLV WEBSITE AND VIEWED IN PERSON AT THE LIBRARY. FOR MORE INFORMATION AND TO SEARCH THE LIBRARY CATALOGUE, VISIT SLV.VIC.GOV.AU