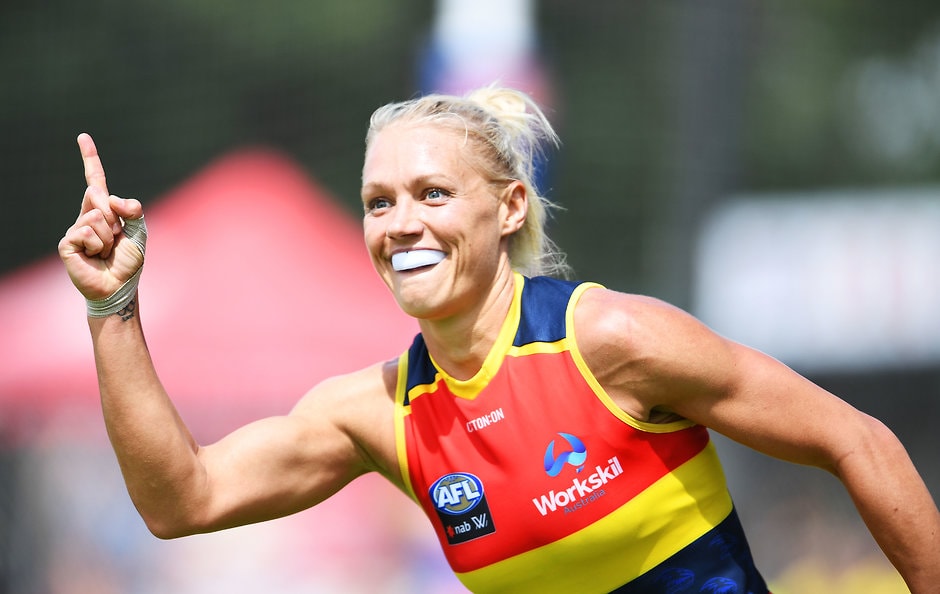 I would love to play. There's a lot of different aspects in my life [and] different things can happen
Erin Phillips
ADELAIDE superstar Erin Phillips has confirmed she will play in the NAB AFL Women's competition next year.
There had been talk in the past few weeks about the 2017 League Best and Fairest's future at Adelaide, but Phillips has shot them down.
Phillips will sign with the club once player rules for next season are locked in. She will also take up a coaching and promotional role once she returns from an overseas commitment.
"I'm going back to America, to Dallas, where my wife (Tracy) and I live and I'm an assistant coach with the Dallas Wings (WNBA team)," Phillips told AFL.com.au.
"I'd love to play. In terms of who I'm going to play for, I don't know why rumours are starting that I'm leaving Adelaide. I'm very happy there."
Phillips spent last week working with the NAB AFL Women's Academy, an under-18 squad made up of the best youth girls in the country.
Based in Geelong, it's the second week-long camp for this intake of the Academy, which also spent time together during an intense training camp in Darwin in December.
Phillips is a high-performance coach and mentor, a role she is well suited to considering her 15-year basketball career, including 11 years playing in the WNBA in the United States.
"[Mentoring] is definitely something I'm passionate about and [I enjoy] helping players get better," she said.
"Not just necessarily physical performance, but the mental side of it, handling pressure and expectation and going from a junior to an elite environment. It's something I have strength in doing."
Sixteen of the 44-strong Academy squad took on Geelong's VFLW side on Tuesday night, defeating the Cats by 48 points.
"It was a fantastic game. Initially I thought the girls were a little bit taken aback by the sheer body difference in playing a women's team, and that's something they'll have to learn and develop into," Phillips said.
"They got going five or six minutes into the first term and just turned it on. The standard was so good. There were only 16 players, and all of them stayed on the entire match, which was an amazing effort. So, I was really impressed with what I saw."
Madison Prespakis (Calder Cannons/Vic Metro) and Denby Taylor (Geelong Falcons/Vic Country) kicked two goals each, while Tyla Hanks (Gippsland Power/Vic Country) was one of the Academy's best.
This year's NAB AFLW Under-18 Championships start in Darwin in May, with the last phase played over three days in Queensland in July.