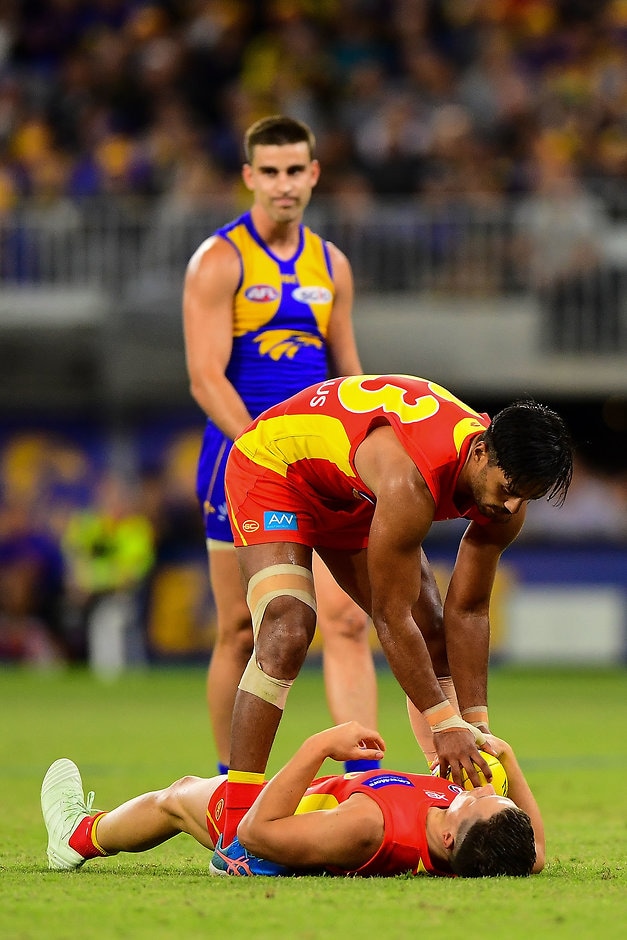 It's important to note you are allowed to bump in our game
Match Review Officer Michael Christian
THE BUMP appears to have been revived under Michael Christian's solo stewardship of the Match Review system this season.
The tick of approval given to Mark LeCras' bump on Ben Ainsworth during Saturday night's West Coast-Gold Coast game is the latest – and clearest – indication of Christian's resolve to preserve a tradition many presumed was long dead and buried.

Christian found LeCras had no case to answer even though his bump on Ainsworth caused an accidental head clash that forced the young Lion from the game with concussion.
The Match Review Officer was at pains to point out that players were still allowed to bump when explaining a fine issued to Fremantle ruckman Aaron Sandilands for bumping Gold Coast's Jarryd Lyons in round three.
WATCH: Suns downed by Sandi's bump
Christian again emphasised this point to reporters on Monday when explaining LeCras' bump on Ainsworth had initially involved shoulder-to-chest contact, with the players' subsequent head clash not a reasonably foreseeable consequence of the bump.
"It's important to note you are allowed to bump in our game. The players have a duty of care to execute the bump fairly and in our opinion that's what LeCras did," Christian said.
"LeCras didn't jump off the ground in executing his bump, he took care not to do that, and we didn't believe the force of the bump was excessive for the situation either.
"Unfortunately for Ben Ainsworth there was an injury sustained, but LeCras took every care to deliver the bump fairly."
Asked whether players who bumped in previous seasons had too often been held strictly liable for any consequent head contact, Christian said: "Maybe".
However, he did not want to "comment too much on what's happened in the past" and noted that some head clashes caused by bumps would still attract penalties.
Adelaide midfielder Richard Douglas was suspended this year for a round one bump on Bomber Zach Merrett that many football followers thought was a fair collision.
WATCH: Douglas bump leaves Merrett concussed
However, under Christian, it seems players who bump without making forceful shoulder to head contact will now be given the benefit of the doubt more often.
"If you take the care to execute your bump fairly, which we believe Mark LeCras did on this particular situation, then more than likely – I'm not saying every time – but more than likely there will be no charge to answer," he said.
"I think it's reasonably clear-cut and then, of course, impact has a significant say in it as well."