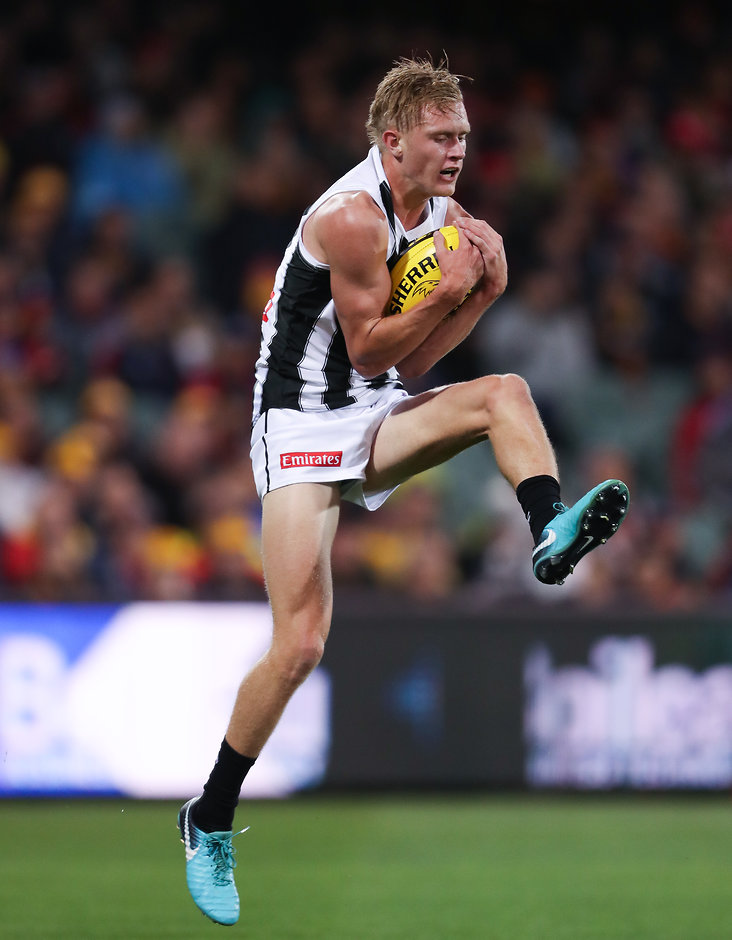 I think when I did kick that first one it was pure relief rather than excitement
Jaidyn Stephenson
IT WAS Jaidyn Stephenson's 'wow' moment.
Stephenson was still two years removed from joining Collingwood, playing as a "double underage" player in a TAC Cup semi-final for Eastern Ranges against Geelong Falcons.
The then-16-year-old had the ball outside 50m and was about to unleash something that the Magpies are set to benefit from for the next decade or more.

TALKING POINTS: Pies' drought ends with Stevo flood
Stephenson's Falcons opponent, who was on the mark, leaped into the air, only for the Ranges teenager to use that split second to make his move.
He put on the afterburners, sidestepped his hapless Falcons rival, cut back inside him, opened up a quick gap, then nailed a brilliant goal from barely inside 50m.
Welcome to Jaidyn Stephenson, who two-and-a-half years later is the NAB AFL Rising Star nominee for round four after his eye-catching five-goal effort against Adelaide on Friday night.
"We were like, 'Crikey' – it was pretty unique," the AFL's national talent manager Kevin Sheehan told AFL.com.au of that TAC Cup moment.
"Just the kid's confidence and skill to do it; he showed it all in that moment."
Stephenson "vividly" remembers that cheeky sidestep at Ikon Park, but joked he probably wouldn't attempt it again.
His highlight reel against the Crows suggests there is every chance of a repeat.
Stephenson's first goal was a cheap one out the back, but he finished strong with a magnificent long snap – after spinning out of trouble – then a 55m set shot and a left-foot snap from the pocket.
WATCH: Jaidyn Stephenson kicks his first AFL goal
The last of those had his coach Nathan Buckley chuckling in the box.
"It was a childhood dream just to play one AFL game, and to actually get a few goals and a few kicks is just great," Stephenson told AFL.com.au.
"I'd gone my first three games without kicking a goal and it was starting to get to me – oh, no, will I actually kick one?
"I think when I did kick that first one it was pure relief rather than excitement, and from there on in I was just running on adrenalin a bit and having a crack and backing myself in."
Stephenson and Sam Murray, who was last week's Rising Star nominee, have added speed and dare to a Collingwood line-up previously bereft of it.
Last year's No.6 draft pick is one of those rare footballers not afraid to make a mistake, something he credits to supportive junior coaches at Ferntree Gully and Eastern Ranges.
Pressure isn't something that afflicts him like others, either.
"I just play footy because I enjoy it. I don't get too (caught) up in all the stuff that comes with it," Stephenson said.
"I just enjoy playing on the weekend and competing one on one with my opponent."
The heart condition he shares with his sister and mother, which reportedly scared some recruiters off him in last year's draft, causes no more nuisance than having to take tablets three times a day.
Ranges coach Darren Bewick warned clubs on draft eve to ignore Stephenson at their peril, suggesting they would regret it.
The Pies took no such risk, snapping Stephenson up as early as they could – and Sheehan expects the decision to pay rich dividends.
WATCH: Goal number four for Stephenson
The talent spotter points to three games last year that he argues had him right in the conversation for the No.1 selection.
There was his promising performance in the Daniher v Weitering curtain-raiser, his 28 disposals and five goals for Vic Metro against South Australia, and his electrifying best-on-ground display in the TAC Cup All-Stars game on Grand Final day.
"They're the biggest games they get to play in as kids," said Sheehan, who compared Stephenson's traits to West Coast great Peter Matera and fellow Pie Steele Sidebottom.
"We set up the games in their national groups, the best of their age in Australia – and there's a little bit of hype around that, too, as to how you handle it.
"Well, he loved that big stage; he loves the occasion."