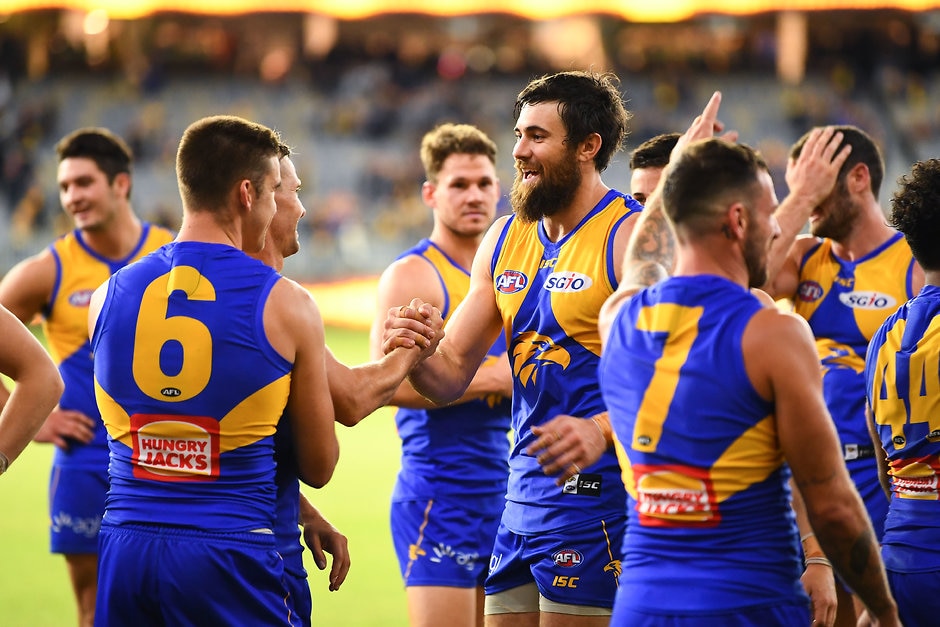 He's just an unbelievable player, definitely one of the best I've played with.
Mark LeCras
IT WILL be "quite special" for Josh Kennedy to break Peter Sumich's West Coast goalkicking tally, but the spearhead isn't banking on holding the club record for long.
Kennedy is now only one shy of Sumich's total of 514 goals in blue and gold after bagging five against Gold Coast on return from off-season ankle and knee surgery.
In a twist of fate, the 30-year-old is likely to surpass Sumich against his former club Carlton at the MCG on Saturday.
Kennedy, who reluctantly agreed to a trade back to WA when Chris Judd nominated the Blues as his new home at the end of 2007, has slotted 513 goals in 186 games for the Eagles at an average of nearly 2.76 per game.
Sumich reached his tally from 150 games between 1989-97 at 3.43 goals a match, however comparisons are almost worthless.
The dual premiership hero played in a different era defined by dominant full-forwards regularly kicking big bags from 1989-97.
But like Sumich, who was the first left footer to kick a century when he notched 111 in 1991, Kennedy has become one of the AFL's elite power forwards of his time.
The three-time All Australian has kicked at least 60 majors in the past five seasons to become arguably the League's most bankable goalkicker.
"It (the record) will be something I reflect on when I am finished," Kennedy told AFL.com.au.
"Suma was a terrific player and he's brought it up a few times. He will always say he did it in 150 games and not over (nearly) 200, so I don't think I'll ever really beat his record.
"But it will be something that will be quite special I suppose to have your name up on the wall if it does happen.
"But we've got some really good kids coming through and Jack (Darling, 283 goals in 155 games) hasn't really missed a beat since he started, so I'm pretty sure he'd take it back over pretty quick.
"Young kids like Jake Waterman and Jarrod Brander are showing some really good potential and they've got some good talent and will probably be here for the next 10 or 15 years.
"If I do get it, I don't think it will last very long."
As a Collingwood supporter growing up, Kennedy didn't count Sumich as an idol but the dual Coleman medallist credits the West Coast champion for teaching him forward craft during his first four seasons at West Coast.
"I had Suma as a forward line coach and he really shaped me and my career. I can't thank him enough for where I am able to be today," Kennedy said.
"It was all because of him."
Kennedy's teammate Mark LeCras, who is third on the Eagles' all-time leaderboard with 419 majors in 200 games, paid tribute to his close mate's professionalism and ability to play through pain ahead of his goalkicking milestone.
"It's a huge effort. He's just an unbelievable player, definitely one of the best I've played with," LeCras said.
"The way he prepares for games. You talk about little niggling injuries, he's one bloke who has played with a ton of injuries and been able to perform through having stuff that most blokes wouldn't be able to get on the park with.
"He's got a lot of respect for Suma but I think it's a good bloke that's going to take over the torch for kicking the most goals for the footy club."