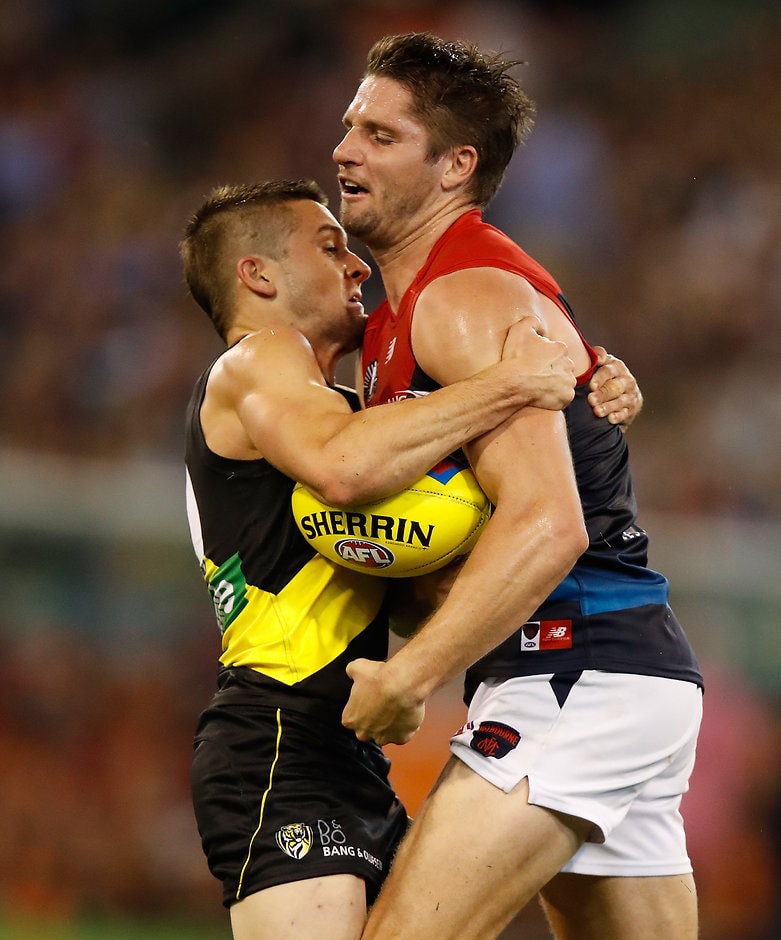 Sometimes you want the game to come a bit quicker, so you can get back in there
Simon Goodwin
RICHMOND and Melbourne players will enjoy a mini-break at the start of this week before preparations heat up for Anzac Day Eve's blockbuster at the MCG.
However, not everyone involved with both clubs are thrilled with the window of downtime so early in the season, with both coaches light-heartedly venting their frustration over the long break between their games.
Richmond coach Damien Hardwick's issue lies with the bigger scope for players to hurt themselves when training resumes.
And, with the Tigers currently boasting just one player – Daniel Rioli – on their official injury list, he has reason to want to not rock the boat.

WILL MELBOURNE SWING AXE: Who'll pay the price for horror show?
"It's funny – as a coach you prefer the shorter breaks, I'm not a big wrap for the longer breaks because then you've got to get a little bit of work into them, which increases the risk of maybe an injury or two," Hardwick said after the Richmond's big win against the Lions.
"We'll take it as it is though. They'll mentally and physically freshen up for a period of time and then we'll get back to work when they come back."
The Tigers have given their group three days off following their win over the Brisbane Lions on Saturday.
They did recovery directly after the game before being dismissed between Sunday and Tuesday, with country community visits scheduled for Wednesday.
Players from both clubs who are set to line up in the Richmond-Casey Demons VFL game on Sunday at Punt Road will put in a normal week of training.
The Demons, who played on Sunday, have given their players Monday and Tuesday off before they are required for community visits in the Casey region on Wednesday morning.
They'll return to the club after that, before their main training session on Thursday and captain's run on Monday, before the clash the following night.
Coach Simon Goodwin said he would have preferred his players a sooner opportunity to atone for their poor 67-point loss to Hawthorn on Sunday than have some time off to think about it.
"We've got nine days and we've got to get ourselves together and I think we, as coaches and players, are really looking forward to it," Goodwin said.
"We've got a long break and sometimes you want the game to come a bit quicker, so you can get back in there, but we've got to rebound. I think as a club we need to respond as best we can.
"They're a proud group, and they know they've done a lot of work to build themselves into the position that they are.
"They know that it didn't reflect anything of the way they want to go about their footy. They're looking forward to responding."
The long break will also help the Demons ensure Neville Jetta's availability after he was treated for an ankle injury during the game, plus give Dom Tyson more time to overcome the illness that kept him out of Sunday's loss.
But it won't immediately help co-captain Jack Viney, who is believed to be slated for a VFL return in three weeks' time, or Tom McDonald, who should be back in two.
Both clubs will submit teams on Monday night and won't be required to publicise squads of 25 in the lead up to that deadline.