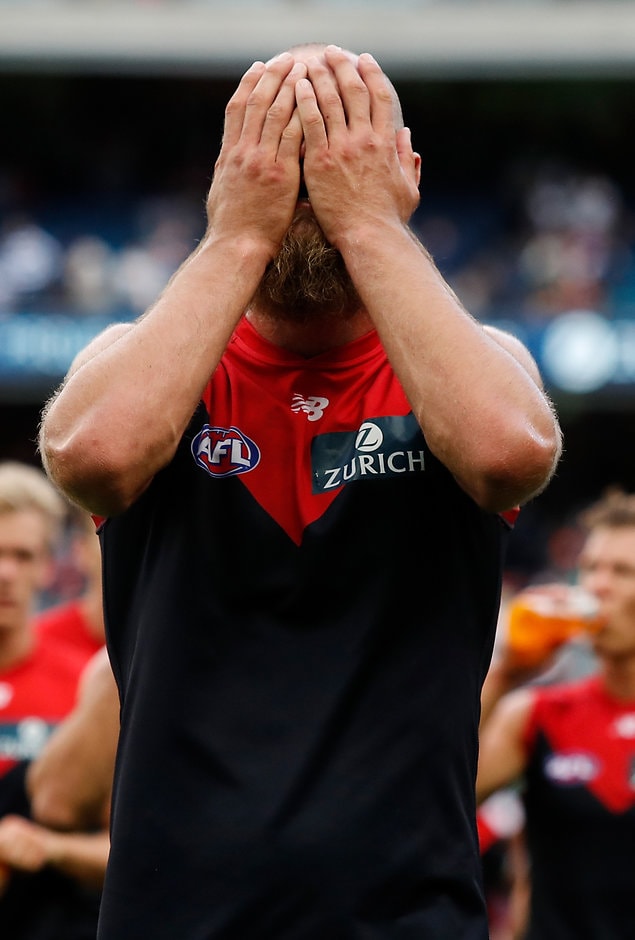 I did exactly my routine, counted my steps, I took my deep breaths, and Hawthorn players were trying to put me off as well, but all I heard was noise, which means you're in the zone
Max Gawn
MAX Gawn concedes his wayward goalkicking this season is having a deflating effect on Melbourne.
Gawn has already had two costly misses in the first four rounds of the season.
The All Australian ruckman missed a shot at goal to win the round one clash against Geelong, and then a chance from almost the same spot of the MCG to put his side four goals clear of Hawthorn early in the 67-point loss on the weekend.
While he's disappointed his errant kicking is costing the Demons, Gawn told RSN radio on Tuesday morning he won't be shying away from confronting the big moments in the future.
DECISION TIME: Who'll pay the price for Demons' horror show?
"I was a pretty crucial (miss) that one (against Hawthorn), that would have put us four goals up going into quarter time," Gawn said.
"Believe me or not, I did exactly my routine, counted my steps, I took my deep breaths, and Hawthorn players were trying to put me off as well, but all I heard was noise, which means you're in the zone, I didn't hear any words.
"I just had a shocker of a ball drop, so it's something I've got to work on.
"The other one (I missed against Geelong) was to win the game, so they're pretty crucial goals and they're probably deflating the team a little bit.
"I'm hitting them at training, I'm just not hitting them in the game at the moment.
"Hopefully one goes through soon, but I'll keep putting myself in that position."
It proved to be a game-changing mistake, with the Hawks kicking 15 goals to one after quarter-time to hand the Demons an embarrassing defeat.
Momentum swings are becoming a problem for coach Simon Goodwin, with his side unable to curtail strings of opposition goals in the loss to the Cats and even the win over Brisbane in round two.
"Every team is going to get (momentum at some stage), the best teams stop it the earliest," Gawn said.
"We're probably struggling at the moment, and sometimes the mindset is 'everything is going bad and we've got to try and kick a goal', and that isn't necessarily the best message to send across, and we've got to stop the play.
"There's been times where we haven't been able to stop the momentum, and we need to go back to the fundamentals and basics of football, which we didn't do against Hawthorn, which we definitely didn't do (early) against Brisbane, and Geelong early in the game as well."