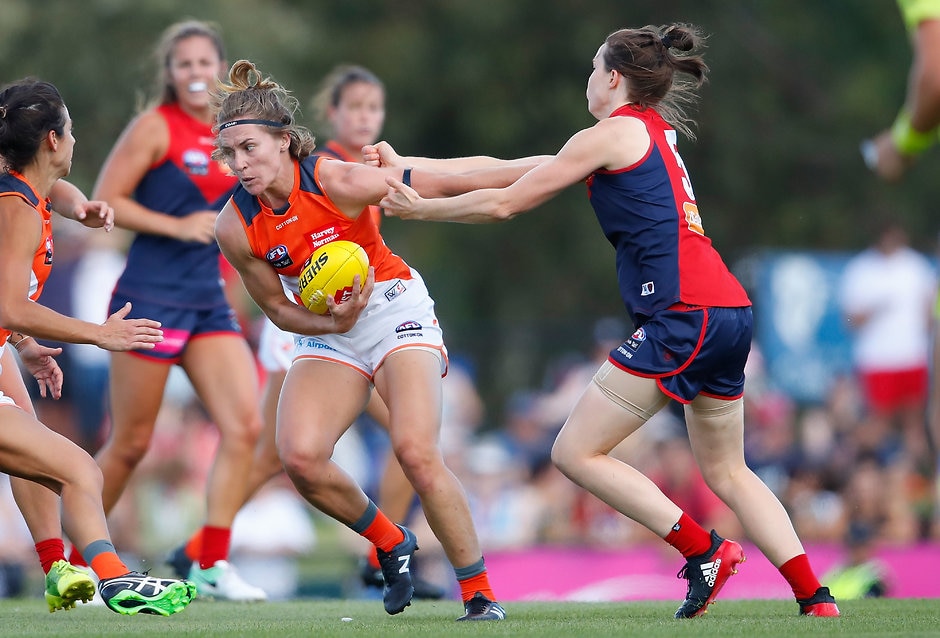 IT'S BEEN nearly a month since Western Bulldogs Ellie Blackburn and Katie Brennan and their coach Paul Groves held the AFL Women's premiership cup aloft at a soggy Ikon Park.
The trade and re-signing period will not open until negotiations between the AFL and the AFL Players' Association over a new AFLW pay deal have been finalised.
In the meantime, here's a snapshot view of each club's season, including any post-season news and what each might be on the look-out for when the trade period opens.
Also included is a "dream recruit" scenario for each club. Although these might appear impossible to land, it's fun for fans to imagine what could be.
This is part two of a two-part analysis of the eight inaugural clubs, plus the two new ones – Geelong and North Melbourne – joining the competition next year.
READ PART ONE: Adel to Frem
GREATER WESTERN SYDNEY
Highlight: A big upset win over the Western Bulldogs by 18 points in round six to keep its Grand Final hopes alive. It was a big season from last year's wooden-spooner, and to still be a chance of a top-two finish coming into the final round was a very impressive turnaround.
Lowlight: It came the following week when it crashed to a 40-point loss to Brisbane. With a win all but guaranteeing a Grand Final spot, the Giants looked overawed in the first quarter, coughing up six goals and the match in the process.
Best and fairest: Alicia Eva
Most improved: Phoebe McWilliams
Post-season news: Gaelic football star-turned key forward Cora Staunton has returned to Ireland after an impressive first season of Australian Football. It remains to be seen if Staunton will play next year, but at this early stage she is believed to be more likely to come back than not.
Must hang on to: Courtney Gum. The 36-year-old was a revelation in her first AFLW season, winning the AFLPA MVP award and dominating the midfield. She has a child, partner and physio business in Adelaide, and has returned to them this off-season.
What they need: An additional key defender. Tanya Hetherington helped stabilise things in defence, but at 33 is closer to the end of her career than the start.
Dream recruit: Kate Lutkins. The Brisbane defender is one of the best intercept marks in the game and plays well in a lock-down role when required, but after two Grand Final losses, will be keen to stay the course.
MELBOURNE
Highlight: Completely dominating reigning premier Adelaide in round two, winning by 32 points to stake an early claim for premiership favouritism. The match also featured the goal of the year from speedster Aleisha Newman.
Lowlight: Yet another third-place finish to miss the Grand Final by percentage. It's the second year in a row the Demons fell agonisingly short, a two-point loss to the Bulldogs in the dying minutes of the last match of the season ending their hopes.
Best and fairest: Daisy Pearce
Most improved: Shelley Scott
Post-season news: Captain Daisy Pearce will sit out this coming VFLW season to give her body a rest. Melbourne has signed nearly half its AFLW players to its VFLW side Casey, including Tegan Cunningham, Meg Downie, Bianca Jakobsson, Kate Hore, Laura Duryea, Katherine Smith, Shelley Scott, Jasmine Grierson, Claudia Whitford, Harriet Cordner, Maddie Shevlin, Eden Zanker and Cat Phillips.
Must hang on to: Elise O'Dea. The midfielder is the youngest of the Daisy Pearce-Karen Paxman-O'Dea trio, and leads the club in metres gained. Was second in the club's best and fairest award and often slips under the radar of opposition clubs trying to cover her teammates.
What they need: Melbourne has one of the most balanced lists in the competition, as evidenced by two third-place finishes. An additional small forward for depth wouldn't hurt.
Dream recruit: Brooke Lochland. The competition's leading goal kicker was also one of the most improved players, but it would be hard to tempt her away from a premiership-winning side.
WESTERN BULLDOGS
Highlight: What else but the Grand Final triumph? In their come-from-behind win in soggy conditions at Ikon Park, the Dogs showed impressive maturity and ability to adapt when things didn't go to plan.
Lowlight: ACL tears in two weeks to young forwards Daria Bannister and Isabel Huntington. The two showed great promise before their injuries, with Huntington kicking two goals in the five minutes before suffering her second ACL injury in less than two years.
Best and fairest: Emma Kearney
Most improved: Brooke Lochland
Post-season news: In a worst-case scenario, the Bulldogs have lost league best and fairest winner Kearney to North Melbourne. With a large Melbourne University (North's aligned VFLW side) contingent on their list, the Dogs will have to be on the front foot in re-signing players. Captain Katie Brennan will be free to play in round one after her remaining one-week suspension was overturned when the AFL announced it was changing the rules around the AFLW match review penalties. Coach Paul Groves remains out of contract and is back in the classroom teaching at Salesian College in Melbourne's south-east.
Must hang on to: Ellie Blackburn. With the loss of Kearney, the Bulldogs can ill-afford to lose their other star midfielder, even with their depth in the middle of the ground boosted by the likes of Kirsty Lamb and Jenna Bruton.
What they need: An A-grade midfielder to cover the gaping hole Kearney will leave. More specifically, one with a booming kick who is capable of covering a lot of ground with the ball.
Dream recruit: Failing an about-turn from Kearney, Courtney Gum would be a dream pick-up for the Bulldogs. Can hit the scoreboard and is superb around stoppages.
THE NEWBIES…
GEELONG
2018 plans: Will play in the VFLW competition for a second year and hopes to improve on last season's respectable fifth-place finish.
Coach: Paul Hood. Has been at the club for several years, coaching the VFL side and working in player development before taking the reins of the VFLW side in 2017.
2017 VFLW best and fairest: Lily Mithen
2017 VFLW players who played in the AFLW this season: Lily Mithen, Richelle Cranston, Anna Teague, Erin Hoare (all Melbourne); Maddie Boyd (Greater Western Sydney)
Off-season news: The Cats have played two practice matches ahead of their VFLW season, losing to the under-18 NAB AFLW Academy side but comfortably beating the Southern Saints.
Dream recruit: Local girl Lily Mithen would be an ideal marquee player in the club's first AFLW season. Having spent two seasons at Melbourne at AFLW level, it remains to be seen if the Cats can tempt her away from a midfield boasting the likes of Daisy Pearce, Karen Paxman and Elise O'Dea.
NORTH MELBOURNE
2018 plans: Melbourne University, North's VFLW-aligned club, finished third last year. Uni will once again take to the VFLW fields this season, with the Kangas helping to cultivate a list of players they hope to have at AFLW level next season.
Coach: Scott Gowans. Has crossed from VFLW club Diamond Creek to take charge at Melbourne University this year and North Melbourne from 2019 onwards.
2017 VFLW best and fairest (Melbourne Uni): Alicia Eva
2017 VFLW players who played in the AFLW this season: Alex Saundry, Alicia Eva, Louise Stephenson (Greater Western Sydney); Bailey Hunt, Brooke Lochland, Deanna Berry, Ellie Blackburn, Emma Kearney, Jess Anderson, Lauren Spark, Monique Conti (Western Bulldogs); Cat Phillips (Melbourne); Cecilia McIntosh, Moana Hope (Collingwood); Gabriella Pound, Kate Shierlaw, Maddy Keryk, Nicola Stevens (Carlton); Kaitlyn Ashmore (Brisbane).
Off-season news: The Kangaroos scored the first big coup of the off-season when AFLW best and fairest Emma Kearney agreed to join the club. She will officially complete a contract when the signing period opens.
Dream recruit: Could North reunite the dynamic duo and sign Ellie Blackburn to play alongside Kearney? Roos fans could only dream.