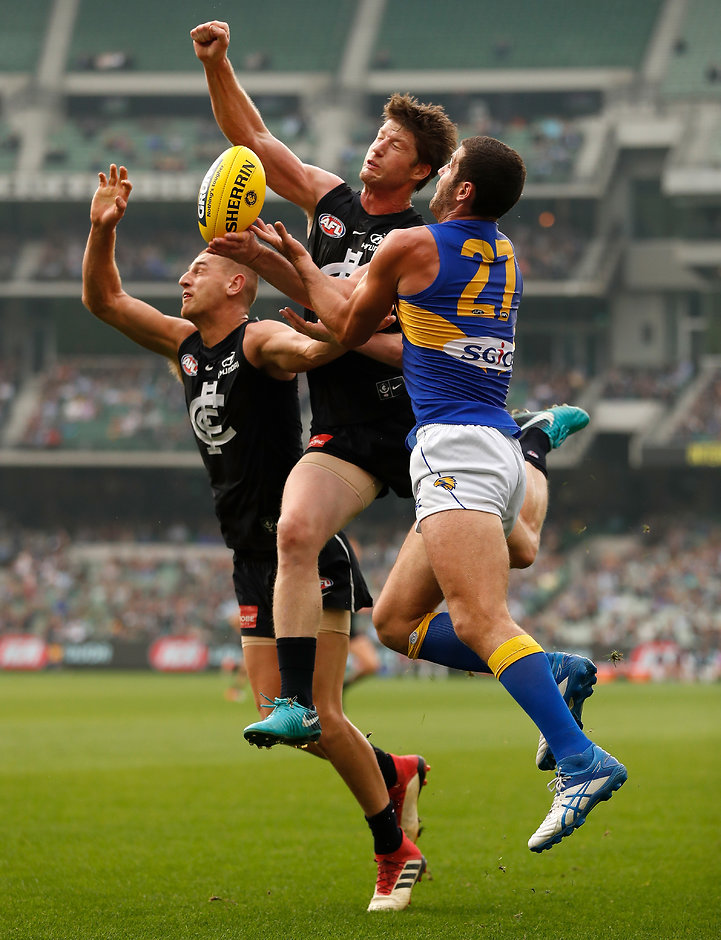 We haven't been getting it right a lot but I felt tonight, as a team, we defended a lot better
Sam Rowe
MANNING West Coast forward Josh Kennedy is one of the toughest tasks in football, let alone for someone playing their first game in almost a year.
However, that was the assignment handed to Carlton backman Sam Rowe as he returned from a knee reconstruction after being injured against Fremantle in round nine last season.
The 30-year-old was inserted into a defence that entered round five as the worst in the AFL based on points conceded and made an immediate impact.
He was sent to Kennedy from the opening bounce and kept the Eagle to one goal, meaning the dual Coleman medallist tied, rather than broke, Peter Sumich's record of 514 goals in Eagles colours.
EAGLES IN A GRIND: Full match content
Not that Rowe knew about his opponent's impending milestone.
"I've got no idea what you're talking about," Rowe told AFL.com.au after the 10-point loss to the Eagles.
He found out last Thursday he was back in the side and would be charged with stopping Kennedy, and he relished the opportunity to take on one of the most dangerous players in the competition.
"I was looking forward to Kennedy. I like to get the best forward if I can and get that challenge," Rowe said.
"All in all, we showed a lot more effort tonight but we didn't get the result that we wanted."
He stiffened up a struggling defence, with Liam Jones having been in poor form and youngster Jacob Weitering being heavily scrutinised before suffering a thigh injury.
Jones turned it around against West Coast, amassing a game-high 16 one-percenters and showing confidence and assertiveness in the air.
Rowe was aware of the criticism but saw improvement on Saturday.
"There's always a lot of chat in the media. Internally, we know how we want to defend," Rowe said.
"We haven't been getting it right a lot but I felt tonight, as a team, we defended a lot better. I think everyone would recognise that.
"To keep West Coast, who are a pretty good team, to 79 points … we were pretty strong defensively."
The Western Bulldogs are next up on Friday night at Etihad Stadium and Rowe is confident his knee won't give him any issues.
"I've pulled up really well. The process has been pretty smooth sailing," Rowe said.
"I was back playing within 10 months and back into the AFL at about the 11-month mark. Body's feeling good, pleased with how it's recovered and looking forward to next week."