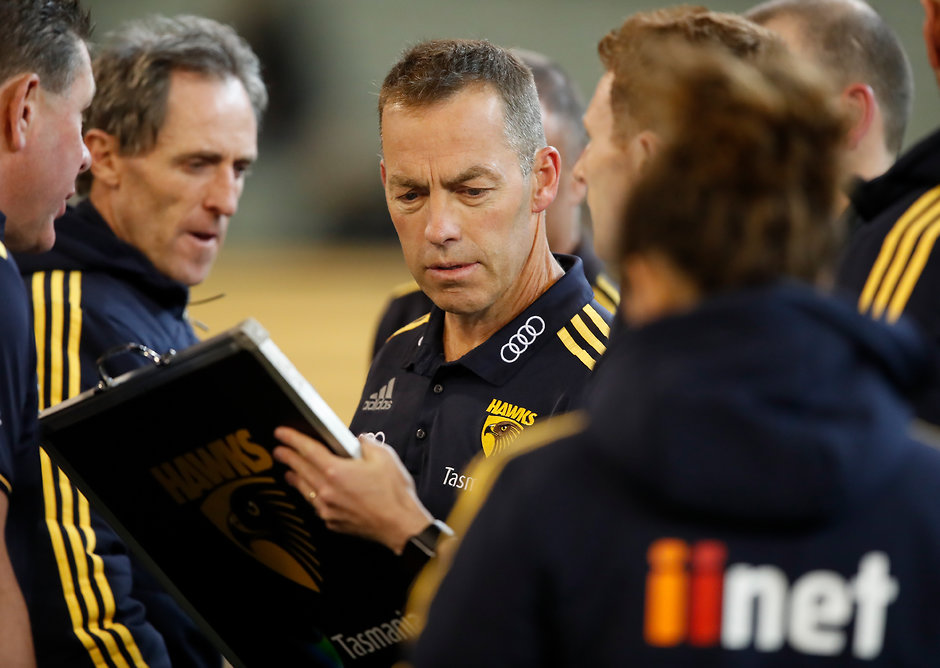 ALASTAIR Clarkson is acutely aware of his standing in the game and hence how qualified he is to comment on the state of the game.
Hawthorn's master coach has won four premierships, whereas none of the AFL's other 17 coaches has presided over more than one.
Only John Worsfold has coached more matches than Clarkson among the current batch (334 to 313), but the Bombers mentor has bigger issues right now than the way the sport is being played.
Clarkson began his four-week verbal crusade in the aftermath of Hawthorn's round five loss to North Melbourne and has barely stopped since.
His topics ranged from congestion and incorrect disposals to the demise of wingmen and the second ruckman to the value of key forwards.
This week's stats files examines some of Clarkson's comments and either validates or 'mythbusts' them, using the Hawk's first season in charge in 2005 as a comparison to 2018.
Quote 1:

"If we got back to actually defending the ball in a manner that it should be, then we'd get back to getting some contested marks."
A comparison between the top 10 key forwards across various statistics in 2005 and this year shows Clarkson was onto something without being fully accurate.
(We will leave Clarkson and John Longmire to debate the first part of his statement)
The 2018 group of forwards actually took more contested marks in the first eight rounds than their 2005 counterparts, 149 to 137.
The respective leaders in each season, Matthew Richardson and Jack Darling, both amassed 24.
What has dipped in the 13 years since Clarkson took over are key forwards' total marks (578 down to 471) and marks on the lead (73 to 44) as defensive structures became more sophisticated.
Fewer key forwards played so far this year (57) than in 2005 (67), with Clarkson even questioning the worth of selecting them over smaller, nimbler options.
Quote 2:

"You get guys like Jesse Hogan, who is a terrific forward, but he has to go up to the wing now and hope that he can just outrun his player back to the goalsquare…"
This is bang on, as far as Melbourne's Hogan being the modern prototype for how key forwards win the ball these days compared to yesteryear.
The Demon has won more midfield disposals than any other key forward this season, with his 165 possessions in that part of the ground way ahead of Hawk Jack Gunston's 135.
Interesting is that 10th-placed Mitch McGovern's 106 are more than 2005 pacesetter Matthew Pavlich, whose 91 edged out Ashley Hansen (80) and Jarrad Waite (79).
This year's top-10 crop has accumulated 1221 midfield possessions, almost double 2005's 697, so there is genuine merit in Clarkson's words.
Inside 50s are basically a wash – there are 1.7 more in 2018 – but the entries are under greater pressure and 1.5 fewer goals are being scored.
Quote 3:

"We've got to reward (the tackler) more … we're treating the game as if we're playing a group of under-12s and they don't know how to kick, mark and handball."
There is a number of factors here.
But firstly: umpires are paying 4.6 holding the ball/incorrect disposal free kicks per game in the first eight rounds of 2018 compared to only 2.3 in the same time period in 2005.
That must be balanced with context, given players are winning far more of the ball this year (375.4 disposals) than in 2005 (306.7) and stoppages increased from 50.3 a match to 60.4.
On a related note, kicking and disposal efficiency are both well down from 2005, mostly in response to the increased emphasis on pressure in the modern game.
Champion Data did not track clubs' pressure rating 13 years ago, but tackles are up almost 54 per cent overall – a climb mirrored in the key forwards of the two seasons as well.
What all this reveals is that the 2018 game is quite drastically different to when Clarkson started his reign as coach.
Whether the sport's evolution is a good or a bad thing is in the eye of the beholder, a scenario the Hawthorn mentor is comfortable with.
"I don't have to be right. I don't have to win in this space," Clarkson said.
"I am really encouraged by the debate and the discussion, and a lot of people — media, players, coaches, administrators of the game — are having a look at it and trying to come up with the best solution.
"Whether or not we make a change; it is a good debate to have."