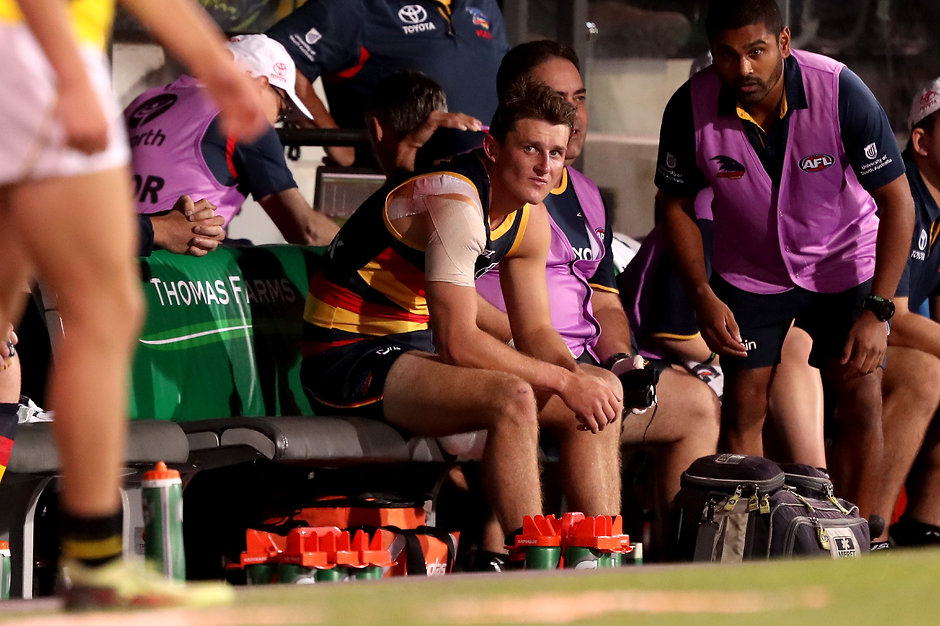 ADELAIDE is hopeful All Australian midfielder Matt Crouch misses just one game with his second hamstring injury of the season.
Crouch and defender Luke Brown (adductor) were ruled out of Friday night's clash with the Western Bulldogs at Adelaide Oval.
Scans have cleared Crouch of damage to his hamstring, but the Crows are taking a cautious approach after he reported soreness following the club's main training session on Wednesday.
Crouch injured his hamstring in the Crows' round two win against Richmond and missed the next three games.
But Crows head of football Brett Burton said Crouch's latest setback wasn't as severe and believed he could be available for the club's round 10 game against Melbourne in Alice Springs on May 27.
"Given his history, he's only been back for a couple of games, we didn't want to take any risks with him," Burton told SportsDay SA on Thursday night.
"We'll assess that as the rest of the week goes on and see if we can get him up for next week.
"We've had scans and he's all fine there, but he's sore in that area.
"We're certainly treating the guys conservatively and making sure that we don't have issues in games.
"He'll go into the rehab phase now and we'll reassess him as the week goes on next week."
Burton was more confident of Brown being right to take on the Demons after he pulled up sore following the Crows' five-point Showdown loss to Port Adelaide last Saturday night.
"He just had some adductor soreness out of the game and he got himself going earlier in the week," Burton said.
"It wasn't too bad, he trained the main session and just pulled up sore this morning.
"Again, it's one we don't want to risk, he's just on the minor end.
"With adductors, they're pretty minor, so he should be fine for next week."
The Crows (5-3) are also without skipper Taylor Walker (glute) and forward Mitch McGovern (ankle) for their clash with the Bulldogs (4-4), who have won their past three games.
Former North Melbourne midfielder Sam Gibson has been rushed straight into the senior side to debut for the Crows.
The 31-year-old injured his hamstring the day before the club's round one loss to Essendon.
Key defender Kyle Hartigan also returns after missing three games with a hamstring injury, while youngsters Darcy Fogarty and Lachlan Murphy are recalled.