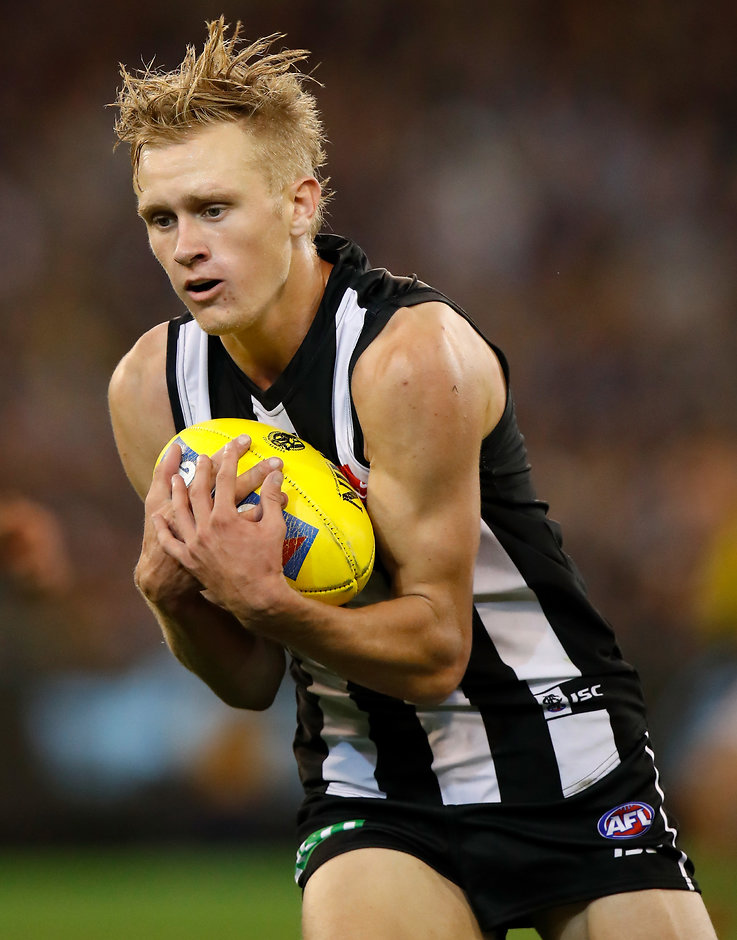 I have to take medication three times a day ... if that's the worst thing in my life, then it's pretty easy
Jaidyn Stephenson
COLLINGWOOD rookie Jaidyn Stephenson never feared his AFL career was over before it began when he found out last year he was living with a genetic heart condition.
His diagnosis sent AFL recruiters into a flap on draft eve, given the then-18-year-old was considered a top-10 talent for several years.
Some clubs are believed to have ruled Stephenson out because of his condition, and Magpies recruiting manager Derek Hine revealed they settled on him at No.6 only five hours before the draft.
Stephenson, who was speaking at the launch of charity organisation HeartKids' Super Boss Day campaign, shares his heart condition with his mother and sister.
The Collingwood footballer, whose five-goal haul in round four against Adelaide earned him a NAB AFL Rising Star nomination, will serve as a HeartKids ambassador.
"There were obviously talks I had to have with cardiologists about whether I'd continue playing sport, and it certainly worried my mum more than anyone," he said.
"But I stayed pretty confident and was pretty adamant I'd keep playing sport, because I loved it that much and didn't want anything to stop me from playing it.
"I still believed I would get drafted, even if it was pick 50 or 60 – it didn't bother me – but ending up at Collingwood was just a dream come true."
There is a sharper focus on heart conditions since Stephenson's discovery at last year's AFL Draft Combine and the on-field collapses of fellow Magpie Kayle Kirby and Saint Dylan Roberton this year.
Both Kirby, who lives with Stephenson, and Roberton were diagnosed with an irregular heartbeat, and are temporarily not playing as doctors monitor them.
"I'm pretty confident we're treating it properly and taking all precautions necessary," Stephenson said.
"It hasn't prohibited me from doing anything. I just have to take medication three times a day, which is a little bit annoying, but if that's the worst thing in my life, then it's pretty easy.
"Obviously, I wish the best for Kayle and Dylan and hope to see them back out playing soon."
HeartKids supports children with congenital heart disease and their families.
Eight babies are born each day in Australia with congenital heart disease, and four lives are lost each week.
The Super Boss Day campaign, designed to raise awareness and funds for the charity, is on June 15 and encourages people and their boss to dress up as their favourite superhero.
Road to the Draft podcast
Injured top draft pick Max King joins Cal Twomey and Mitch Cleary to discuss his season-ending knee surgery. Also, who are the best Tasmanian draft hopefuls? And who could Essendon get with its first pick?