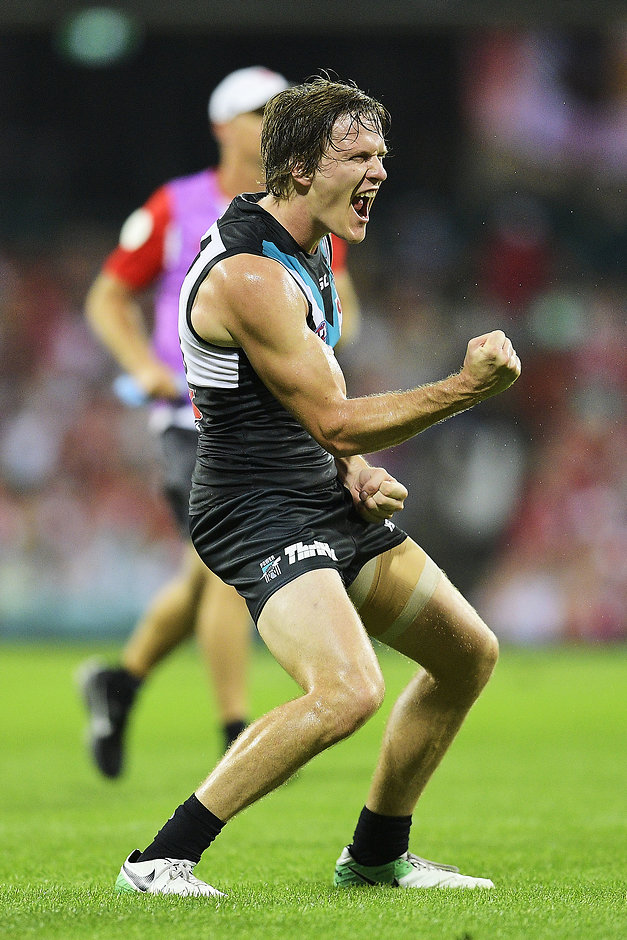 PORT Adelaide wingman Jared Polec has arrived safely in China after a health scare earlier in the week.
The 25-year-old took ill on Monday, with the club fearing he had appendicitis.
After being cleared by medical staff, Polec flew to Shanghai on Wednesday, touching down on Thursday, along with Power assistant coach Matthew Nicks.

MATCH PREVIEW: Will Port give Suns another Shanghai surprise?
"He's fine," coach Ken Hinkley told reporters on Thursday.
"There was a bit of a scare early in the week, there was some chance he had appendicitis, but he got through OK and he's arrived this afternoon."
Polec is expected to train on Friday, after missing Port Adelaide's main training session on Wednesday.
After thrashing Gold Coast in last year's inaugural China clash, the Power has stuck with the same winning formula, once again importing some Australian produce, like beef, across to Shanghai for the hotel to cook for their players.
Hinkley said the trip to China was a little easier for all involved the second time around.
"We've done it once before and it feels comfortable," he said.
"We stay in the same hotel, it's an easy place, food, accommodation, getting to the ground, the surface of the ground was outstanding when we were on it yesterday.
"It's a bit longer travel, we all understand that, but it's made easy for us and we've acclimatised for a long period of time so it gives us a good chance."
There have been suggestions the China game may not remain as a match for premiership points, with the possibility of turning it into an AFLX game, but AFL general manager of China and India Dave Stevenson said the game would remain in this format for the "foreseeable future".
There are also no guarantees these two clubs will continue to play here, with the AFL to undertake a review of the game post-Saturday.
Port Adelaide however would likely retain the fixture, given how much groundwork the club did in bringing the concept to life.
Hinkley said he would prefer the China game to continue to be played during the home and away season, and not as an exhibition clash.
"We'd love to keep it the way it is and grow on it," he said.
"We've made no secret about that as a club, of making this a significant event for a period of time. Last year was a good start, this year will be even better and we'll get to come back in the next few years hopefully."