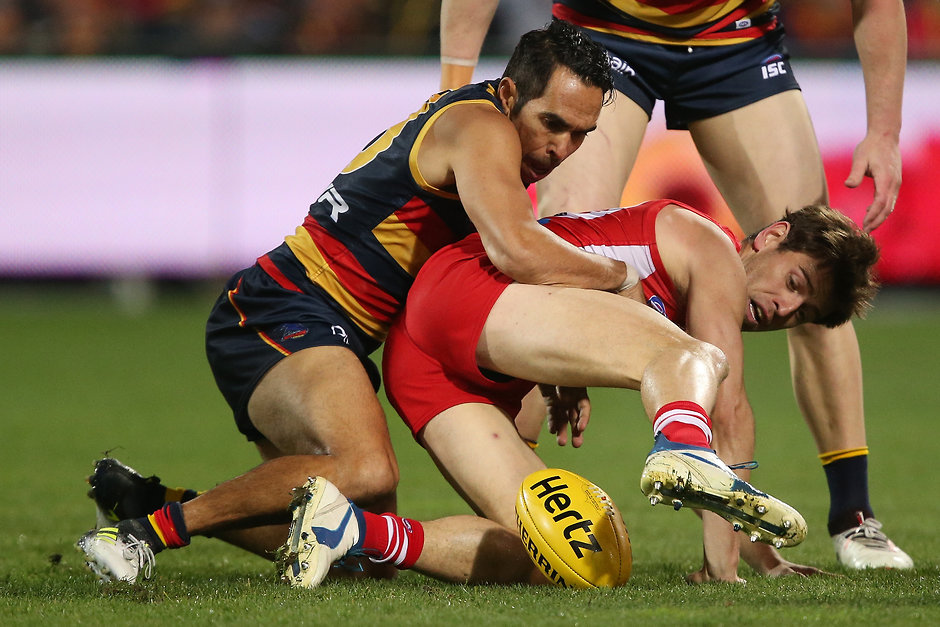 SYDNEY defender Nick Smith has had some sleepless nights before games, but ahead of his 200th AFL match against Fremantle on Saturday night he's able to rest a little more easily now one of his toughest opponents is now in Swans colours.
Smith has built an outstanding – albeit massively underrated – career since coming off the rookie list to become one of the game's best small defenders.
He gets the unenviable job of trying to shut down the opposition's most dangerous small forward each week, but there's at least one player he longer has nightmares about.
The 2012 premiership Swan and 2014 All Australian nominated Sydney's new forwards coach Steve Johnson as one of the hardest opponents he's faced on the field.
"As much as I hate to say it now that he's here, Stevie J was pretty tough especially when Geelong was going well," he said.
"Any forwards who are playing in better sides, it makes them harder to play on.
"(Eddie) Betts, from Carlton to Adelaide he was a really good player then, but everyone has seen him improve his game (over the years).
"Obviously (Cyril) Rioli is a super player.
"I shouldn't have started naming names because there's a few good ones around the joint."
Smith is one of a number of former rookie-listed Swans that have made the team's backline one of the most dependable in the League in recent years.
Apart from his own 199 games so far, great mate Heath Grundy (245), Dane Rampe (123) and Jake Lloyd (100) have all been significant contributors, while youngsters Nic Newman, Lewis Melican and Harry Marsh are following in the same path.
Smith and Grundy have been locker buddies for over a decade and playing next to each other in the last line of defence has helped them build a close relationship.
"It's been a great journey to share together, we were groomsmen at each other's weddings," he said.
"We've formed a really strong bond and played a lot of footy together.
"I think having the stability there of playing with the same guys week in week out, it's a team within a team and we want to help each other out as much as we can.
"The familiarity of playing together is really beneficial."
Sydney's success in being able to turn rookies into stars is mainly due to the club's culture, according to Smith, and he had some advice for those players who are overlooked at the NAB AFL Draft in the future.
"It doesn't matter how you get on a list at a footy club, if you're given an opportunity you have to make the most of it," he said.